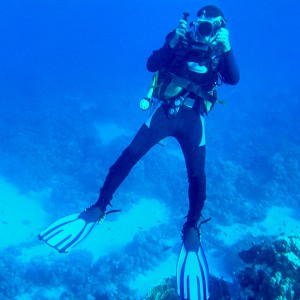 Resurfacing and saying goodbye to the wonders underwater for another day is always a difficult task. Whether your next dive is only a few days away or months off in the distance, having video footage of your experience will help pass the time a bit more quickly. But any old footage won't do! You certainly won't want to spend your time watching something that makes you feel sea sick.
Capturing the moment requires good composition, practical technique and a sharp eye. Fortunately, those skills can all be learned with some hands-on experience and a little help. Knowing how to take quality video during your dives will enable you to relive the dive afterward, and sharing the excitement with friends and family may even inspire them to try scuba diving, too!
In order to get quality footage, you will need:
The right gear
Digital underwater camera
Typical scuba gear
An editing software – There's free software that produce excellent quality.
Good buoyancy
Determine the exact weights you need
Trim your weight system and gear so you're balanced in the water
Hover both vertically and horizontally
Buoyancy is one of the most important factors. Not just for taking good underwater video, but for being a quality diver in general! Ask any seasoned underwater videographer and they will say the same.
If you are ready to get your hands on a more comprehensive look at Digital Underwater Videography, contact your local PADI Dive Shop and sign up for the course today. You will be eager to watch the amazing footage you collect and relive all of your great diving memories.
You might be interested to take a look at our Video of the Week series, showcasing some of the great underwater video we come across from both professional and amateur videographers.
Showcase Your Local Diving – Video Contest
Think your skills are ready for the limelight? If you have created a video worthy of recognition, you can submit it to the PADI Video Contest. The contest opens November 3, so get your editing tools ready and craft a video that represents your local diving area, your local marine life and top dive sites. One grand-prize winner and two runners-up will be selected.