Introducing the all-new PADI® App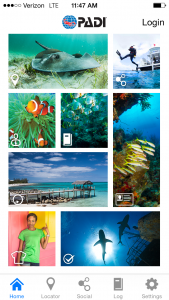 The new and improved PADI App is now available on Apple and Android devices.* The PADI App can help you plan your next dive trip with detailed information about the top dive destinations worldwide. You can research these destinations by reading about the top dive sites, popular marine species and travel essentials. Also, you will find helpful tools like dive travel checklists and reminders to organize your vacation planning.
Here are some features to help you plan your next dive trip:
PADI Dive Shop & Dive Site Locator – find dive shops and dive sites in your favorite dive destinations as well as check local weather and dive conditions.
Travel – view vacation spotlights for the top diving destinations worldwide.
Tools – use the interactive checklists to make sure you aren't forgetting anything.
PADI eCards – don't worry about packing your plastic certification cards and verify your certifications with electronic certification cards (eCards), accessible on your mobile phone, instead.
Log – log your dives via the PADI App right from the dive site.
Check out the revamped PADI App and find and plan your next amazing dive vacation. Live the dive lifestyle and explore the underwater world – 24/7.

Download or update to the latest version of the PADI App:
*If you have a Blackberry or Symbian device, you still have access to the old PADI App, but will not have the opportunity to upgrade to the newest version.