It's unfortunate but true. Whether it's your busy work schedule or other commitments, sometimes those grand diving plans you make at the beginning of the year just don't happen. How has your diving been this year? Have you seen those manta rays, whale sharks or colourful coral reefs as hoped?
The end-of-year holidays are only a couple of months away and if you haven't already, now is a great time to start planning an end-of-the-year or beginning-of-the-year dive trip.
An end-of-the-year vacation is a great way to relieve your stress, rejuvenate and get close to all those wonderful critters under the sea. During the holidays, you could book a trip or take a PADI course to break up your everyday routine. You might even want to get your non-diving family and friends in the spirit by giving them an eLearning gift certificate for Christmas.
If you need some ideas or inspiration, these four destinations are great for diving from October through January.
A favourite for many travellers and scuba divers, the 'Land of a Thousand Smiles' offers miles of tropical beaches, rainforests, exhilarating cultural attractions and excellent scuba diving. There are great scuba locations surrounding Thailand, including the islands in the Andaman Sea and Koh Tao, Koh Phangan and Koh Samui, just to name a few, in the Gulf of Thailand on the east.
With beautiful reefs and cenote caverns, Playa Del Carmen provides a great opportunity for scuba divers to take in some breathtaking views. All levels are welcome and if you're not a scuba diver yet, you can take a PADI course to finish off your year with a bang.
Diving is one of the most popular activities to do in Dahab and it's easy to understand why. The city offers dive sites like The Blue Hole and The Canyon, both a 'must do' on any scuba divers' list. Dahab mostly offers shore diving, and the city also boasts beautiful golden beaches to enjoy after you've finished exploring its waters.
Indonesia is a beautiful location that is popular for many holiday-makers. The Gili Islands offer great dive spots for both beginners and experienced divers, as the water is warm with great visibility. Here you can find frequent sightings of marine life such as turtles and sharks, as well as great wreck diving.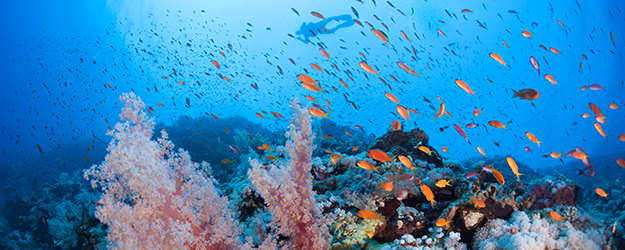 To start planning your trip, contact your local PADI Dive Shop or view the PADI Travel Network for some great travel packages.