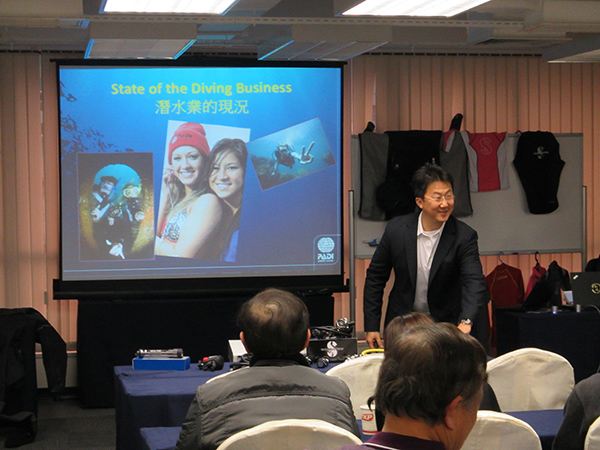 Roger Sun, Director of PADI Asia Pacific Shenzhen Office, and Tommy Pan, Regional Manager at PADI Asia Pacific, recently attended the Scubapro Hong Kong Dealers Annual Dinner in Hong Kong's Chai Wan District on Thursday 5th February, 2015.
PADI presented an overview of market trends as well as showcasing an exciting range of new PADI products and services including the PADI Touch for tablet based training. This included a recent video in which PADI was featured by software giant Adobe as a company utilizing cutting edge technology for their products.
You can view the feature video here.
The market overview highlighted the continued growth that PADI Members have achieved as well as certifying more PADI divers in the Asia Pacific region in 2014 than any other year in PADI's history. The market update also explored how increased certifications help overall growth in the diving industry for all stakeholders due to consumers investing in high quality equipment, dive travel and conservation initiatives.
Following his presentation, Roger Sun stated, "PADI is looking forward to continue to work with all dive industry stakeholders as we move forward and collectively grow the industry. We are always striving to further grow our opportunities for PADI Members in addition to taking part in initiatives like these. Thank you to Scubapro for the opportunity to present at your annual meeting in Hong Kong."
Christopher Lim,Regional Manager and Director, Marketing and Business Development, Scubapro Asia Pacific, was the host for the evening. Christopher said, "We would like to express our thanks to PADI for participating and presenting at our annual dinner last night. We look forward to the opportunity to continue to work with PADI into the future."
PADI looks forward to continual work with all scuba diving stakeholders to grow the industry as a whole.
For more information please contact your PADI Regional Manager or the PADI Retail & Resort Association at prra@padi.com.au.