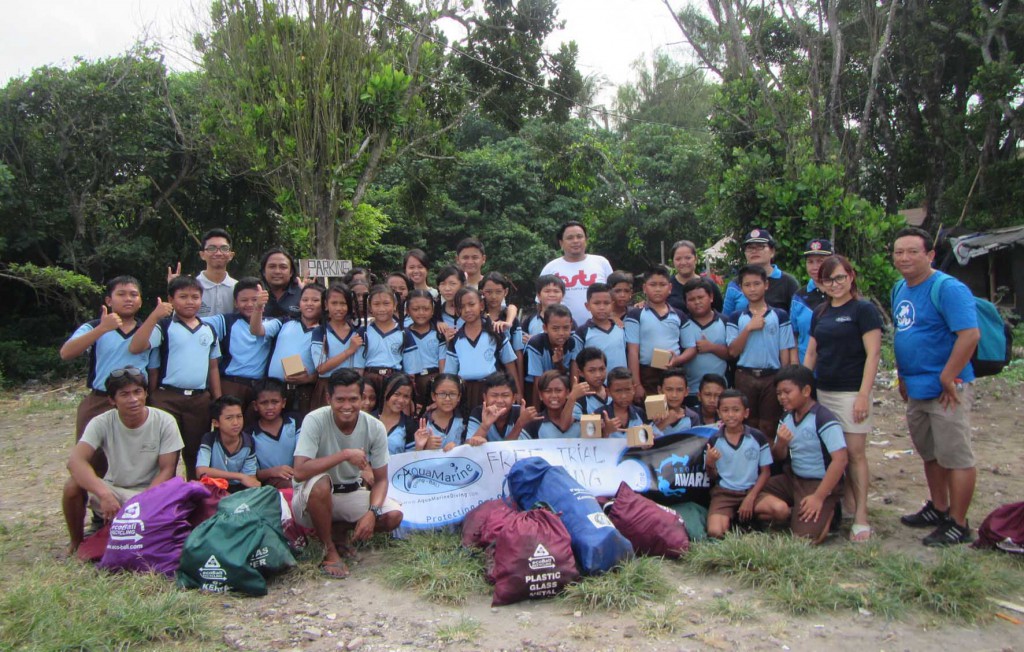 On Saturday 25 April 2015 – in celebration of Earth Day – PADI 5 Star Dive Resort, AquaMarine Diving – Bali organized a Beach Clean-up at Batubelig Beach in south west Bali with the students from Kerobokan Sekolah Dasar (Elementary School).
With an early start, 40 enthusiastic pupils boarded two of AquaMarine's buses, eager to get to the beach to start their marine education and fun day out.
The event was organized with the help of Adit from Bali Eco Recycling and Wayan from the Bali Sea Turtle Association who met up with the group on their arrival at the beach.
Bali Eco Recycling provided them with several colour-coded rubbish bags and briefed the children on what items to put into which coloured bags: Red bags for plastic, glass and metal; green for paper waste.
To make the event a little more interesting, the children were informed that there would be a prize for the group who collected the most rubbish. They were then split into 7 groups of five and off they went on their 'treasure hunt'.
Approximately 45 minutes later, all groups reassembled and the team with the heaviest collection of litter were all awarded prizes of a Project AWARE mug.
The students were surprised and shocked by some of the rubbish found on their Bali beach, they never thought that baby diapers, sandals, underwear or even syringes would find their way to the beach.
With the actual clean-up completed, the children returned to the school grounds where AquaMarine staff delivered a Project AWARE presentation and further explained why it is important to look after the environment.
Bali Eco Recycling explained the effects on the life around us when we do not dispose of rubbish correctly and Wayan from Bali Sea Turtle Association described how rubbish floating in our oceans adversely affects the life of sea turtles.
The event reached its end with a quiz on what the children had learnt about recycling and caring for the environment – and more prizes!
Annabel Thomas, Director of AquaMarine Diving – Bali confirmed, "We hope that these students now have a better understanding of the importance of separating waste and the effect that it has on the environment. We also hope that when they return home, they will share this new found knowledge with friends and families."
For further information, visit: www.AquaMarineDiving.com