To celebrate women in diving, PADI is showcasing several women who have made significant contributions to the sport. It is with pleasure that we recently interviewed passionate scuba diver Judi Lowe, a Lawyer, Accountant, PhD Scholar and PADI Scuba Instructor.
Being a Lawyer, Accountant, PhD Scholar and PADI Scuba Instructor, you definitely are an inspiration for all of us to work hard, and follow our passions. Who has inspired you throughout your career?
My parents first inspired my passion for diving. My father was a helmet diver with Navy in the Cocos Keeling Islands in the 1950s. My mother had us at the beach every day of our lives and fed our thirst for knowledge about fish and marine life. I have been fortunate to know extraordinary people in my diving career.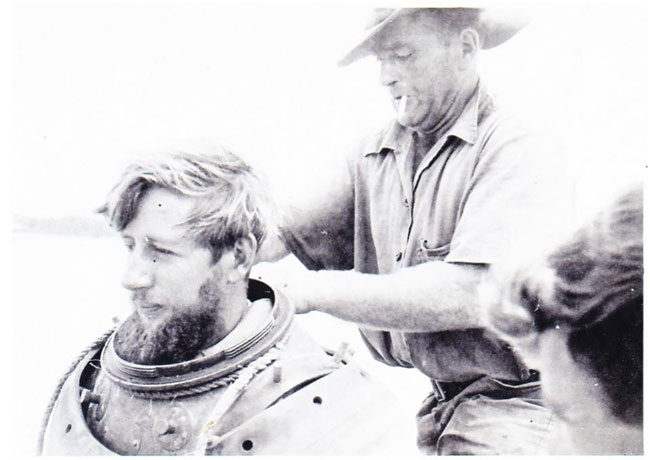 My young diving life off the islands of Perth was adventurous and well before the days of needed a "C Card". You learned with old sea dogs and either kept up or shipped out. I have a respect for the power of the ocean and good sea skills as a result.
At PADI Instructor level, I was trained in Sydney and Melbourne by dedicated men now considered to be diving royalty. I dived regularly with Kevin Deacon of Dive 2000. Standards were high and the making of me as a diver.
As a dive instructor on Australia's Great Barrier Reef, I took pride in adopting the training and safety standards I had learned, to bring dive tourists the best possible diving experience.
As a young instructor in Sydney, I was deeply inspired by my deep diving, decompression dive buddies in the days before Michael Menduno coined the phrase "Tech diving". I loved the depth, with the level of skill and discipline involved. I dived regularly on twin tanks with legends like Max Gleeson, Ron Allum and Mark Spencer on deep wrecks. My deepest dive was to 75m on the wreck of the Encounter, off Sydney.
Meeting Andrew and Liz White in the early days of their film careers took my diving interests to another level. The passion for caving, the technical expertise and sharing extraordinary moments in diving with a broader audience, deeply inspired me.
Now, after careers as an Executive in banking, finance and the Australian Government, I am delighted to bring my professional dive experience together with my finance, regulatory and international law experience, in my PhD on dive tourism and its impact on marine conservation and livelihoods for local fishers.
Having given up strong professional careers to be a full time PhD student, l recently thought; I'm not really anything anymore. I'm not an accountant or a lawyer. But then it dawned on me. I am "the dive tourist". All of my experience comes together, to uniquely position me to shape research on the dive industry's role in marine conservation and the creation of livelihoods for local fishers – an important step in reducing fisher's reliance on coral reefs and marine resources.
I couldn't be happier with the way the dive industry has brought me a life of adventure, beautiful locations, lifelong friendships and engaged me in research on the challenge of our times – the impact of dive tourism on marine conservation and livelihoods for local fishers.
What does your PADI certification mean to you?
I was learning to fly when a pilot friend suggested I join him on the Divemaster course. My two passions worked well together, except that I had to have my flying lessons before I dived each day.
Becoming a PADI Instructor was a formative experience in professionalism in dive training. The standards I learned kept thousands of dive tourists safe, in my care. Though I am not an active instructor, I value my standing as a PADI Instructor. It garners respect and gives me significant credibility in my research with some of the world's top dive tourism operators. I am definitely part of an organisation bigger than myself.
How have you seen the role of women within the dive industry change throughout your career?
I've always known cool women in the dive industry, though admittedly not as many in the early days. It used to be common to be the only girl on a dive trip. Not anymore. I meet extraordinary women divers all the time. Most recently, I have been deeply impressed meeting Sue Crowe, owner and convenor of Sydney's OZTek dive convention; Jill Heinerth, the world's most accomplished woman underwater cave explorer and environmentalist; Laurie Wilson of Blue Ocean Business Summit and the women members of the Women Diver's Hall of Fame, based in the US. So many accomplishments, so much experience and such strong mentoring of young women for the future of women in diving.
I now see extraordinary women in leadership roles in every area of diving; navy divers, commercial divers, underwater archaeologists, tech divers, cave divers, wreck divers, dive store owners, dive travel wholesalers, dive convention owners and dive researchers like myself. We all share a passion for diving and contribute to the dive industry in our own ways.
What do you feel are the most important challenges and opportunities facing women in diving?
I don't see any barriers to women entering and enjoying recreation scuba diving or tech diving. Women of many countries around the world enjoy diving in their own right. There is a fabulous selection of dive gear designed for women. Women role models are becoming more visible in every field of diving.
It seems as though one of the biggest challenges for girls and women starting out can be about companionship. It's a big new world to enter alone. My advice is for women to join a good local scuba club, usually at a dive shop. This will bring access to continuing development and discussion about all things scuba diving, including the right dive gear. Good dive shops often offer trips away both locally and abroad, so join in. You'll make friends while you gain experience in the company of more experienced divers. Do higher levels of dive certification but don't rush it. Get experience in between your courses. Dive everywhere you go. It doesn't make sense to do a trip and not find out what lies below the water there. Go to dive shows. Say hello to dive operators and other divers. Diving is a love affair. It starts out with attraction and grows into deeper love with every dive.
I think the most important opportunity I see for women divers lies in shaping the dive industry toward environmental sustainability. This requires the industry to understand its impact on marine conservation and to adopt best practice in sustainable diving. Lots of people are looking at what sustainability means, and how to do it, including me.
Any plans for PADI Women's Dive Day on 18 July 2015?
Yes! The 18th is my daughter's birthday and we will be holidaying in South-East Asia. There would be nothing better than celebrating PADI Women's Dive Day and my daughter's birthday than diving with someone I love, somewhere beautiful. One of life's greatest pleasures is diving with my daughter, part of the new generation of divers. Some of my proudest moments are watching her growing skill in diving and introducing her to my favourite dive legends around the world.