Luana Royle, a PADI Open Water Scuba Instructor from Finch Hatton in Queensland had an evening to remember when her business, Rainforest Scuba was awarded – not one, but two – Mackay Region Tourism Awards. Luana successfully took out the Award for Eco Tourism and the Mackay Regional Council Award for Adventure Tourism.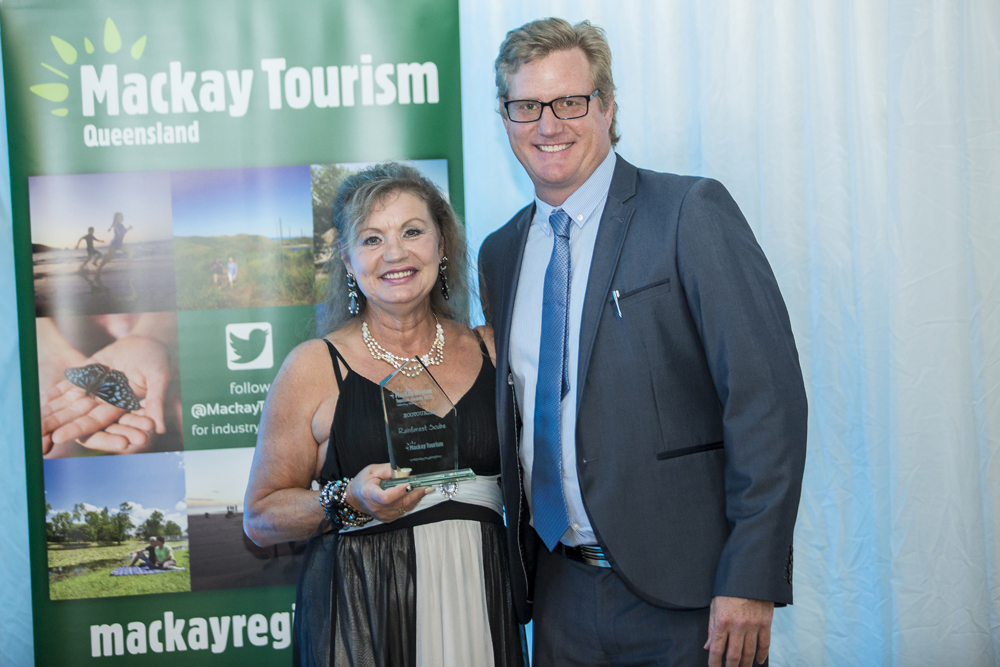 Held at Clermont (approx. 290kms south west of Mackay) during May, 2015 over 100 people attended the Gala Dinner to announce the Mackay Region Tourism Awards which celebrate and acknowledge the achievements of tourism and hospitality operators and service providers in the Mackay and Isaac district.
Danny Dwyer, (Vice President, Marketing, Sales, Field Services and Business Development – PADI Asia Pacific) recognised the success,
"Extending sincere congratulations from us all at PADI on your achievements at the Mackay Region Tourism Awards. Winning the Adventure Tourism and Ecotourism awards is an amazing success story for you and Rainforest Scuba. The team at PADI wish you the best of success in 2015 and for many years to come."
Apart from Great Barrier Reef ocean dives, Rainforest Scuba – a PADI Dive Centre – offers a world first; a chance of a lifetime to dive in the rainforest's crystal clear freshwater at Finch Hatton with turtles, fish, gordian worms, eels and if you're one of the lucky ones – a platypus. It's the only dive shop in the world where you can gain this unique experience – diving in the rainforest waters with a chance of being there at the same time as a platypus.
Luana expressed her delight on receiving the recent awards, "When they announced the winners, to say I was absolutely dumbfounded would be an understatement. I didn't think I would win and was so over the moon, I was speechless – which for me to say – is very unusual! Gaining these awards have made way for Rainforest Scuba's nomination in the 2015 Queensland Tourism Awards to be held later this year in Brisbane."
For more information, visit the Rainforest Scuba website at www.rainforestscuba.com.