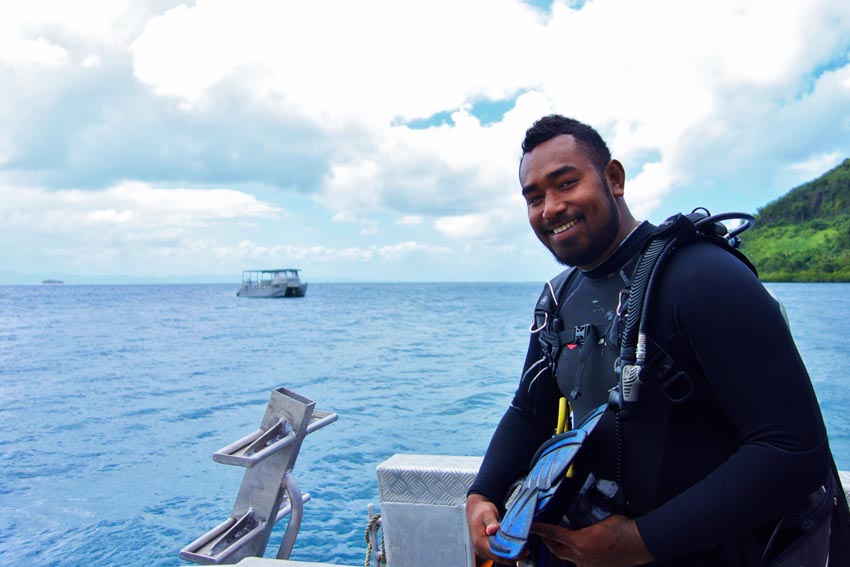 As a PADI Divemaster, you'll lead others as you supervise scuba diving activities and assist with diver training. Whether you want to work at a faraway dive destination or close to home at a local dive shop, the adventure of a lifetime awaits you. PADI Divemasters are respected dive professionals who are aligned with the largest and most respected dive organisation in the world – PADI.
Lui Matavesi is a PADI Divemaster at Blue Starfish Dive Centre at Lalati Resort and Spa, a PADI 5 Star Dive Centre, on Beqa Island in Fiji.
Read how Lui enjoys his working day…
Describe a typical day in your working life as a PADI Divemaster.
I rise early to arrive at the dive centre by 07:30 where I prepare the tanks, my equipment and guest's equipment to load on to the boat. I wait for the guests to arrive at the jetty and seat them for the boat trip. I'm also a boat captain, so I get to drive the boat out to the dive sites, most of which are within a 15 to 20 minute boat ride from Lalati Resort. Our guests like that we have great diving so close, in and around the legendary Beqa Lagoon.
Once we arrive, I give a dive briefing and we jump in! We have an excellent variety of diving here off Beqa. Inside the lagoon we have great marine life, beautiful soft corals and large sea fans. On the outer reef we have very healthy hard coral gardens that reach a great distance. I hear many divers say that they've never seen hard corals so healthy. We have the famous Shark Dive too – up to eight different species of shark! My favourite dive sites here are "Best of the Best" or any of our drift dives on the outer reef. Our dive centre managers here at Blue Starfish even named one site after me: "Lui's Leap."
At Blue Starfish Dive Centre we do 2-tank boat dives every morning and get back by lunchtime. Upon our return, I help unload the boat, rinse gear and clean up.
When and where did you start diving?
I gained my PADI Open Water Diver certificate at Blue Starfish Dive Centre, Lalati Resort, Beqa in 2012, when I was 25.
When and where did you become a PADI Divemaster?
I became a PADI Divemaster in early July 2015, again at Blue Starfish Dive Centre.
What made you choose to become a PADI Professional?
I love to dive!
What highlights do you recall from your PADI Divemaster course?
I really enjoyed assisting the PADI Instructors with Discover Scuba Dives and courses.
What dive locations are on your bucket list and why?
I'd love to dive in the Caribbean and the Great Barrier Reef because I've always heard such great stories about both of those places.
What has been the most memorable dive of your life?
The first time I did the Shark Dive here at Beqa, known as one of the world's best. The real name of the site is "The Bistro." There were so many sharks and so many huge fish – Trevally, Giant Grouper, Snapper and many large eels also inhabit this site. I was lucky on this occasion because the big Tiger Shark (named "Lady Joyce") showed up. At one point she was right above me and must have been shedding, as two of her teeth popped out and fell right in front of me, so I put my hand out and they landed right in my palm!
What words of advice and encouragement would you give to divers thinking of becoming a PADI Divemaster?
Always be a safe diver – follow dive procedures – it's so important! Also, keep working towards a career in diving – it's fun and interesting and you always see more under the water than on dry land.
Are you ready to become a PADI Divemaster?  To get started, contact your local PADI Dive Shop for details about the course, or visit padi.com and sign up today for PADI eLearning.