Humpback Whale and Diver by David Valencia
"Humpback whales arrive each winter in the waters of Baja and southern Mexico. At the isolated dive site of Roca Partida, an oceanic pinnacle of the Socorro Islands, humpback whale interactions have increased over the past few years. At the beginning of one of our dives, a female humpback dived down to us and rested in front of the group. She hovered there, motionless, except for her giant pectoral fins that sculled back and forth. Her giant eye watched us as we found a respectful distance. Observing a living being as large as a submarine underwater is an experience difficult to express in words. She stayed with us for about 25 minutes and then floated to the surface tail first, seemingly playing. She took a few breaths and dived back down to the group. The divers came up beaming – it was the most amazing experience of their lives."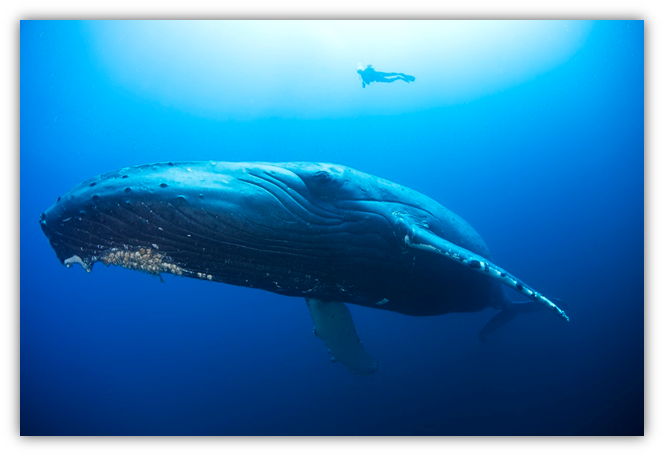 As underwater photographer and PADI Master Scuba Diver Trainer David Valencia recalls above, being in the water with a massive humpback whale is awe-inspiring to say the least. Some adventures will stay with you a lifetime and swimming with a gentle giant like this certainly has a place at the top of that list. While most people have to travel quite a distance to reach one of the few places on Earth where you can swim with a humpback, the journey is worth the trip when you come face-to-face with an animal of such grandeur.
Want your own humpback story to cherish and share? Here are a few places that you need to add to your travel bucket list:
Socorro Islands, Mexico – Perhaps best known for sightings of giant Pacific manta rays and massive schools of hammerhead sharks, the Socorro Islands are also a spectacular location to see humpback whales, as David Valencia can attest. From January through March, humpback whales frequent these islands located approximately 250 miles south of Cabo San Lucas, Mexico in the Pacific Ocean to breed and calve on their journey to Alaska. Contact the PADI Travel Network or your local PADI Dive Center or Resort to start planning your Socorro adventure.
Silver Bank, Dominican Republic – Located about 90 km north of the Dominican Republic, thousands of North Atlantic humpback whales visit the Silver Bank each winter (January through April) to breed and calve. The Silver Bank is part of the Sanctuary for the Marine Mammals of the Dominican Republic, one of the few places where swimming with humpback whales is officially sanctioned, permitted and regulated. As such, swimming with the humpbacks of Silver Bank is limited to Soft-In-Water Encounters (translation: no scuba diving) but proves to be an amazing site for personal encounters with these magnificent creatures.
Hunga Magic, Vava'u, Tonga – One of the best sites to see humpback whales, humpbacks breed and calve in the warm waters of Tonga July through October. Like Silver Bank, scuba diving with humpback whales is not permitted by Tongan law, though you can swim and snorkel with them via a licensed operator.  The scuba diving is outstanding as well with abundant marine life year round including banded sea snakes, schools of barracuda, clownfish, spotted eagle rays, sea turtles, and corals.
Queensland, Australia – 20,000 southern humpback whales migrate north from Antarctica each winter (July through October) to feed, breed and calve in the warm waters off Australia's Sunshine Coast. Visitors can take a short boat right from Mooloolaba to swim with these incredible animals.
If you're lucky enough, you may even encounter a humpback on a dive in Hawaii, Costa Rica, or Cape Verde. Contact a PADI Dive Center or Resort for more information on diving with these incredible creatures and start planning your trip today.
Whether or not you have the opportunity to get in the water with a majestic humpback whale, you can always be inspired by David Valencia's stunning photo, "Humpback Whale and Diver," with a limited-edition "Blue Water Series" PADI replacement certification card. Learn more.