Following their success in recent years, AquaMarine Diving – Bali (AMD-B) is currently accepting applications for their 11-month PADI Divemaster Internship Programme for Indonesian Citizens for 2016.
It is the 4th year AMD-B has offered this internship for locals who are interested in starting a career within Indonesia's fast-growing dive industry. As Bali continues to be one of the most popular island destinations in Asia Pacific for scuba diving holidays, AMD-B believe the need for professional and well-trained dive staff is more important than ever.
During the 11 month internship, each intern is assigned a mentor to guide them from PADI Open Water Diver, right through to PADI Divemaster level. AMD-B's current Dive Team – who are all Indonesian – are keen to 'give back', offering the students the same diving opportunities they've had.
After six months of training and having passed the PADI Divemaster course, the interns then work for a further five months with AMD-B under the direct supervision of AMD-B's senior dive staff. This gives them a solid grounding to become dive guides with a professional, positive and safety-oriented approach, ready to be employed in Bali or other world-class dive resorts around the country.
In order to be eligible for the internship in 2016, applicants must meet the following criteria:
Be an Indonesian citizen
Be available for an interview at AquaMarine Diving – Bali
Minimum 20 years of age
Must be a strong swimmer
Must speak English
Be able to socialise with tourists
Pass a medical examination
If you know anyone who might be interested in joining AMD-B's award-winning dive team and be part of the 11 Month PADI Divemaster Internship for Indonesian Citizens Programme starting in early January 2016, please advise them to email HRD-Dive@AquaMarineDiving.com for more information.
Applications are open until 3rd November 2015.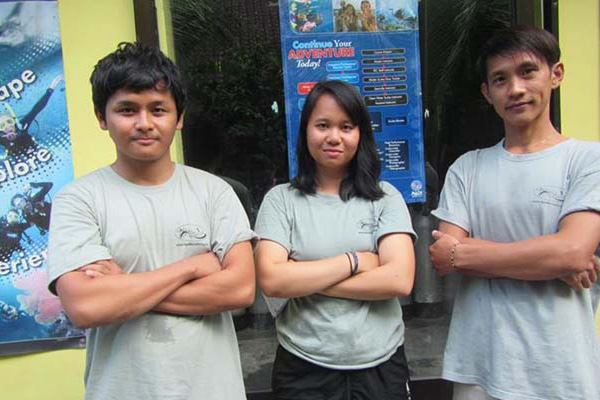 AquaMarine Diving – Bali's 2015 interns are now certified PADI Divemasters: (L-R) Erick, Gracia and Rizal.