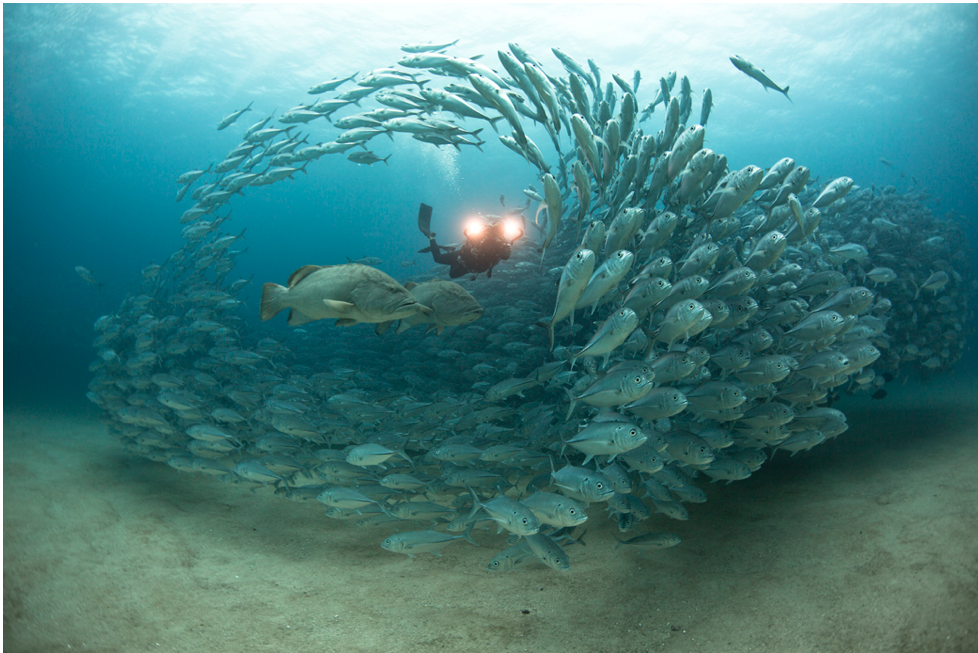 Schooling Jacks by David Valencia
"Cabo Pulmo is a National Marine Park located some 70 miles NE of Cabo San Lucas, Mexico. This place has become a source of pride for the small Cabo Pulmo community – and all of Mexico. It was not long ago that the community of Cabo Pulmo was a fishing village. Fishing for subsistence, the families there had been fishing the area for generations. A few elders in the community began to notice fewer catches and smaller fish than in the past.  There was a movement in the community to preserve the area and, in 1994, Cabo Pulmo became a National Marine Park. Now, the community works to conserve the area and the marine life that dwells there. The community shares their special place with divers and other visitors from all over the world.
This giant school of jacks has become iconic in describing the success of the marine park. The size of the school is impressive. The school can fill an area as wide and long as a basketball court and ~15 meters (50 feet) top to bottom.  In this shot I was following my dive buddy, Adil, as he took video of the inside of the school. Finally he emerged from the middle of the school of jacks and there were two goliath grouper right in front of him. The fish slowly separated and formed a nice frame around my friend and the groupers."
The conservation success story behind David Valencia's captivating photo can't help but motivate us as divers to protect what we love (and love to explore).  While there are certainly many hurdles to overcome and much work to be done to preserve our marine environments, inspiration can always be found in the victories, from local movements such as the Cabo Pulmo National Marine Park to global initiatives like those recently announced at the Our Ocean Summit in Chile earlier this month.
Continue to be inspired to protect our ocean with a PADI limited-edition Blue Water Series by David Valencia or Project AWARE certification card.  Visit a PADI Dive Center or Resort or padi.com to order your new card and be ready for your next dive adventure.