A few years ago, I wrote about my search for the best sunscreen for scuba divers. I wondered if by slathering myself in sunscreen before every dive if I'd been (unintentionally) harming marine life.
The original article received nearly half a million views and generated some great comments and suggestions from readers. This updated post is the result of everyone's feedback – including the addition of two new recommended products (thanks Keys Diver and also Jeff Kletter). Also, Divers Alert Network (DAN) recently published an article with some additional insights. Read DAN's article, Sunscreen Pollution, here.
Protecting Yourself and the Reef

Bud Gillian, a biologist, shared a link with us from NOAA's website after reading the original article. It's a bulletin issued by the US National Park Service in regards to sunscreen and recreational diving. In it, sunscreen is described as a "double-edged sword"
Sunscreens are among the products we are encouraged to use liberally to protect ourselves from the sun's harmful rays. However, researchers are finding that while protecting humans, some compounds in many sunscreens can harm the coral on our reefs. Researchers testing the effects of sunscreen on corals explain that chemicals in sunscreen can awaken coral viruses. The coral then becomes sick and expel their life-giving algae. Without these algae, the coral "bleaches" (turns white), and often dies.
So what's a diver to do?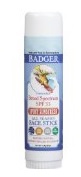 Read the label. A product advertising itself as "reef safe" doesn't necessarily mean what it says. Check ingredient lists and avoid reef-damaging substances such as oxybenzone, butylparaben, octinoxate and 4-methylbenzylidine camphor, all of which have been shown to cause coral bleaching even at low levels.
Apply sunscreen at least 10-15 minutes before going in the water so that the lotion absorbs into your skin, and limit the areas where sunscreen is applied. DAN writes in their article:
Applying lotion to only the neck, face, feet and backs of hands can reduce sunscreen loads into the water by 90 percent. Sun clothes designed to reduce UV exposure have evolved tremendously in the past 10 years in both fashion and utility.
Other factors when choosing a sunscreen

It's equally important to choose a sunscreen that is safe for your own health. The Environmental Working Group (EWG) compiles an annual list of top sunscreen choices, based on efficacy and toxicity. Scientists review more than 1,400 sunscreen products and rank them on a hazard scale of 0-10; 0-2 is low-hazard, 3-6 is moderate hazard and 7-10 is high hazard. You can review the complete list at EWG's website.
Now that you're ready to make the switch to reef-safe (and human-safe) sunscreen, consider the 10 options below, all of which have a low hazard from the EWG, and positive reviews from online consumers.
The products below are not officially endorsed by PADI or Project AWARE; however, if you are reading this article in the United States and make a purchase by clicking a link below, a portion of your purchase will be donated to Project AWARE via the Amazon Associates program.
Here are two options for spray-on sunscreens. Both received a score of "3" from EWG which is on the low-end of moderate hazard.
KINeSYS spray (unscented), SPF 30
Interesting Reader Comment

Jeff Kletter · CEO & Co-Founder at KINeSYS Inc. wrote us an interesting comment about sunscreens labeled natural and the use of Titanium and Zinc Oxide – common alternatives to chemical sunscreens.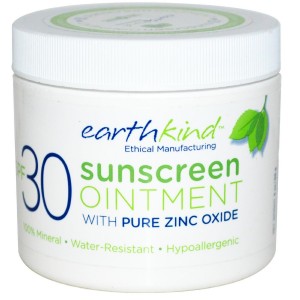 Titanium Dioxide & Zinc Oxide can be considered natural…in the sense they are mined from the earth. But crude Ti & Zn ores have to be purified via chemical & physical processes into pure mineral that are used in sunscreens. There is no amount of hammering you can do to make the minerals small enough to put into a cream
KINeSYS makes a 25% pure Zinc oxide ointment, with Soybean, Coconut Oil, Sunflower, even cruelty free Beeswax, using Rosemary and Peppermint as preservatives & no parabens but we market it as it is: a 100% mineral block, (not organic or natural) as for "chemical free", there is simply no such thing once you understand that Zinc & Titanium need to be processed.
Thanks, Jeff! We researched your product and added it to our list.
A final note…

Threats such as coastal pollution, over fishing, and marine debris are a greater threat to marine life than sunscreen. We only have a shot at saving coral reefs if major change in behavior happens at the individual and collective levels. Project AWARE works tirelessly to support ocean conservation around the globe. Please consider donating to this important charity.