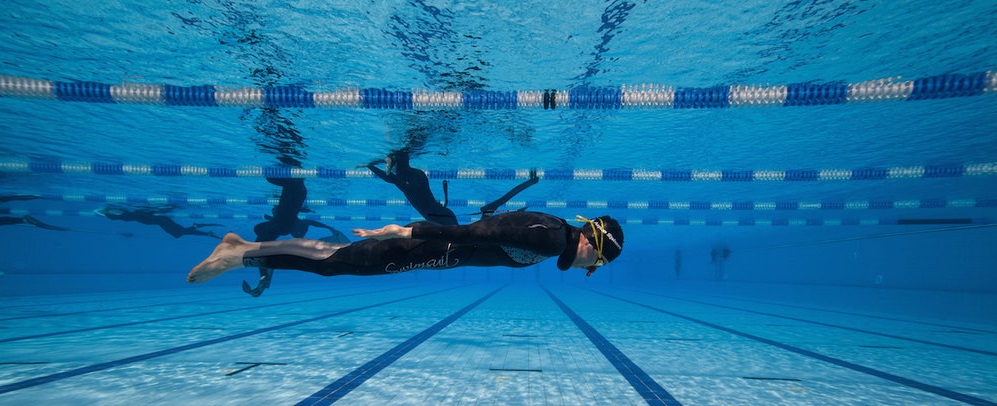 Alice Hickson dived her way onto the freediving scene after less than a year in the sport. After being selected for the UK Freedive Team at the 2015 Freediving Pool World Championships in Belgrade, Alice broke three national records, won a gold and bronze medal and became a World Champion…and this was only her second competition in her freediving career!
After breaking the former British National record, Alice secured her place in the world championship finals and swam a breath-taking 174m in the sport's Dynamic No Fins (DNF) category, winning her not only another national record, but also a gold medal and the World Champion title.  Alice continued to triumph by securing another place on the podium, winning a bronze medal in static apnea (STA) after she held her breath for 06:58, breaking her third national record.
After her success across the international freediving competition scene in Belgrade, Alice is currently training with a local club in Bristol, UK, to compete in the UK National Pool Championships and the Pool World Championships in Finland this summer.
With such an impressive set of achievements, we couldn't wait to learn more. Kayleigh Relf (Instructor Development Coordinator at PADI's Europe, Middle East and Africa office) had the pleasure of interviewing this up and coming freediver.
---
Where did your passion for freediving come from?
I've always loved the water! My Dad took me swimming as soon as I was old enough, since then I've always loved the water. There's something magical about it, I think it's healing, powerful stuff. So I guess my passion for freediving comes from that. I'd watched the film 'The Big Blue' when I was a youth and thought 'I want to do that… I first tried freediving when taking my first course, and I was hooked from day one.
How did you advance into competitive freediving?
I joined Bristol Freedivers and a couple of club members were training for the 'Great Northern' competition (nationals) and they asked if I fancied it. I said yes…
How many days do you dedicate to training activities? Do you have a particular training programme?
Well I train in the pool around 3 days a week when I can. Other than that I don't specifically dedicate any time to freedive training, although I'd say I train all the time – I cycle lots of places and I often run when most people would walk. I do dry breath-holding exercises but only when I fancy them, usually first thing in a morning. I'd say I'm thinking of something related to freediving most of the time. Does that count as mental preparation? So, I don't have a particular programme, I just do what I enjoy and dedicate everyday to freediving!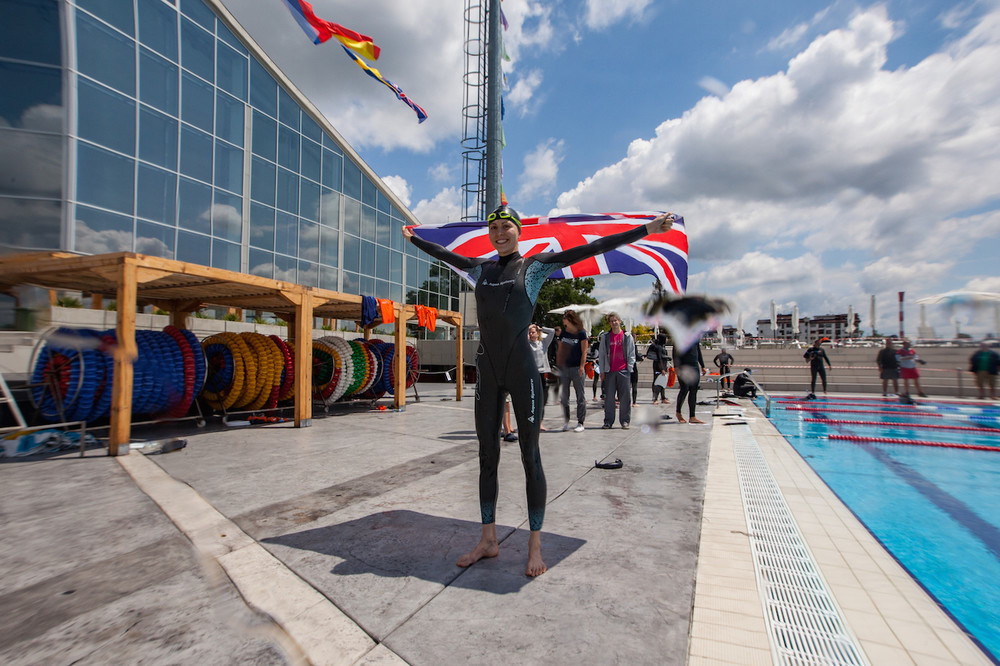 The Freediving Pool World Championships in Finland are fast approaching. How's your preparation going?
I still feel quite new to freediving so I'm not sure what preparation I should be doing, but I'm just doing what I love. I think training is going well; I am having fun which is the most important thing for me, and I'm feeling happy and healthy. I can just do my best at the time. I'm not sure where I'm at in terms of time/distance, but hopefully I'm at a good point.
Which freedivers have inspired you or impressed you the most?
Natalia Molchanova – Queen of freediving – is a huge inspiration and very impressive. She broke over 40 World Records and beat most of the men – what a legend! All freedivers inspire me, though; I know someone who was scared to even put their face in the water, then they learned to freedive and overcame their fear. I think that's just as impressive as going to over 100m depth. We all have to overcome obstacles, and it's everyone's story I find inspiring. I love to hear people's stories. Also, she's not a freediver but my Mum is definitely a huge inspiration!
Many divers have a 'go to thought' when they dive… mine during static apnea is an A to Z; listing a friend, celebrity or historical figure for each letter of the alphabet. What passes through your mind?
Have you heard the pickle song…? "I don't want a pickle, I just wanna ride on my motorcycle And I don't want a tickle, I'd rather ride on my motorcycle.." I sometimes sing that.  At first though, I enjoy the peace and tranquillity of just submerging under the water, I love it! When I'm doing static apnea I often think of a beach I visited in India. It was covered in crabs, all waving in time with each other – or maybe that was a dream! Just happy thoughts!
As you're strong in all the pool disciplines, which is your favourite one?
I would have said DNF (Dynamic No Fins) but then I found a love for Static. I don't really train DYN at the minute, as I can't carry my monofin around when I'm away for University. But ask me next week and it could be DYN…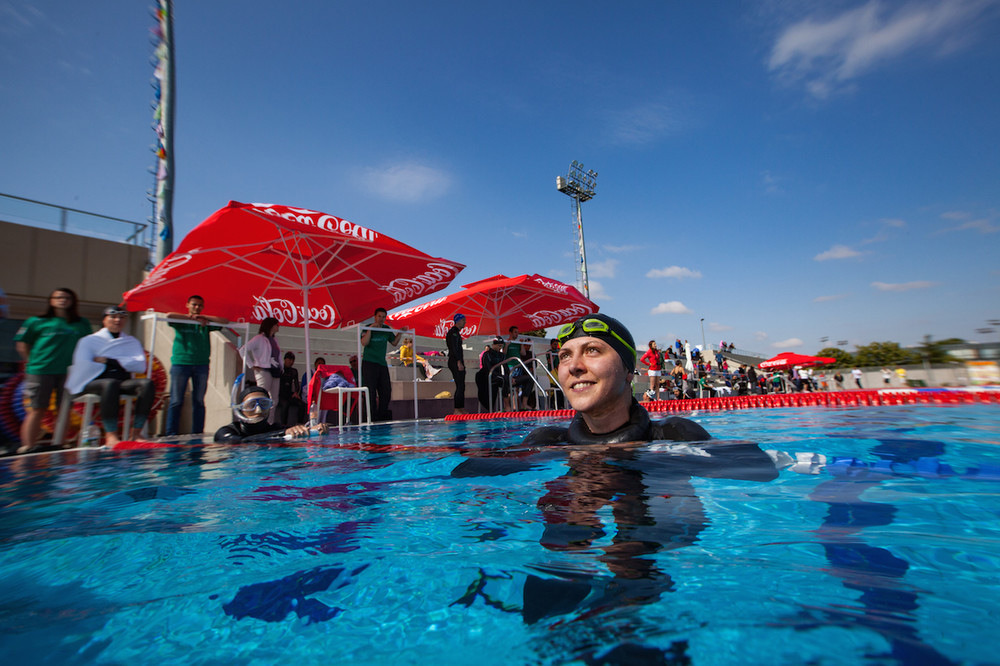 What's your greatest memory of freediving so far?
Can I pick a couple? It's got to be swimming 174m on one breath. I just remember turning at 150m then getting to 160m and thinking, "I'm still swimming?!"'. Then seeing the end and thinking '"Woah! I'd best come up, I've never been this far!". Then after doing all of my surface protocols, Georgina Miller told me I'd won! The whole of the World Championships has to be best memory ever though; from start to finish I couldn't have wished to be with a better bunch of people. I made friends for life that week. I think that's what freediving is, it's like a whole family of lovely people!
What are your future freediving plans? Will we soon see you jump out of the pool and dive into the deep?
For sure. The only reason I've not done open water is I didn't have a suit. But, two days ago my first ever open water suit arrived, so I'm well excited about getting in the open water – can't wait! I just need gloves, socks, a mask and maybe some fins, but it's my birthday soon so hopefully by then I'll be good to go! I'd like to spend some time somewhere warm in the open water, but I need to save some pennies first, once I finish my university degree. I'd love to train to be a freediving instructor too, that would be awesome. I'd like to compete more, and travel the world visiting different competitions, that's the dream!
How do you see freediving progressing over the next few years?
Hopefully it'll keep growing, especially here in the UK as it's still a relatively unknown sport in comparison to other countries. Did you know there are countries where freedivers are paid athletes? Being paid to freedive – that's living the dream! When I say grow I mean recreationally as well as competitively, but I think it's the recreation that's most important. It's something to be enjoyed by everyone and the benefits are huge – psychologically and physically, and it's great for self-awareness.
And finally…. If you had to give a bit of advice or inspiration to new freedivers, what would it be?
Hold your breath! Dream the impossible and make it a reality – and if you don't enjoy it, don't do it. Life's too short. Training can be hard and tiring but at the end of the day the fun times have to outweigh the graft, if not then you need to fix the balance. Oh, and find a club, do a course, and always have a buddy – safety first!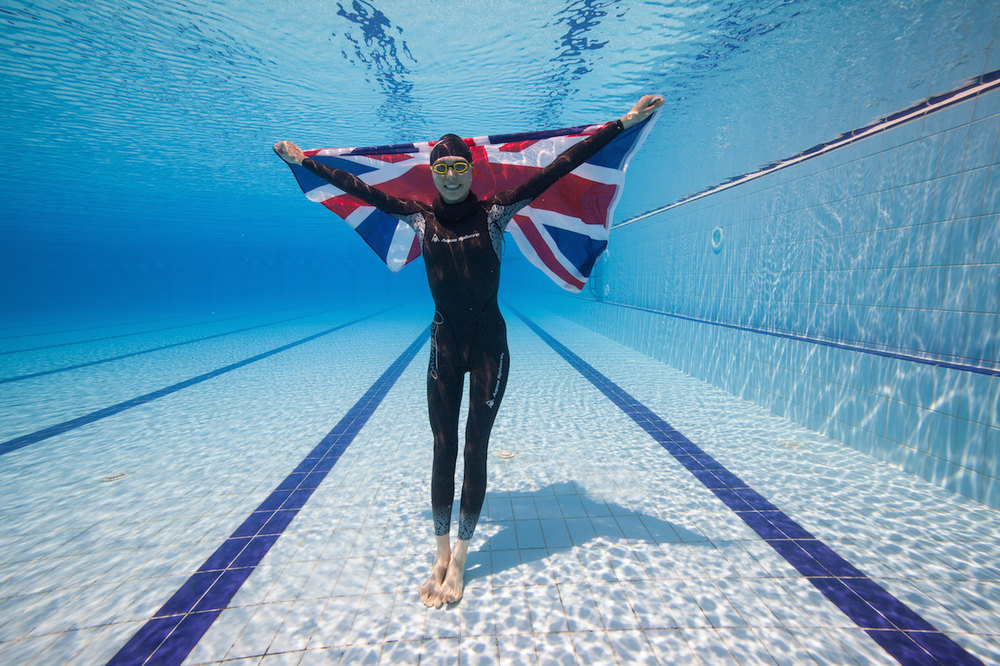 To stay up to Alice's latest competition news, visit her Facebook Page.
If you've been inspired to dive into the freediving world, learn more about the PADI Freediving program here.