"Scuba Zac" Araneta – so popular a PADI Instructor that his students added "scuba" to his moniker – recently achieved the PADI Master Instructor rating and has earned Elite Instructor status for the past two years. Today, he lives the dive life he loves as he inspires divers to keep on diving.

Scuba Zac's Backstory
Originally from the Philippines, Scuba Zac, grew up with an enduring love for outdoor adventures and a fascination with the creatures that inhabit the aquatic realm. So, it's no surprise that he became a diver and then chose a career as a PADI Pro. "I was inspired to become a diver because I loved exploring the underwater world and I was amazed by the discoveries I made there. The possibility for travel was also part of the attraction." His decision to become a PADI Instructor was simply a continuation along the same path. "I grew passionate about the Pro lifestyle and developed a burning desire to live the dive life – to do what I love for a living!"
Eventually, Zac came to own his own dive shop in the Philippines – an experience he found both challenging and rewarding. He learned to ensure customer satisfaction by consistently exceeding their expectations. His favorite aspect of the business was the time he spent diving with his customers – and camping, hiking and cycling, too! "Through these experiences, I formed an amazing bond with my customers – relationships that went beyond mere business transactions; many turned into true friends and all became loyal customers."
Zac has lived and dived in many places around the world, but he now calls California home. He simply loves it. "California offers divers so much: amazing kelp forests, an abundance of wildlife (including my personal favorite, nudibranchs) as well as the California sea lions, who enjoy scuba divers and 'play' with us when we're underwater." He has also found a new family in California among the network of PADI Pros and student divers he now calls friends.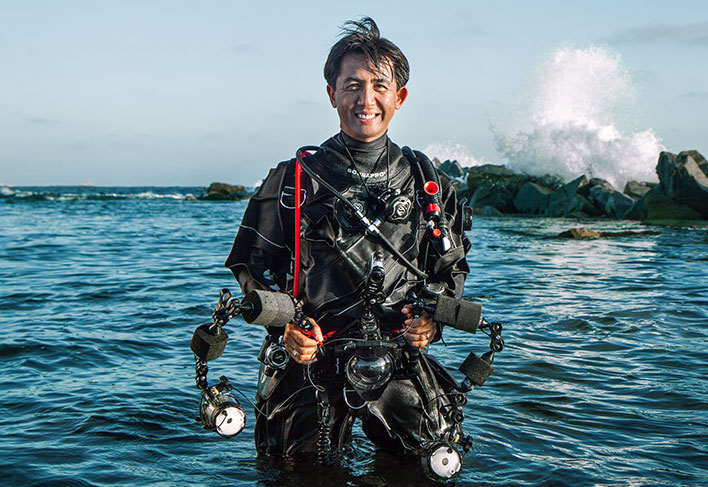 However, the move to California wasn't all sunshine and orange groves. Zac had to overcome many obstacles. "My biggest challenge was immigration. Also, I was separated from my family back in the Philippines and I had the financial hurdle of supporting myself while advancing my career as a PADI Pro."
…And advance it he did, eventually climbing the ladder from PADI Open Water Scuba Instructor all the way to PADI Master Instructor! PADI Pros who earn the Master Instructor rating are recognized as top dive educators who have proven to be dive industry leaders through dedication and hard work. Compounding this great accomplishment is Zac's recognition as a PADI Elite Instructor – two years in a row!
Zac is honored – and thrilled – that he earned PADI Elite Instructor status for his accomplishments in the years 2014 and 2015. The Elite Instructor Award brought him recognition from his fellow PADI Pros, many of whom look at him as the kind of leader they aspire to become. "The Elite Instructor recognition has established my credentials within the diving community worldwide," says Zac. "Many former students who have become PADI Professionals themselves contact me for advice on teaching and on managing their careers," he says.

The Secret to His Success
One of the traits Elite Instructors have in common is their deep love for teaching diving. Scuba Zac is no exception. He loves seeing the transformation that takes place when a person learns to dive. "At the beginning, student divers are often nervous, excited, and anxious – all at the same time. Then, throughout their PADI Open Water Diver course, I see them slowly transform into confident divers with big smiles on their faces. This fuels my passion for teaching and keeps me coming back time and time again to introducing people to the sport!"
The secret to Zac's success as a dive instructor is simple: "When I teach, I put the most emphasis on fun, safety, and maintaining neutral buoyancy.  When these three ingredients are combined, I know I am going to turn out divers who truly love the sport and will come back for more!"
Zac also loves seeing his student divers climb the PADI certification ladder. "I am so happy when my students continue their diving courses. Taking them from Open Water Diver all the way through to PADI Professional makes me so proud! Throughout my career, I have certified more than 40 PADI Divemasters, who are now living their own dive life dreams… wherever they are!"

Transformative Power of Diving
Zac has such big dreams that he sometimes has a hard time choosing which to follow first. He definitely plans to pursue his PADI Course Director rating, but deep down he harbors a heartfelt goal to return to the Philippines – not to live, but to share the wealth of knowledge he has gained as a PADI Professional. "I want to organize a trip to train local people to become PADI Divemasters, so they can support their families and save their dive sites." Fueling this goal is the knowledge of just how transformative diving can be:  Before he left the Philippines, Zac took three local fishermen from Open Water Diver through to the PADI Divemaster rating. Now all three are employed as Divemasters at a local dive shop and their families have been elevated from poverty.
This isn't the only time Zac has witnessed the transformative effects of diving firsthand. Another notable case is a former student diver who became a best friend – Jason Jue. When Jason discovered his true twin passions, diving and underwater photography, he quit his office job in the US, sold all of his belongings and moved to Bohol, Philippines to work at the dive shop where Zac used to work. Jason lived the dive life he loved for many years until he passed away from Leukemia last year. "Jason lived a fulfilled life, following his heart and taking the risk to do what he loved for a living," says Zac. "Looking back, I believe I was the one that influenced him to live his life to the fullest, and I'm glad I had the opportunity to do so. None of it would ever have happened if I weren't a PADI Pro."

My PADITM
"Diving has changed my life, allowing me to develop an independent, flexible and fulfilling career and bringing an amazing group of people into my life – both divers and pros. The accomplishments I am most proud of are achieving my PADI Master Instructor rating, becoming a PADI Elite Instructor and taking so many of my students through continuing education courses all the way to PADI Professional. But more than anything, I am honored to be a leader within this amazing organization. After all, PADI Professionals are truly the best in the world because they create the best divers in the world!
To me, My PADI means…  My passion… My lifestyle…..for life.
Learn more about starting your own journey to become a PADI Professional here.
Visit mypadi.padi.com to hear more My PADI Stories.