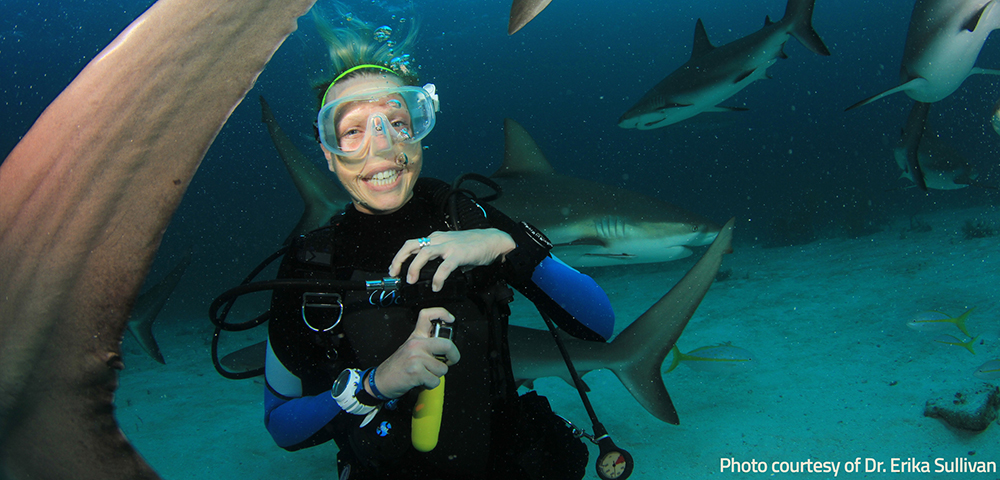 As part of our Women in Diving series in conjunction with PADI Women's Dive Day, we sat down with Dr. Erika Sullivan, a Canadian veterinarian now living and working in Australia. She discussed her passion for sharks and what inspired her to become a PADI Professional.
Tell us about your work with sharks. Where did your passion for these majestic creatures come from?
I was born in Toronto, a big city in Canada. As a young child, I wanted to become a whale veterinarian – large creatures in the sea fascinated me! My mother told me I would have to study marine biology and move far away, to live near the ocean. I pursued my dream to help animals by studying veterinary medicine. Since graduation I have traveled abroad to volunteer helping animals in shelters, many of these destinations were coastal. This always took me back to my my passion to learn about the ocean. I enrolled in a PADI Open Water course in Canada, with the intent of experiencing the marine environment on future travels. I fell in love with it and started to learn more about the ocean's inhabitants. Sharks were mysterious, unique, and the possibility of seeing them and swimming with them made my world spin with excitement.
After seeing my first shark, a Grey Nurse Shark, while diving in Sydney's waters, I started to wonder what was it about these mysterious, amazing creatures that inspired me, and yet others were so afraid of? And, who would want to intentionally harm them?
I want to change the world's attitude towards sharks. I want to protect them, and help others make the connection that we are inherently dependent on the ocean, and the ocean's food-chain is dominated by sharks, so that we take responsible measures to protect the ocean, ultimately protecting ourselves.
What inspired you to become a PADI diver instructor?
Both in my veterinarian training and PADI Dive Professional training, I have been fortunate to have been influenced by mentors and role-models that broadened my awareness on each industry. Since I could speak, I knew I wanted to help animals. One of the things I love about scuba diving, is how excited divers can be upon exiting the waters; about what they saw, the photographs they've taken, or the interesting behaviours they witnessed by sea creatures on their dive. Nobody with that enthusiasm for diving and the ocean would want it to disappear.
I initially took further dive training courses to enhance my own comfort and safety in the water and become a more skilled scuba diver. The more I trained, the more I realized that better divers are better role models for ocean protection. After I began working as a PADI Divemaster, I realized that my continued training, experience, and enthusiasm could have the same effect on divers-in-training. By assuming a role of mentor, I could be in a position to educate student divers, dispel their unprecedented fears of sharks, and be a role model for ocean conservation. My inherent interest in becoming a dive leader, passion for ocean protection, coupled with an inherent love of Scuba Diving has led me to become a PADI Open Water Scuba Diver Instructor.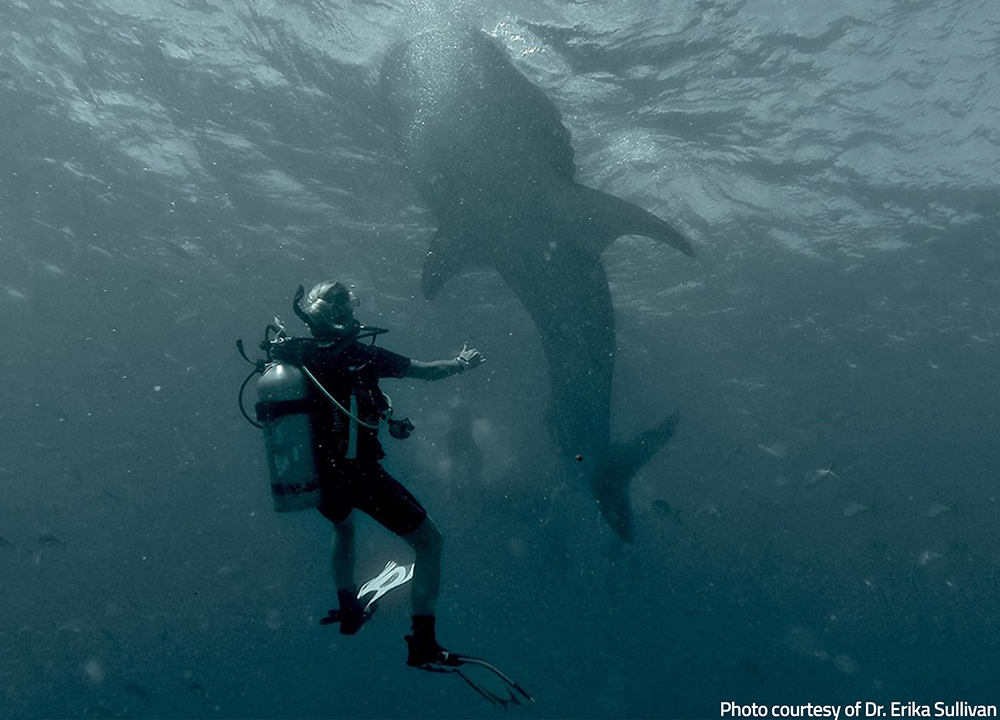 What is your most memorable dive experience?
My most memorable dive experience was a three-day liveaboard Great White Shark Expedition with the Rodney Fox Foundation, in South Australian waters. Apart from being my first liveaboard, it was also the only liveaboard that I have since been on that was dedicated to diving for observation and science of one species alone, the Great White Shark (Carcharodon carcharias). On this expedition, divers participated in the identification of the sharks using their markings and colour patterns, learned about methods of research that involved satellite tagging of sharks, and appreciated firsthand that there is still a great deal of information we do not understand about this species. Diving in a cage that was lowered to the ocean floor allowed us to witness Great White Shark behaviour underwater; a very different experience to the spectacle of them feeding at the surface. Repetitive close encounters showed us their unique anatomic adaptations, and one shark had an injury that was clearly a result of mankind.
We were fortunate to have Dr. Mark Enarson onboard, a fellow Canadian human emergency physician who's passion for Great Whites has led him to pursue research and photography on this species. Mark enhanced our learning and understanding of such a misrepresented species, through a series of presentations he made for our passengers and crew. Great Whites are still an enigma to scientists, as there are still many unknowns regarding their migration and breeding patterns, and predictability of hunting cues. Overall, what I appreciated most from this expedition was that contrary to popular belief that such an experience would leave me terrified to dive in South Australian waters, quite the opposite was true. Witnessing these sharks observe us, their curiosity as they would chase resident rays on the ocean floor, and their ability to switch gears from slow to stealth as they hunted burley at the surface, furthered my understanding and appreciation for a species so misrepresented, that it's left me wanting to help them more.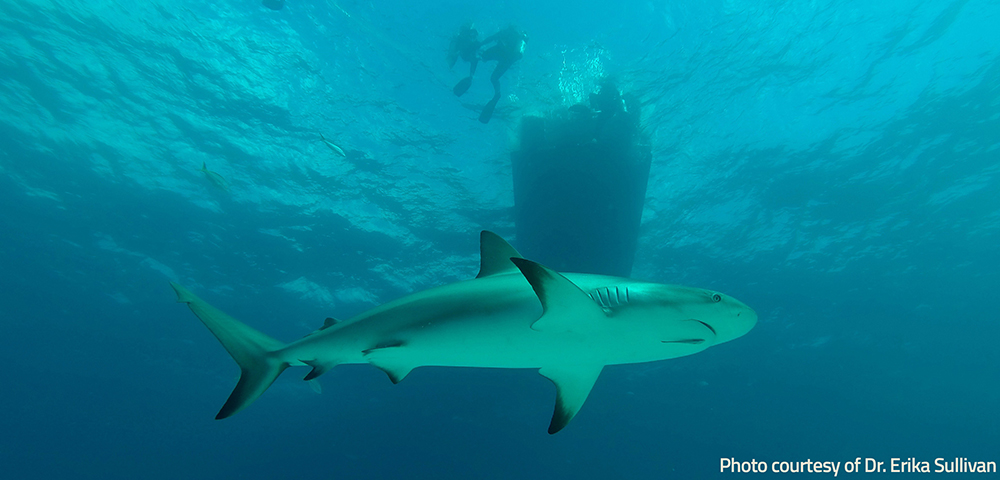 What's next for you as a diver?
I am a new instructor and want to get teaching! I am going to start teaching the Project Aware Shark Conservation Course in Australia and focus on shark species found in local waters as a means to educate both non-divers and divers about the risks affecting them. As an emergency veterinary clinician, I understand the importance of preparedness in the event of any accident. While in in scuba diving or any recreational activity we don't plan on things going wrong, being better trained and prepared for accidents can hasten appropriate medical care and victim recovery. As such, I also plan on teaching divers and non-divers PADI's Emergency Oxygen Provider Course and Emergency First Response course. Lastly, as a diver that dislikes the cold, owning a Dry Suit has changed my comfort and appreciation for the diving opportunities in cooler waters. With time, I would like to earn a Dry Suit Diver Instructor Specialty rating, so that I can help those with a resistance to cold waters learn to love winter diving, and should I ever return to Canada, explore the many fresh water wrecks that reside in in my backyard.
Can you share with us one piece of advice other females who are interested in becoming a PADI instructor or making diving into a career?
Don't let gender or size bias you into believing you can't be the best instructor you aspire to be! Scuba diving is a sport favoured by all: children, young adults, women, men, elderly and even those with physical disabilities. Maintaining a positive attitude, a good level of fitness, achieving training by PADI Dive Professionals, and feeling confident diving within your limits will prepare you. Turning your passion a career will not only enable you to enjoy your daily work, but it will reflect in your training of others, who will then become the advocates you've inspired them to be. Becoming a dive leader and professional will expand your own opportunities and help you discover new interests and passions without even realizing it!
Want to get involved in PADI Womens Dive Day? Click here to find an even near you.
[box type="info" size="small" style="rounded"]
Quick Facts About Erika: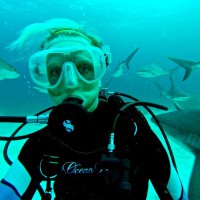 Dream Dive:
Cocos Island, Costa Rica, to dive with schooling hammerhead sharks.
Favourite Marine Life: 
Other than sharks, my next favourite are crabs, specifically Decorator Crabs. I could watch them walk and try to look inconspicuous for hours – they really make me laugh!
Favourite Dive Site: 
After a dive accident turned our boat around to evacuate a diver, we were all bummed about missing our shark feed in the Coral Sea.
We ended up instead on Steve's Bommie in the Great Barrier Reef. We watched by a 5m tiger shark on the periphery and a manta ray swam right over us upon entering the water (who we later got to name for their manta watch project!).
Inspiration throughout Your Dive Career:
Sylvia Earle. Her work and message are inspiring, positive, and she is a woman ahead of her time, dedicated to changing ocean health with her
Hope Spots
. Sylvia Earle inspires me to one day get involved with ocean research; to merge my scientific veterinary background with my diving career, to further ocean life protection.
Next Scheduled Dive: 
Whyalla, South Australia, in two weeks. This is a unique location where Australian Giant Cuttlefish (
Sepia apama
) congregate annually between June and July to breed – apparently there will be hundreds to thousands!! I am very excited…and also excited that I have a dry suit as the water is a chilly 12C right now![/box]