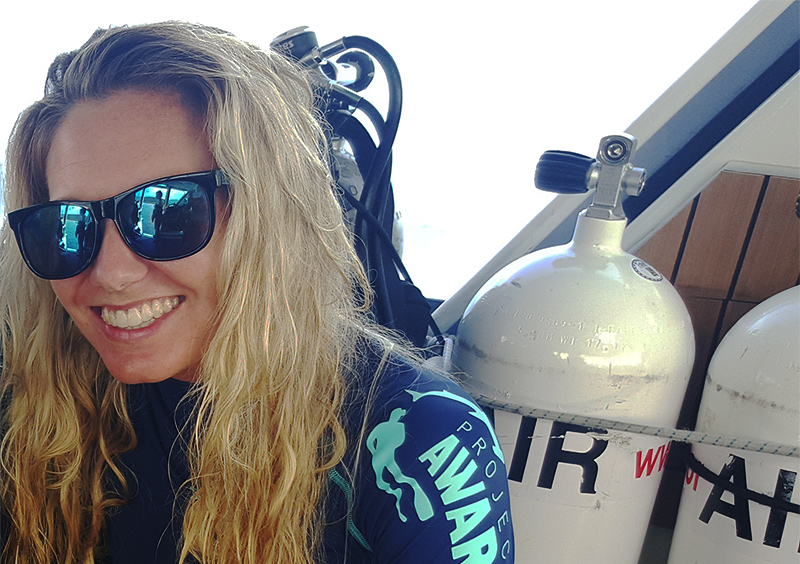 PADI Women's Dive Day has been a huge success over the last two years. In association with our annual event, we are shining the spotlight on some fantastic women in diving who have, and continue to do amazing work within the scuba diving industry.
Here we interview Hannah Pragnell-Raasch; PADI® diver, marine biologist and proud Project AWARE® advocate.
What made you interested in marine biology and marine conservation?
As far as I can remember, I've had a passion to look after animals and although I didn't grow up by the ocean, I have always been mesmerised by the underwater world. Growing up, my career dreams and aspirations transitioned from wanting to be a professional tennis player to becoming a veterinarian but my heart was always with the ocean.
Originally from Sydney but having moved to England when I was 11, I completed high school and went to university in the UK – obtaining a BSc in Marine Biology at the University of Plymouth before going on to do my Masters in Biodiversity Conservation.
My research there focused on climate change, specifically the synergistic effects of ocean acidification and temperature change. At that time, studies looking at the combined effects of these two stressors on the marine environment were few and far between. Over the years, such studies have become more commonplace as we learn more and more about the effects of climate change and what we can do to help combat the impacts.
During this time, I also took myself to Greece to take part in a sea turtle monitoring program – leading daily nesting beach surveys, locating nests, deploying nest protection devices, conducting nest relocations as well as leading presentations in order to raise awareness amongst the locals and the tourists. While I was there, we rescued a sea turtle that had been struck across the head. She had a deep laceration across the top of her head down to her eye. It broke my heart. I sat with her all day, bathing her wound and trying to provide what comfort I could until she was transported to the turtle rehabilitation centre in Athens where thankfully, she made a full recovery and was released back into the wild. Whilst challenging, my experience in Greece strengthened my desire to work within marine conservation.
In my role now as Program Specialist with Project AWARE, I put my experience in marine conservation and research to use focusing on protecting sharks and rays and working with partners to address the marine debris issue – helping ensure our work is based on sound science and research as well as globally leading Dive Against DebrisTM – our marine debris citizen science program.
Working in marine conservation as well as being a diver, it's sad to see first-hand the devastating impacts humans are having on the marine environment. But that only fires up my determination and commitment to keep going. The ocean needs us and I won't ever give up trying to protect it.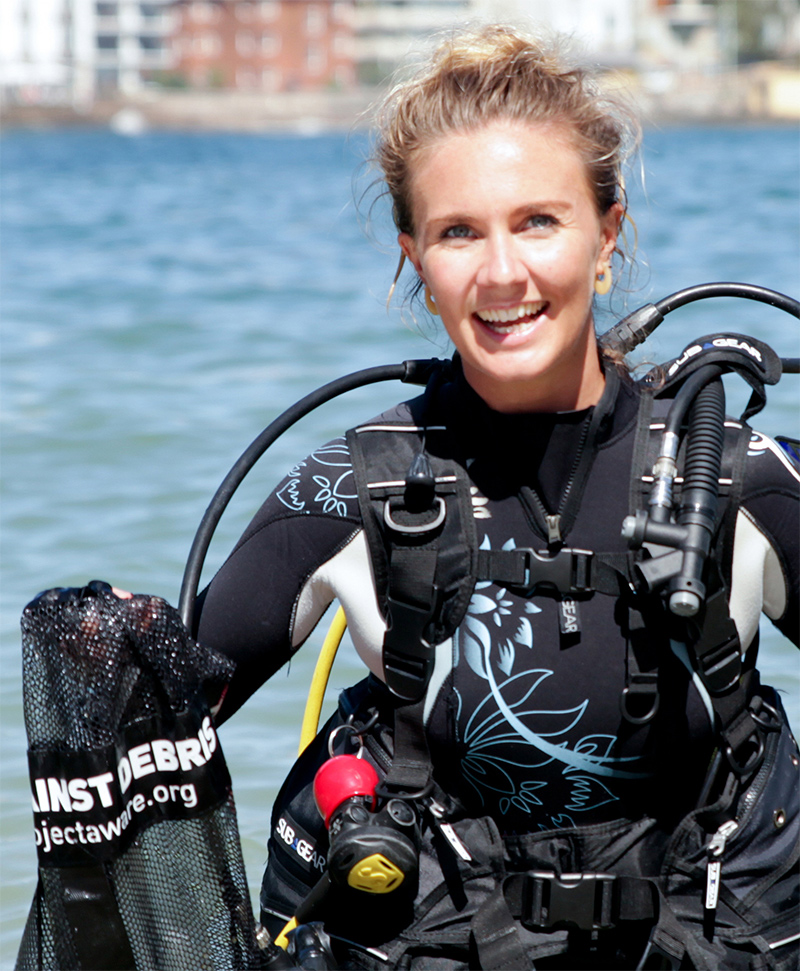 Describe your inspiration to become a PADI diver
The ocean was and continues to be my inspiration – pure and simple. Having such a passion to protect the marine environment, becoming a scuba diver was a no brainer. I wanted to experience for myself its natural beauty. I got my PADI in 2007 in Manly, Australia. As cliché and corny as it sounds, it truly does unleash a new world and unlocks something in side of you that you can't experience anywhere else or doing anything else. Words just can't describe. It honestly would have to be one of the best things I have ever done and now, I am forever encouraging anyone that hasn't been diving, to go diving.
What is your most memorable dive experience?
I would have to say diving in Sipadan, Malaysia a few years ago. We'd literally got in the water for our first dive and were descending when we looked down to see none other than a Leopard Shark. My first encounter with a shark and it was a Leopard Shark. I was beside myself with excitement – the grace and agility of this species was mesmerising. After that, we saw loads of reef sharks and I got just as giddy with excitement each time, to the point that I got through my air as quick as a flash and had to complete the rest of the dive swimming on the surface.
Recently, we've been diving with Grey Nurse Sharks off the mid north coast of New South Wales, Australia – at any one time, we were surrounded by twenty or more Grey Nurse Sharks. It was breathtaking. Their majestic presence and tranquillity inspires me to continue to fight to ensure vulnerable sharks and rays gain the protections they deserve and are in need of to safeguard their future.
If people could do one small thing to help protect or minimise their impact on marine environments, what would you suggest?
Care. If people don't care, we're really fighting a losing battle. Our own health and wellbeing relies on a healthy and abundant ocean planet. We need to embrace change, positive change. We all have a role to play and we need to take responsibility in our day-to-day life choices – saying no to single use plastic, recycling wherever possible, picking up the rubbish you pass as you walk along the beach, making responsible seafood choices, educating those around you, supporting container deposit systems – the opportunities to make a positive difference are endless. I'm a firm believer in Howard Zinn's words that "small acts when multiplied by millions of people has the power to change the world".
If we want to continue to dive, and I know I do, we need to ensure we do what we can to protect and conserve the marine environment. If we don't, that will mark the end of the diving industry.
In the lead-up to the 17th meeting of the Conference of the Parties to the Convention on International Trade in Endangered Species of Wild Fauna and Flora (CITES CoP17), divers can participate in Project AWARE's #Divers4SharksNRays photo campaign – rallying together to help encourage CITES Member Parties to vote YES to adopt the proposals for nine species of devil rays, three species of thresher sharks and the silky shark.
Can you share with us your advice for other females who are interested in marine biology and/or marine conservation?
Perseverance and dedication – don't let gender biases discourage you from achieving your goals. I'm not going to lie, there's a lot of hard yards to put in. Many a sleepless night were had at uni and I'm sad to say it wasn't because I was out partying, some may say a misspent youth, but I knew what I wanted to achieve. I'm proud of what I've achieved so far and I've been lucky to have such a wonderful support network around me of family and friends.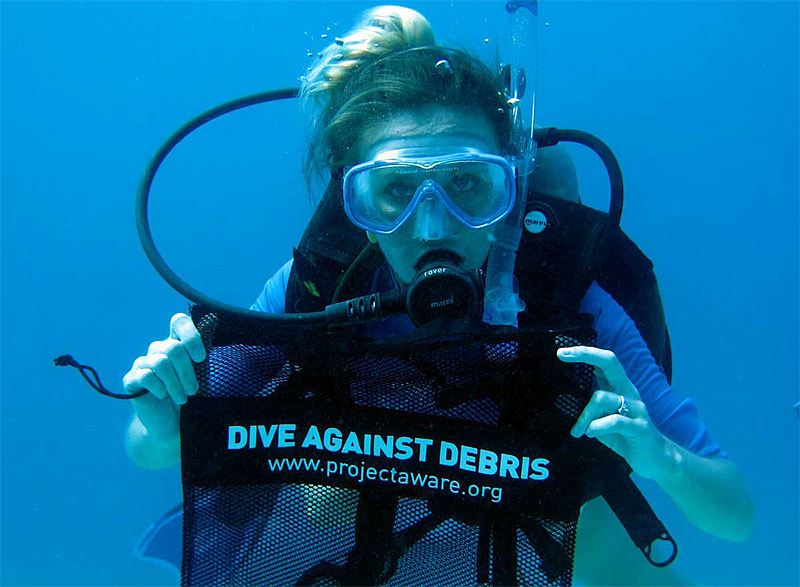 How did you get involved in PADI Women's Dive Day 2016?
Unfortunately I was high in the sky rather than in the water this PADI Women's Dive Day, flying back from the UK but I think PADI Women's Dive Day is a fantastic campaign. It's wonderful to shine a light on women in diving and their contribution to the diving industry and I hope that it inspires more woman to get in the water.