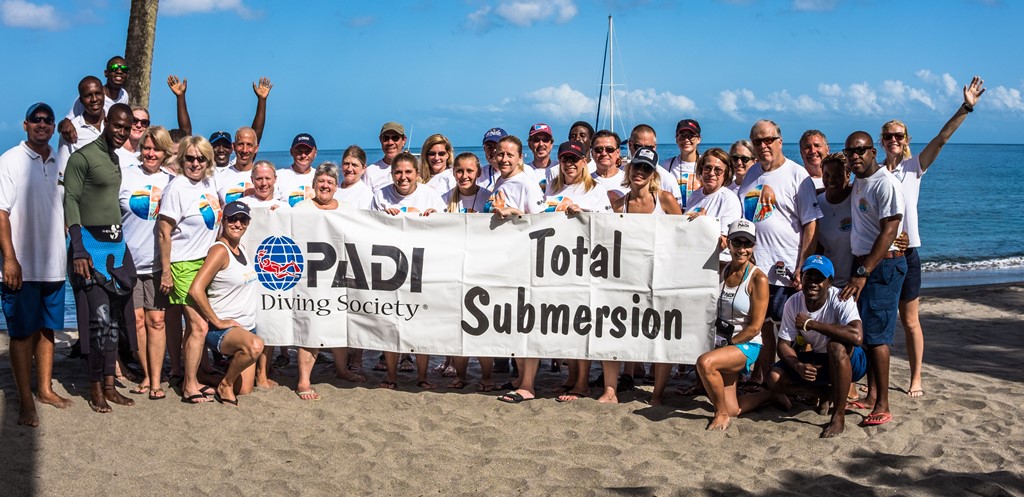 Total Submersion
By Melissa Gaskill
Packing up at the end of the week, I struggled to fit everything into my suitcase. Blame addition of a PADI® dry bag, coffee mug, water bottle, hat and other swag collected during the 17th Annual PADI Total Submersion.
This week of world-class diving, great friends, parties, contests and more exceeded my expectations. So did Saint Lucia, Anse Chastanet Resort and Scuba St. Lucia, a PADI 5 Star Dive Resort and Divers Alert Network Partners in Dive Safety facility.
For the week, the group divided into two teams, each with its own dive boat and crew (and a little friendly rivalry; water cannons may have been involved). Jimmy Stinson took advantage to notch his 1,500th dive, for which sponsor SCUBAPRO awarded him a pair of Seawing Nova Fins. I hit dive number 100 on my final giant stride of the trip. Several other participants completed various certifications: JB Brown and Barb Sladeck completed their Open Water Diver certification; Don Battaglia finished his Drift Diver specialty to earn a PADI Master Scuba DiverTM rating; and Chris Valerian and Dawn Desmelyk completed Drift Diver, Boat Diver and Peak Performance Buoyancy specialty courses.
"The extremely friendly, knowledgeable dive staff made it very easy for us to earn three new certifications while not distracting from our group experience," says Valerian. "We are definitely planning on going back to Total Sub in the future."
The Diving
Numbers and certifications aside, we experienced diving at its finest. For one thing, we had the water mostly to ourselves. For another, more than 150 species of fish call these protected reefs home. At sites just a short boat ride from the dive shop, we swam through swarms of brown and blue chromis and watched colorful parrotfish and peacock flounder, soldier fish, trunkfish, needlefish, puffer fish and more. Moray eels and enormous lobsters tucked into the coral. Enormous purple barrel sponges harboring tiny, brightly colored fish. Seahorses hiding in red sea fan coral. Sea turtles loitering near the reef. Even a tiny, juvenile Smooth Trunkfish, little more than a hovering spotted marble. We could thank the sharp eyes and expertise of the dive masters for many of these sightings.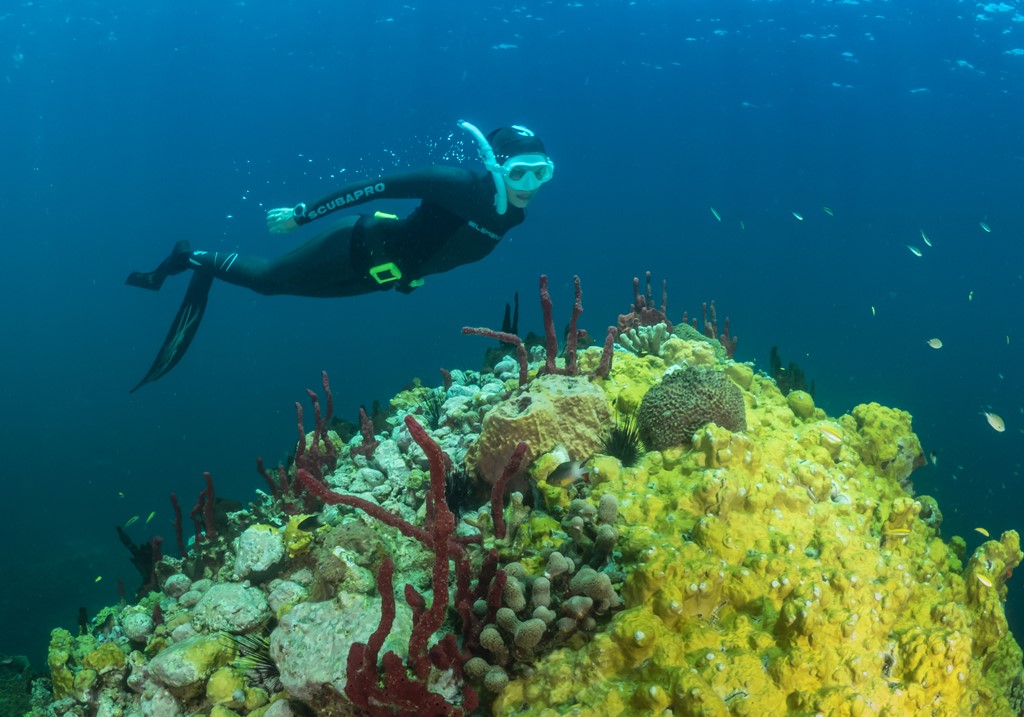 The crew not only made our diving productive, they made it effortless, helping us gear up, navigating for us underwater, signaling safety stops and helping everyone back onto the boats post-dive. There, we enjoyed pastries fresh from the resort kitchens while the crew readied our gear for the next adventure.
Night dives from the resort beach served up crustaceans, large basket stars, octopus, squid, bioluminescence and "The Thing." (You'll have to ask.)
The Experience
Topside, we enjoyed games, safety clinics, and parties, executed by PADI staff and team leaders Theresa Kaplan and Adrianne Miller along with special guests Julie Anderson, director of global marketing for ScubaPro and founder of Shark Angels; Frances Smith, DAN medical information specialist; and PADI photographer Budd Riker. Anderson brought along bags of brand new ScubaPro gear for us to field test, including fins, masks, and BCs. She also gave an informative presentation about the efforts of Shark Angels to protect every diver's favorite marine predators.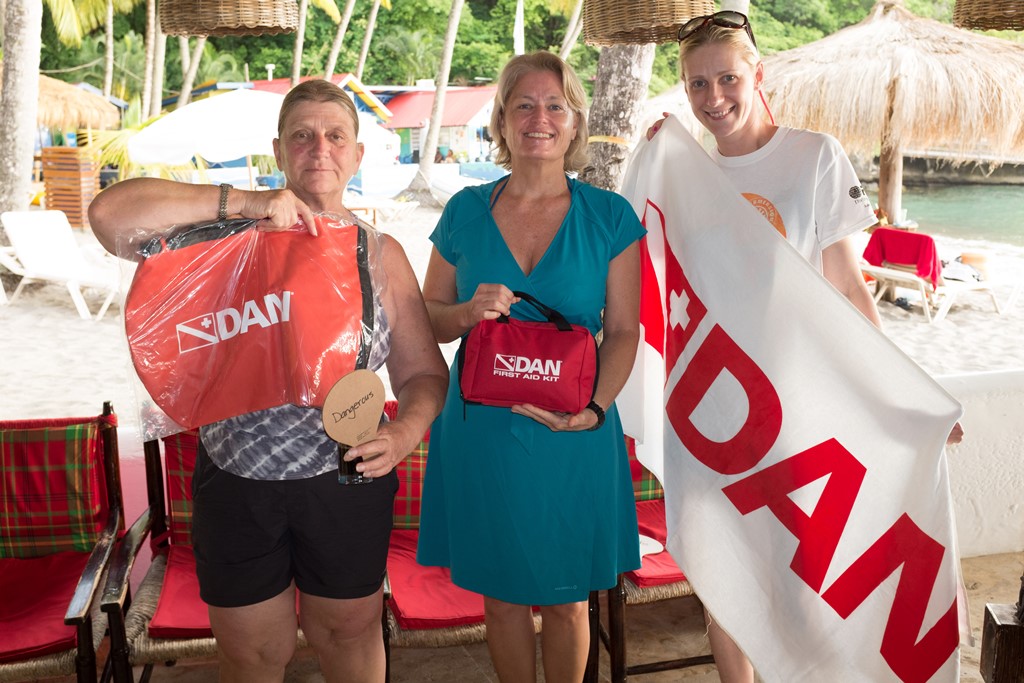 Cathleen Burns won the "Dangerous or Safe?" game sponsored by DAN, which presented various diving scenarios with players voting whether they were dangerous or safe. Karen Upchurch took first place in the Photo Safari, a weeklong quest to capture a list of underwater and topside images. She won a GoPro HERO4 camera for her efforts. I frequently spotted Upchurch, a fellow Blue Team member and previous Total Sub Photo Safari winner, in impressive underwater contortions with her camera gear. We all won at the duck hunt and Obscure Beach Games. Everyone danced to live music on our private sunset catamaran cruise, which included a bonus whale sighting.
"Total Sub unites divers from all over for one action-packed week of diving, fun and shenanigans, below and above the surface," Miller sums up. "We all arrive as strangers and leave with long list of new dive buddies."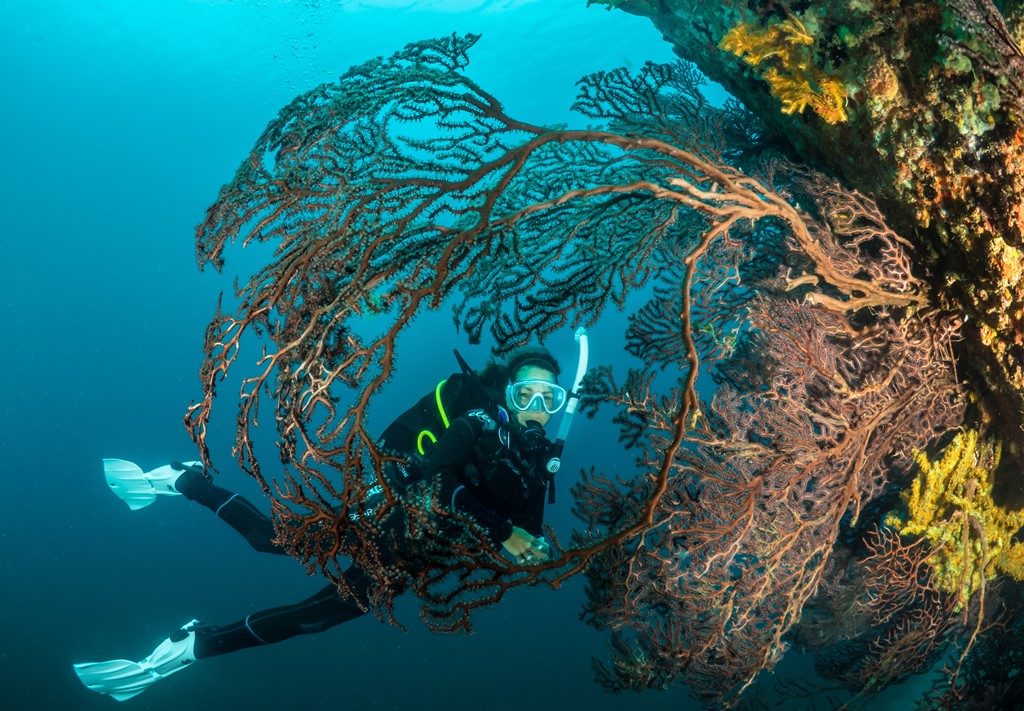 The Total Sub staff obviously took a lot of care selecting the destination for this event. The island of St. Lucia wowed with classic Caribbean scenery as well as a famous landmark and World Heritage Site, the Pitons. The steep slopes of these twin peaks continue underwater, forming the dramatic walls we explored at dive sites such as Superman's Flight, Piton Wall, Jalousie and Coral Garden.
I finally managed to stuff everything into my bag. I'm grateful that I didn't need extra room for all my Total Sub memories. Next year, I'll bring a bigger suitcase. Read more about Saint Lucia.