Learning to scuba dive can change your life – there's no denying it – and it can be even more true for children and young people with disabilities or complex backgrounds, such as being orphaned or having behavioural problems. We interviewed Syed Abd Rahman from Kids Scuba about his experiences of changing lives through scuba diving.
How did you become interested in Scuba Diving?
In the early 80's I loved going to the Marine Parks Island in Malaysia on weekends with my wife. I started snorkelling and the coral, fish and marine life that were deeper enticed me to go deeper and longer. So I took my PADI Open Water Diver Course with B&J Diving Centre, Tioman, with Ben aka Zainal Rahman as my Open Water Instructor in 1990.
Why did you decide to open a scuba diving school dedicated to teaching children?
In 2002 my eldest daughter, Nadhirah was trained and certified as the youngest and first PADI Seal Team member in Malaysia. She was also trained at B & J Diving Center Tioman by Ben (who was also my PADI Open Water Instructor).
After seeing her accomplishments and achievements in scuba diving, I told myself that other kids in Malaysia can do it too. Thus, we started the program in Malaysia in 2004. Since then we have managed to help children in Malaysia achieve their dream to take up scuba diving. The children then further develop their scuba skills with the regular pool session we have, coupled with the Kids Scuba Camps organized 3 times a year at the lovely Marine Parks Islands in Malaysia.   This is a great initiative as it involves family bonding.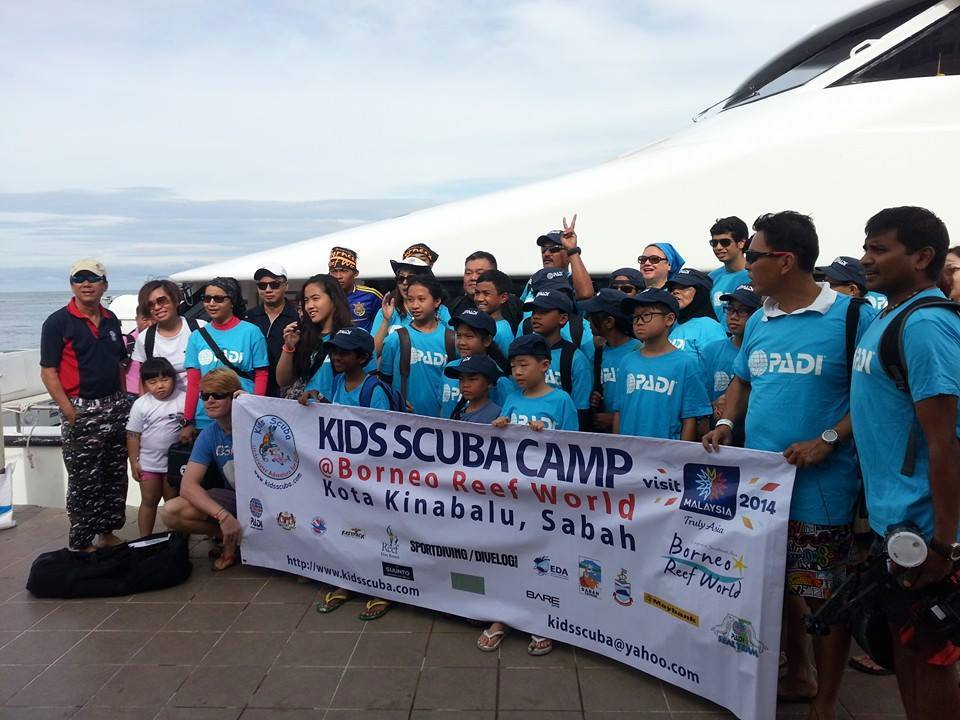 You've taught people from a wide range of backgrounds including children and young people who have lost their parents to people with disabilities. Do you see a change in when they experience the underwater world for the first time?
Through our Kids Scuba Program, we have trained and changed many people of different levels such as problem children, hyperactive & timid kids – they become the reverse. The program has given them confidence and motivation to explore other areas as well. For us at Kids Scuba, enjoyment comes from giving proper training and education, and instilling good buddy system. We compliment and motivate kids to excel at scuba in which not many adults are able to achieve.
I believe that when it comes to teaching kids, youth, orphans and people with disabilities, it's all about pure education, training and the foundations for them to learn the right scuba skills.
There's just a very small margin of profit in teaching them scuba –that's one of the main reasons why not many instructors teach the above groups. It involves small margins, and to be able to teach and guide them requires; lots of patience, lots of love, commitment and dedication to ensuring that the students become good divers with good scuba skills to be future Instructors.
There is more work to do in teaching special groups of people, but it is very rewarding in years to come when they themselves have grown to become Divemasters, Instructors and Marine related scientist.
Is there one particular moment when you've been diving yourself or teaching someone to dive that stands out in your memory?
In fact there are a few experiences actually. One boy in particular was sent to the pool by his parents at the age of 8 years old, 12 years ago, for his scuba discovery course, he refused to come out of the car and I had to personally coax him and talk to him slowly with another of our young students. After seeing other kids in the pool swimming, scuba diving and enjoying themselves, he totally changed. With a wide smile he enjoyed every dive with us and took courses from PADI Junior Open Water Diver to his PADI Divemaster course with us.  For the love of scuba diving and the marine life, that same boy is now undergoing his Marine Biology Degree at the University of Southampton UK
You've also trained people with hearing impairments so that they can learn commercial diving – how does learning commercial diving change the life of someone with a hearing impairment?
The program is to instil the "I Can Do and We Can Do" spirit in participants – inspiring them to take on challenges that they may not have considered before.
Using zero gravity and the adventure paradigm, with the program we help participants believe that if they can scuba dive they can do anything.  We've discovered the forgiving, weightless environment wonder of the water column provides the perfect gravity-free environment for those who might otherwise struggle on land. In the Underwater environment, we are all equal.
Scuba diving can help to people with disabilities, particularly with impaired hearing to make a career in Commercial Diving. People with leg amputations can also do commercial diving – it would give them an additional areas of professional occupation to explore which can change their life for better.