Topside, the earth-friendly community adopts streets and parks, so it only made sense for divers to adopt the same principles to some of their favorite dive sites. These four dive shops have proven that cleaning up your little area of the ocean, can make a big difference whether you are creating an artificial reef or simply picking up trash on your next dive.

The team at Eco Dive has been doing regular cleanup and community dives on Grand Anse for years, it was only when Project AWARE® developed their Adopt A Dive SiteTM program that it became official.
The site, named Grand Anse, is right off the beach and where the shop conducts dives as well as critter-hunting photography excursions. Because of this added attention, a diverse group of marine life includes healthy sea grass beds, sea horses and flying gurnards as well as stingrays, eagle rays and even the occasional manta ray.
But it's not just the adults that are partaking in the cleanup. "We work with a community kids group called Grenada Youth Adventures who have recently come on board to help us clean the beach and underwater area the first Friday of every month. We have done previous cleanups with our guest divers, local school kids and staff," says Christine, co-owner and manager of Eco Dive.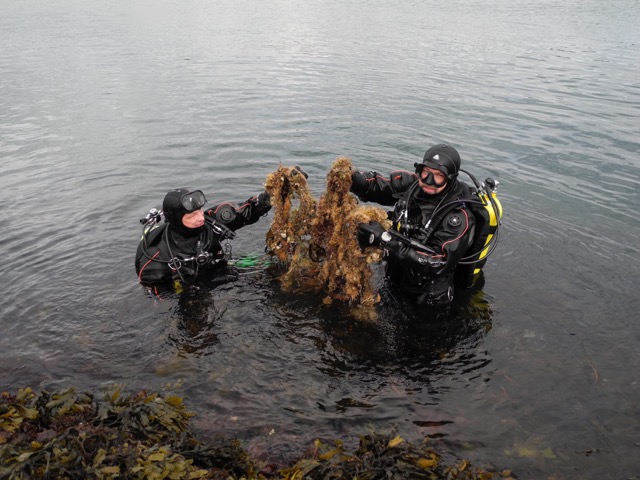 With some of the strongest tidal currents in the world and a lack of daylight a few months each year, the conditions in the Arctic Circle don't always allow for regular cleanup dives. But that doesn't stop the hardy team at Saltstraumen DyykkeCamp.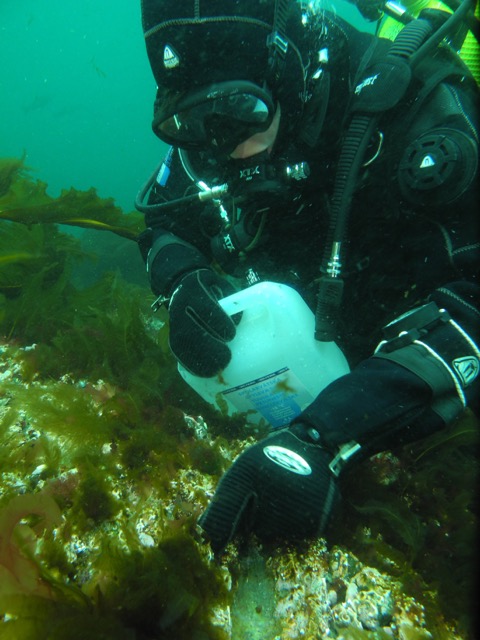 When the conditions allow for it, Fredric Ihrsén, the manager for Saltstraumen DyykeCamp, his PADI Divemasters and a group of other local divers in the area come together to clean up their two adopted dive sites. Currently on their Adopt A Dive Site list are Ørneset and Tunnelen, a 6-meter-deep pothole created by the glacier.
And it's not just the dive sites that local divers are working to protect; it's the marine life, too. The local diving community started a no-hunting policy regarding the wolf-eel population and the message has been getting a plethora of positive feedback.
"By letting the wolf-eel population reproduce in peace we have seen an increase of the numbers," says Ihrsén. "When I came in 2008, I was happy to see two to four fishes over a weekend. This year my record is 25 wolf eels on one dive. Last year, over one weekend we saw over 50 wolf-eels and at over five different dive spots."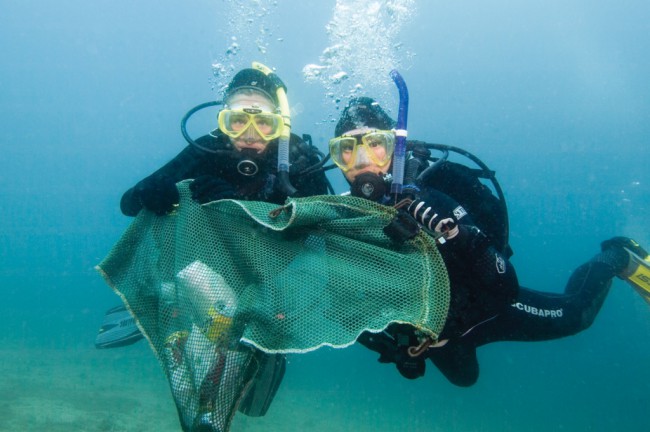 When it comes to conservation, Dive Otago is getting a lot of TV and print media attention in their area thanks to their efforts with the Adopt A Dive Site program, Finathons and Dive Against DebrisTM initiatives. Next on the agenda: A push for their local dive site, Aramoana, to be included in a voluntary marine reserve.
Recently, they added another reason to be proud of their work. During last year's Finathon® campaign, Team Tomahawk named an unidentified great white shark, which they affectionately named Tomahawk.
Because of their focus on conservation, the staff at Dive Otago is already seeing results from their cleanup programs. "It is certainly nicer to visit the dive sites without seeing debris in the water," says Emma Young, Short Course and School Coordinator of Dive Otago.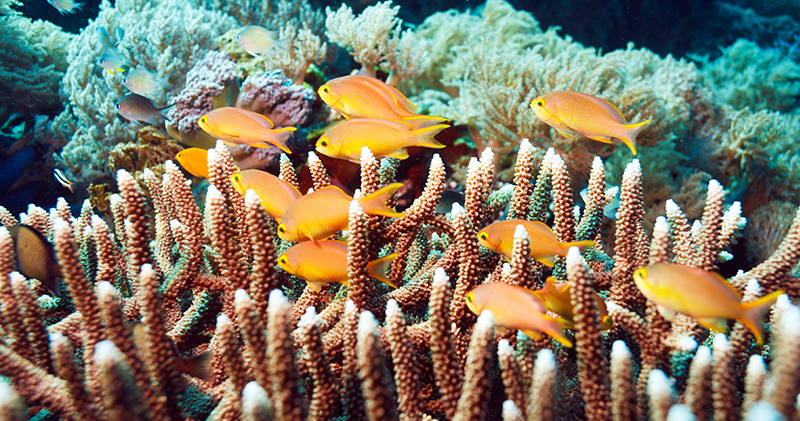 Thanks to the divers at Trawangan Dive and the Gili Eco Trust, the beautiful waters of Indonesia are getting some extra TLC with their Biorock Reef Restoration Project.
A minimum certification requirement of a PADI Advanced Open Water Diver gives participants the chance to get educated on how to do reef check surveys, coral watches and reef gardening techniques. Also on the curriculum: removing invasive species such as drupella snails and thorn starfish. And with opportunities to become Coral Reef Gardeners, Reef Check Eco Divers or PADI Biorock Process Specialists, the program is attracting people involved in marine biology and coastal management from all over the world.
One of the biggest draws to the program is participating in designing, building and the sinking of a Biorock structure. Once positioned, loose corals are attached to the new reef where they can grow up to 50 times the normal rate depending on water temperatures and pollution.
"The Biorocks have created dive sites which would have previously been sand, rubble and sponges," says Delphine Robbe Gili, Eco Trust Coordinator. "It is a point of interest for many tourists who are interested in the science behind it as well as providing an excellent option for night dives or simply a well-protected dive site in rougher conditions."
These four dive operations are just a small glimpse of what the diving community is doing in their efforts towards conservation. And we couldn't be more appreciative.
Looking for initiatives to help heal reefs in your neck of the woods? Learn more at Project AWARE.