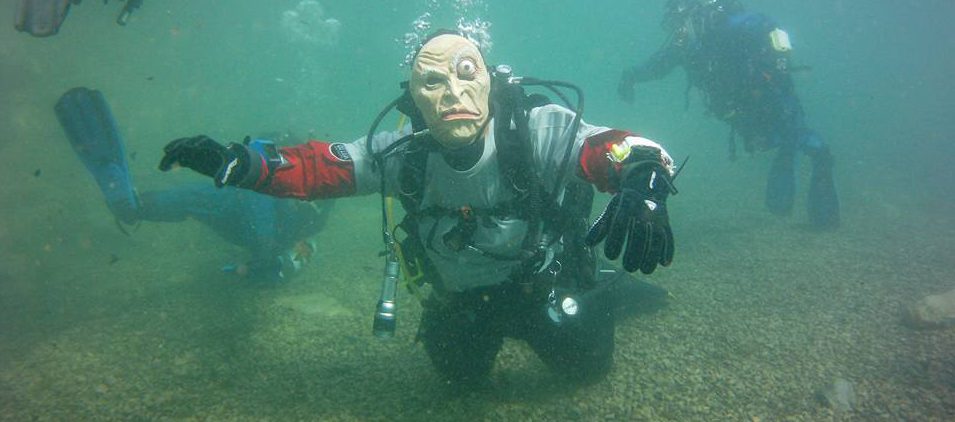 Last Sunday morning, a group of UK divers met at Capernwray with Bolton Area Divers. It was a crisp, autumn morning and a pre-dive buzz was in the air. But, little did they know a zombie apocalypse had reached the UK, and hoards of the walking dead were on the approach to this otherwise-peaceful dive site. Their beautiful dive day was soon to turn into their worst nightmare – just in time for Halloween.
Receiving a briefing from PADI Instructor Mike Hughes, the students learned their mission: a zombie apocalypse was upon them, and the divers had to locate and rescue the Doctor who had gone missing while trying to find a cure for the zombie virus.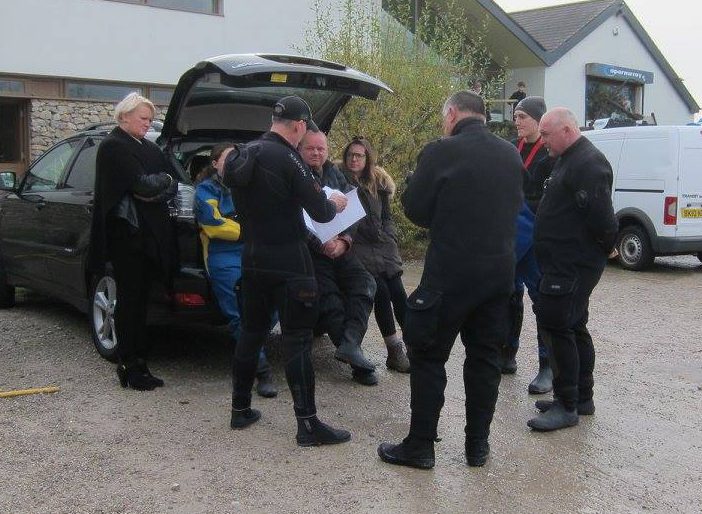 Not wanting to become a meal for the undead, the students began their dive, trying to avoid the pack of zombies lurking underwater (a.k.a. the PADI Divemasters). The zombies' aim was to float near enough to a student to remove a special tag from their cylinder. If successful, the student was caught and would be one step closer to becoming a zombie themselves! Careful buoyancy control and environmental awareness were essential to avoid this terrible fate.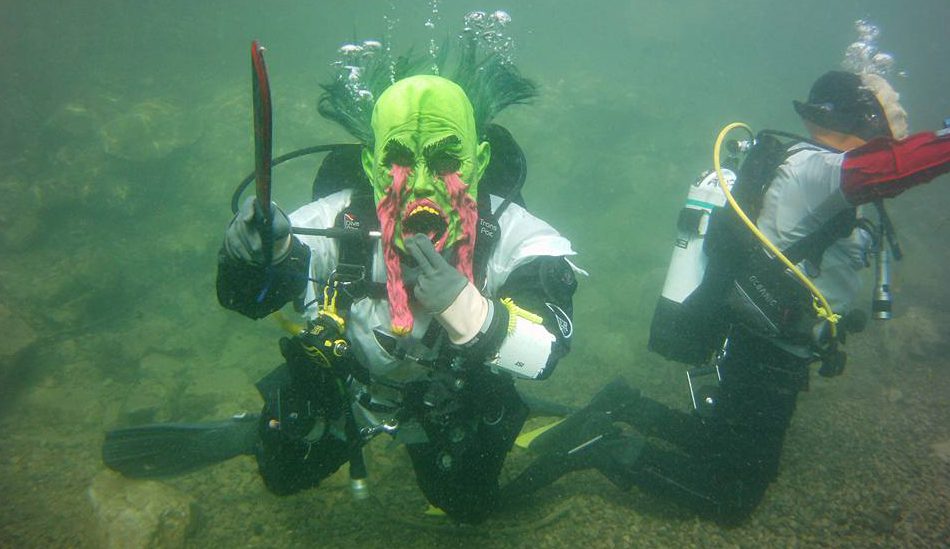 Using excellent navigation and search skills, the students located a variety of useful supplies, including a cylinder of zombie gas. Crafting a lifting device from a bucket and pair of jeans (supplies are scarce in the middle of an apocalypse!) the students used improvisation and some impressive knot-tying skills to safely lift the cylinder to the surface.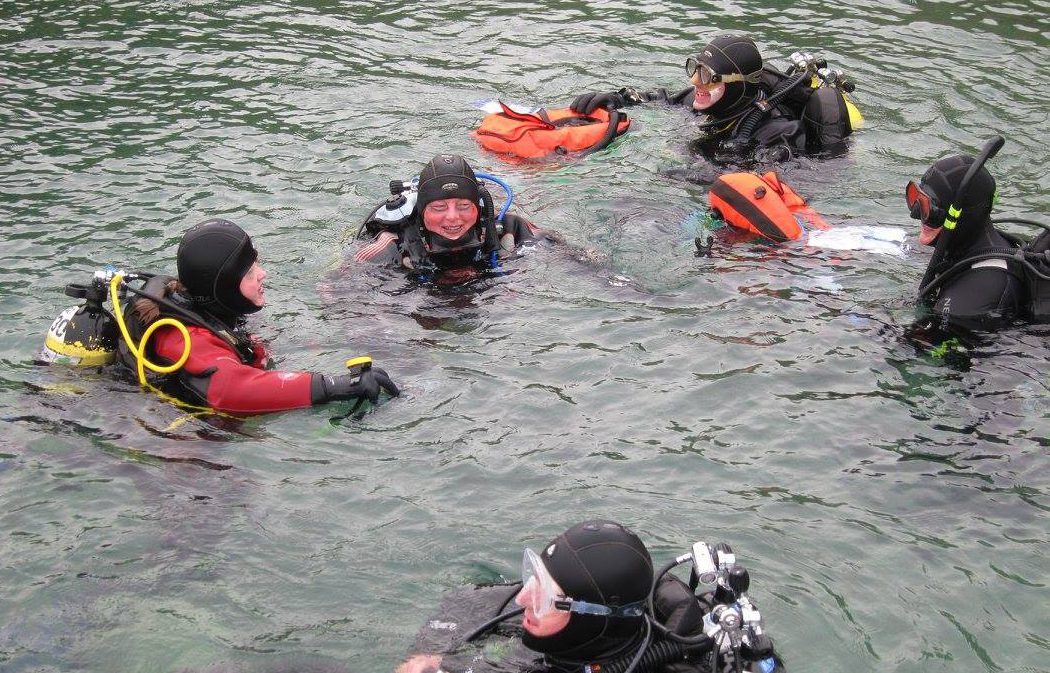 Returning to the water for a second dive, the students launched an ambush on the zombies using Torid Pulse bubble guns in an attempt to ward them off. Unfortunately, during the chaos, one of the team was attacked by the zombies and, in a 'distressed diver' state, had to be rescued. The students towed him back to shore, but once on land there was plenty of first aid and bandaging to do – they had to quickly stem the bleeding from the zombie bites!
After the last dive, the students had to admit defeat and the rescue mission was cut short. Each team member was given a special logbook stamp and a Zombie Diver wristband. They were inspected under UV lighting for signs of contamination, and unfortunately, all of the students were found to be infected by the zombie virus. They had to have special zombie make-up applied and a photo taken to try and prevent the spread of the virus any further.
They'll soon receive a PADI Zombie Apocalypse Diver certification card – complete with their zombie photo – as evidence of their new zombie status…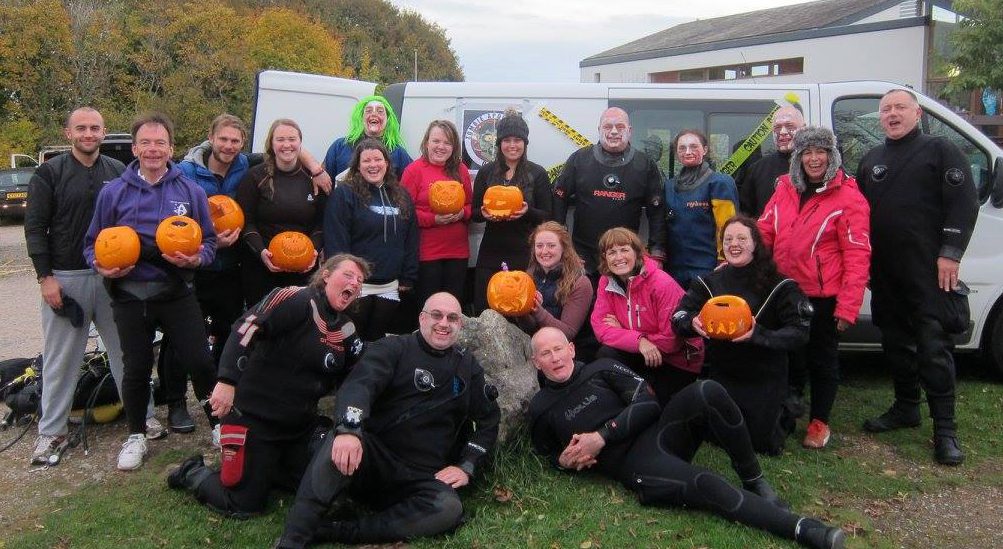 About PADI Zombie Apocalypse Diver
The Zombie Apocalypse Diver distinctive specialty course was created in 2012, by PADI Master Instructor, Woodrow F. Tinsley III. Initially based in the USA, it become apparent that the zombie apocalypse was affecting many other countries, and training was a necessity further afield.
PADI IDC Staff Instructor Michael Hughes (of Bolton Area Divers) qualified as a Zombie Apocalypse Diver when he was living in Texas, USA, in 2014. In 2015 he brought the course to the UK with a very successful pilot at Halloween (despite losing all of their students to zombies).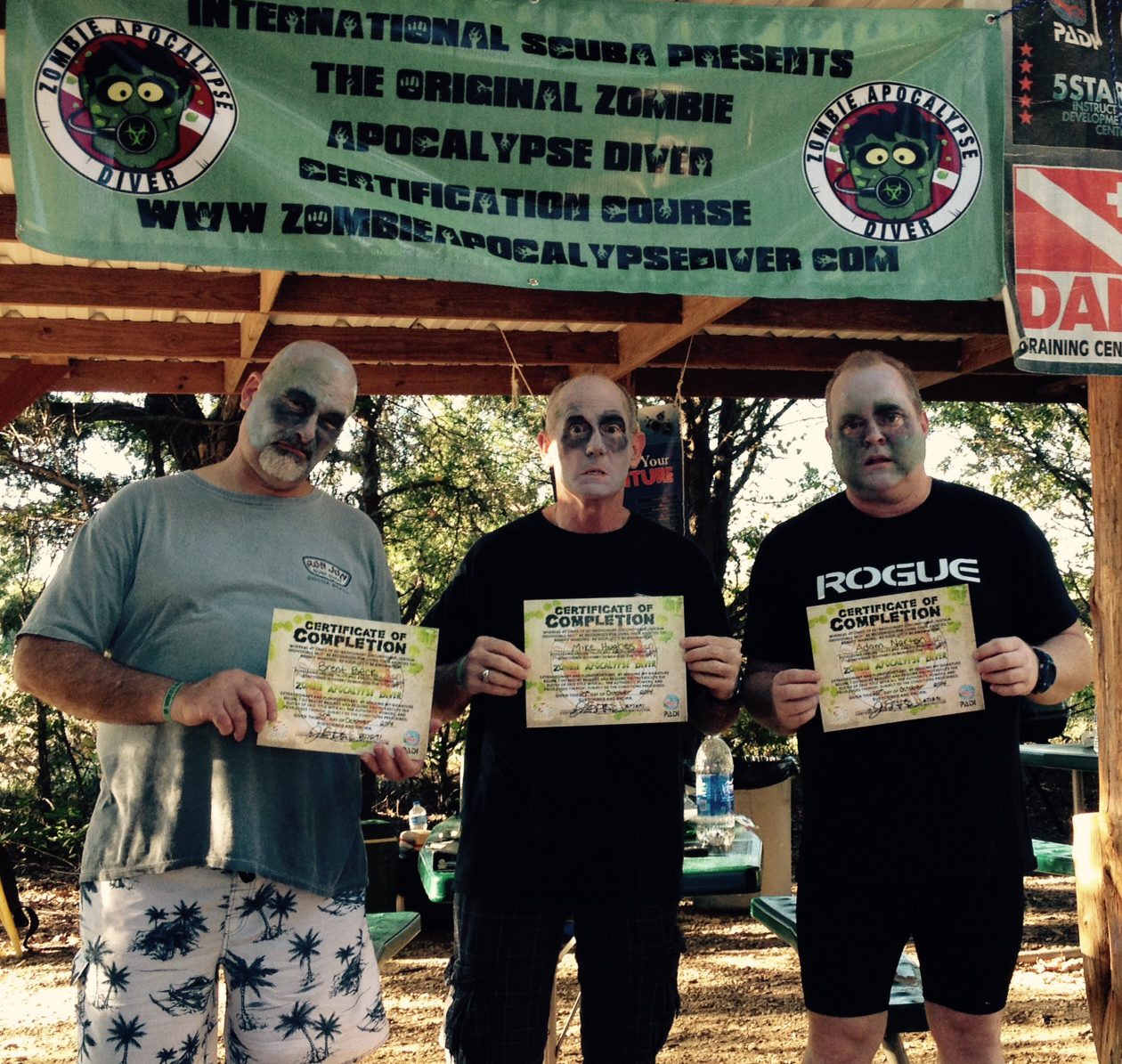 "At first our customers thought it was a joke, they were wondering if it was a real course. But then they were convinced of the necessity and started to sign up. We even had more sign ups then spaces!" says Shereen Roberts, Bolton Area Divers.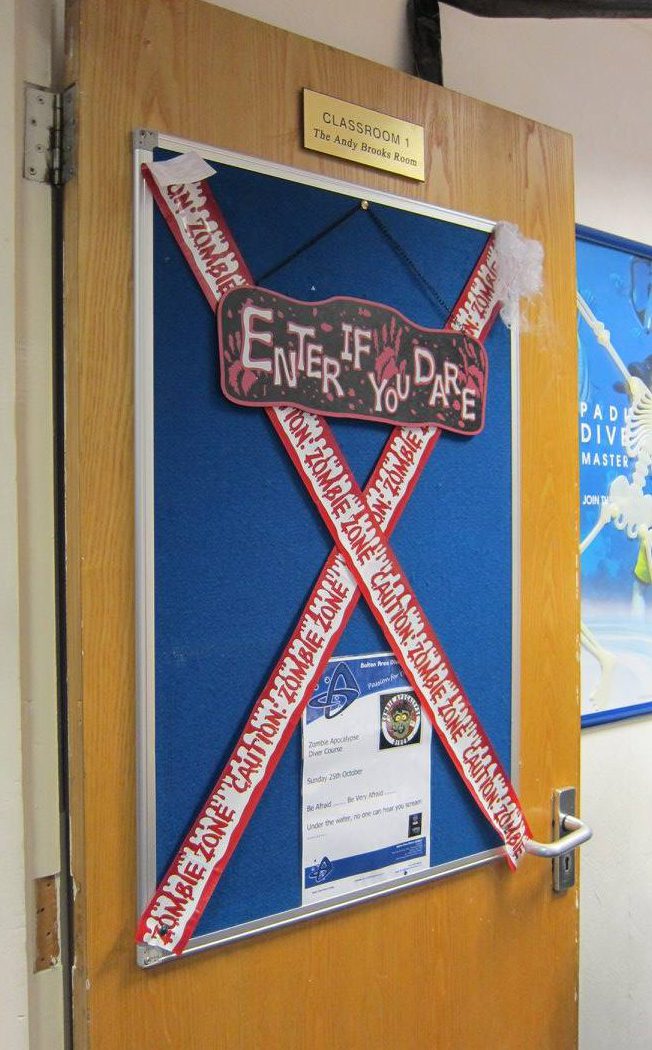 The course consists of a theory session, during which you will learn about zombie biology, zombie history, types of zombies and survival. "I try to make it very interactive with references to popular TV shows, and we decorate the class room", Michael says.
Michael explains further that the theory is followed by two training dives in which the students follow the storyline of a research team that is trying to figure out the cause of the apocalypse and rescue medical staff, "You are being given tasks and are practicing search and recovery techniques, buoyancy control, and rescue and first aid skills – all while trying to avoid the zombies. It's very interactive and great for team building."
"It takes a lot of organisation. It's not just an instructor with students. We also had to recruit zombies!" adds Shereen.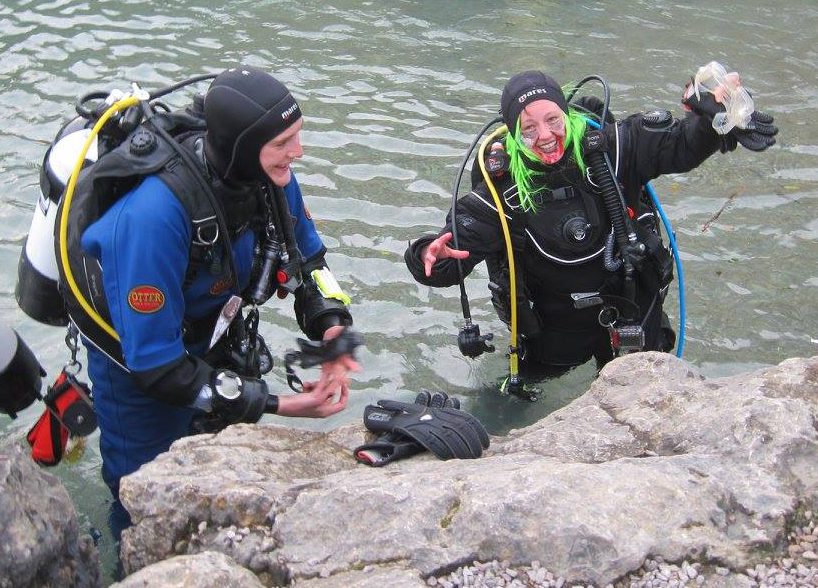 ---
To find out the fate of these poor zombie students, ask for an update from Bolton Area Divers. Or, speak to your local PADI Dive Center or Resort to find out if a zombie apocalypse is coming to your home town in the future.
You can find out more about the history of this unique distinctive specialty, along with FAQs and details of how to apply to teach the course at Zombie Apocalypse Diver.
All photos courtesy of Bolton Area Divers