What does every scuba diver want this holiday season? More free time to go diving!  If that particular gift is above your paygrade, no worries. We've got you covered.
Whether you're looking for the perfect gift for a scuba diver, or something to show your love of the ocean, our latest gift idea list has something for everyone. We've included old favorites, new finds, and options for every budget.
Your local dive shop is the best place to start
For one thing, the shop may know the diver in question and what s/he has had their eye on. Also, the local dive shop is an important part of your local community and deserves your support.
There are certain scuba accessories every diver can use. A dive shop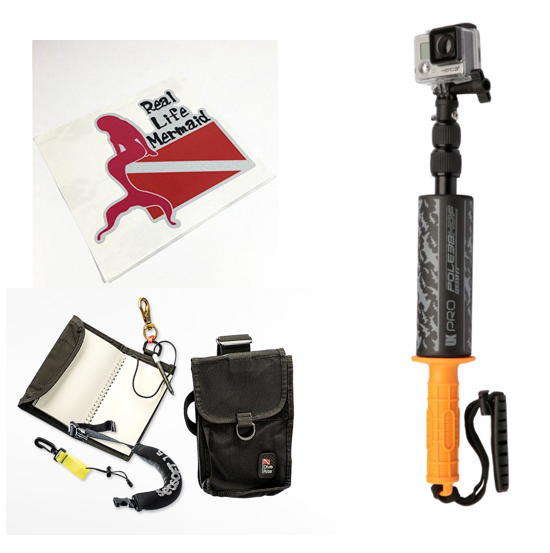 staff member can help you assemble a gift bag of small necessities, but here are a few ideas:
Defog
O-rings
A gear-marking pen
Mask strap
Scuba diver decal
If you're interested in spending a little more, an underwater slate, dry bag  or dry case are very useful.  A dive light or a small tank light will also make thoughtful gifts.
If you've ever noticed your diver friend sharing underwater photos or video, they might like a floating handle for their GoPro camera. Better yet: a telescoping, floating pole for shooting in those hard to reach places. Don't even think of calling it a selfie stick.
For that special diver in your life, a boat coat makes a great gift. Not just for boats: a big, warm coat and a hot drink after a cold dive are on the top of every diver's list.
Some divers prefer experiences over things. We get that. For those folks, ask the dive center about a private class or dive excursion.
A good diver is always learning, and there is always more to know about fish identification, photography, and of course gear. Even old salts can't help but smile the first time you put them on a DPV.

Gift certificates are a versatile way to give the gift of scuba.
Know someone who might love diving? Ask your local dive shop about a gift voucher for a Discover Scuba Diving® pool session.
Buy an eLearning Gift Pass for any PADI online course including Open Water, ReActivate® and Scuba Tune-Up all the way up to Divemaster or Instructor. The gift pass can be customized with holiday art and redeemed at any PADI® Dive Center or Resort worldwide. For more info, read the eLearning gift pass FAQs.

Do You Know a Real-Life Mermaid?
Why not get her a real life mermaid sticker or tshirt? There are also some great items for women at PADI Gear including various PADI tote bags and cozy red pajama bottoms. Ocean-themed jewelry is another thing mermaids like.

Scuba T-shirts and other Diver Apparel
One of the great things about being a scuba diver, is telling people you're a scuba diver. Get that conversation started with an I Breathe Underwater, What's Your Superpower? T-shirt.
For something more subtle, a PADI hat, scarf and glove set gets recognition only for those in the know.
These octopus belt buckles are so sweet, your scuba diver friend will buy bigger pants just for the excuse to wear a belt.

Scuba Gift Ideas for Kids
Maybe you're that adventurous auntie or uncle who wants to share your love of the underwater world? If your wee one is too young for a Bubblemaker experience or Seal Team camp, plant the seeds with an underwater wall decal for their room. You can have one custom made, or go for the peel and stick option.
Get them a shark mouth book bag to show off at school, or a turtle iPad case. For playtime, LEGO makes a fun underwater set.  If appropriate, scuba diver Christmas tree ornaments make your favorite sport part of the holiday tradition.
Gift Ideas for Practical Scuba Divers
Got a diver on your list who prefers practical gifts? So do we.
Waterproof seat covers are very popular, as are waterproof wallets.
If your diver friend does a lot of shore diving, s/he may struggle with where to stash their car keys.  A magnetic key-hider can help keep their vehicle secure.

Scuba Diving Gift Ideas for the Home
This diver shower curtain is one of the coolest things we've seen in awhile. You can get the same print on a towel or throw pillow. Keep an eye out for periodic free worldwide shipping offers from this site.
For divers who enjoy beverages:
Plastic is the enemy of the ocean, and though biodegradable rubbish bags might not be the most glamorous gift,  Eco-conscious divers will appreciate your thoughtfulness.
For something a little less… trashy, we love this set of ocean friends reusable snack pouches. Unlike disposable sandwich baggies, these snack bags are reusable, dry quickly and can be thrown in the dishwasher or washing machine.

Gift Ideas for Shark Lovers
Divers are often the spokespeople for sharks. Even those who are scared to try scuba at first eventually end up with I Love Sharks socks or a shark stapler.
For divers with a more mature sensibility, we like this shark iPhone case. Other, more whimsical options include a shark shot glass and shark butt magnets.
Don't like sharks? You will after staring long enough at this great hypnotic wall clock!
Speaking of sharks, it's worth mentioning here that if you purchase anything from this page via the Amazon links provided, a portion of the sale will be donated to support the conservation efforts of Project AWARE® through Amazon's affiliate program.
For divers who like to travel:
Reef-safe sunscreen…or better yet a rashguard
These rashguards from PADI GearTM are a stylish way to protect your skin from the sun and the reef from harmful chemicals. Various style and color variations are available for Men and women.
Hopefully we've presented, or at least inspired a great gift for the scuba diver (or scuba instructor) in your life. If not, check out the top scuba diver gift ideas from last year.
Donate your age
For those of you who don't need another tie or basket of bath gels, ask friends and family to donate your age to Project AWARE. The contribution will go towards protecting the ocean, sharks and rays we love so much.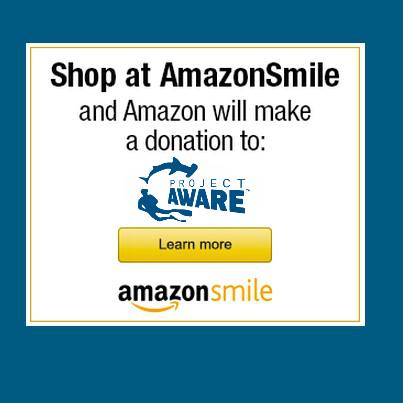 Are you a shopping from the United States? Here's another great way to support Project AWARE:
If you're an Amazon.com user in the United States, please bookmark this Amazon Smile link or copy / paste and bookmark this one: http://smile.amazon.com/ch/33-0540475
By clicking the link above, Amazon will donate 0.5% of the price of your eligible AmazonSmile purchases to Project AWARE Foundation whenever you shop. AmazonSmile is the same Amazon you know. Same products, same prices, etc.
Happy shopping, and Happy Holidays.