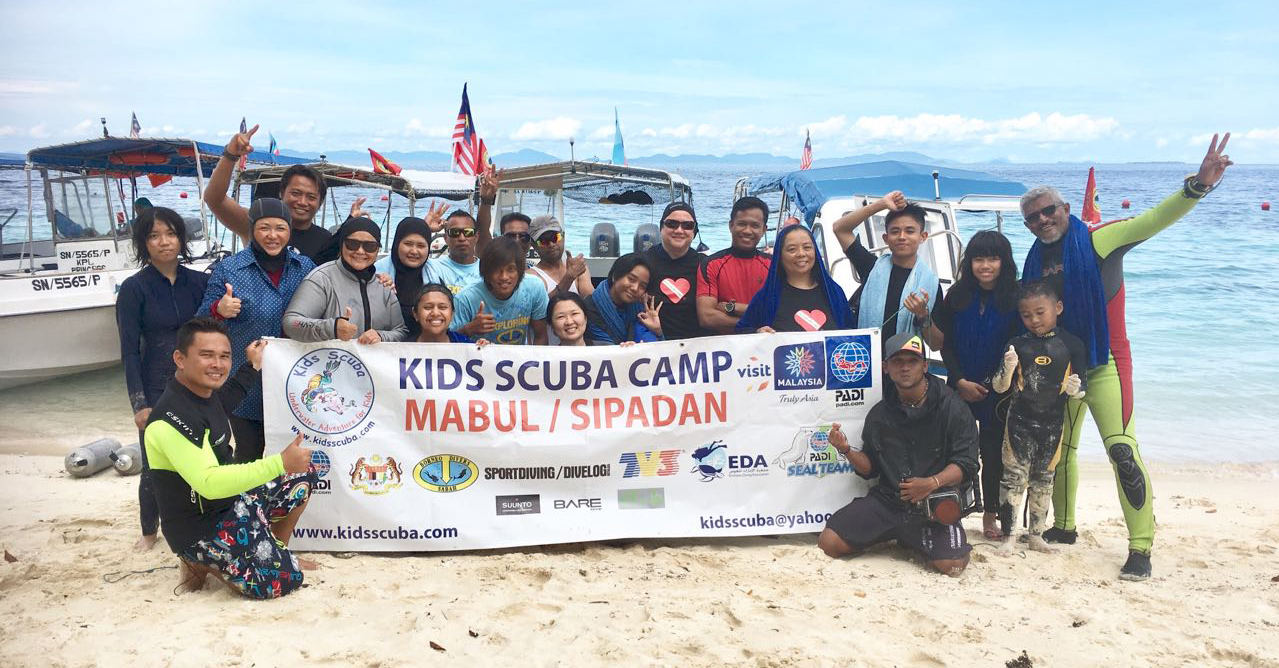 Guest post by Hj Syed Abd Rahman, PADI IDC Staff Instructor & Director, Kids Scuba Malaysia
"I saw a couple of "Nemo"  clown fish, a puffer fish and a school of squid!" shouted a young PADI Seal Team boy while pointing to the  underwater camera. It seems that nothing in this world excites a young child than seeing magnificent marine creatures while snorkeling right off the Borneo Divers Mabul Resort jetty.
I have been educating young kids aged 8 to teens about scuba diving and the marine environment since 2004 with the start of Kids Scuba in Malaysia. There is nothing more cheerful than seeing little kids and young teens – PADI Junior Open Water divers – feeling enlightened by the magical world of our underwater garden and spectacular marine life. I am proud to be a Scuba educator. Malaysia is situated in the middle of the coral triangle and it brings me great pride to point out some of the best diving site to the younger generation especially in Mabul and Sipadan Island.
Our Kids Scuba Camp Mabul Sipadan 2016 held at Borneo Divers Mabul Resort, a well-known established PADI 5 Star Resort. was a truly special Marine educational camp. Our Kids Scuba team conducted the Project Aware Beach and Underwater cleanup with the assistance from the friendly Borneo Divers Divemasters. The Dive Manager from Borneo Divers, Mr Steven, took time to personally explained, and educate camp participants on the Importance of Marine environment cleanup process witnessed by all kids, teens and Parents. This is truly amazing as being part of an eco-diver which instils in them the values of assisting others and also protecting and conserving the underwater marine environment with the right education.
One of the highlight of this year Kids Scuba Camp program, was that 40 local kids from the Mabul Island primary school were invited by Borneo Divers Resort to participate in our Kids Scuba Camp Program. Then our Kids Scuba Team shared and 40 sets of Goodie bags filled with school stationery and snacks to start their school session for 2017.   The effort was carried out together with Kids Scuba PADI Rescue Diver Student, Master Ilyas Zorin and his Mother, Ms NurChahya and it brought wide smiles to the children.
One of the Participants, Ms Marissa, PADI Advanced Open Water Diver, had this to say;
"Diving makes me appreciate the flow of Life. Sometimes you ride the currents, sometimes you need to swim against it hoping that you get to see beautiful things along the way. I had so much fun on this trip, Scuba Camps such as this makes it even more essential for us to live sustainably so that our future generation will be able to experience the Marine Magic too. "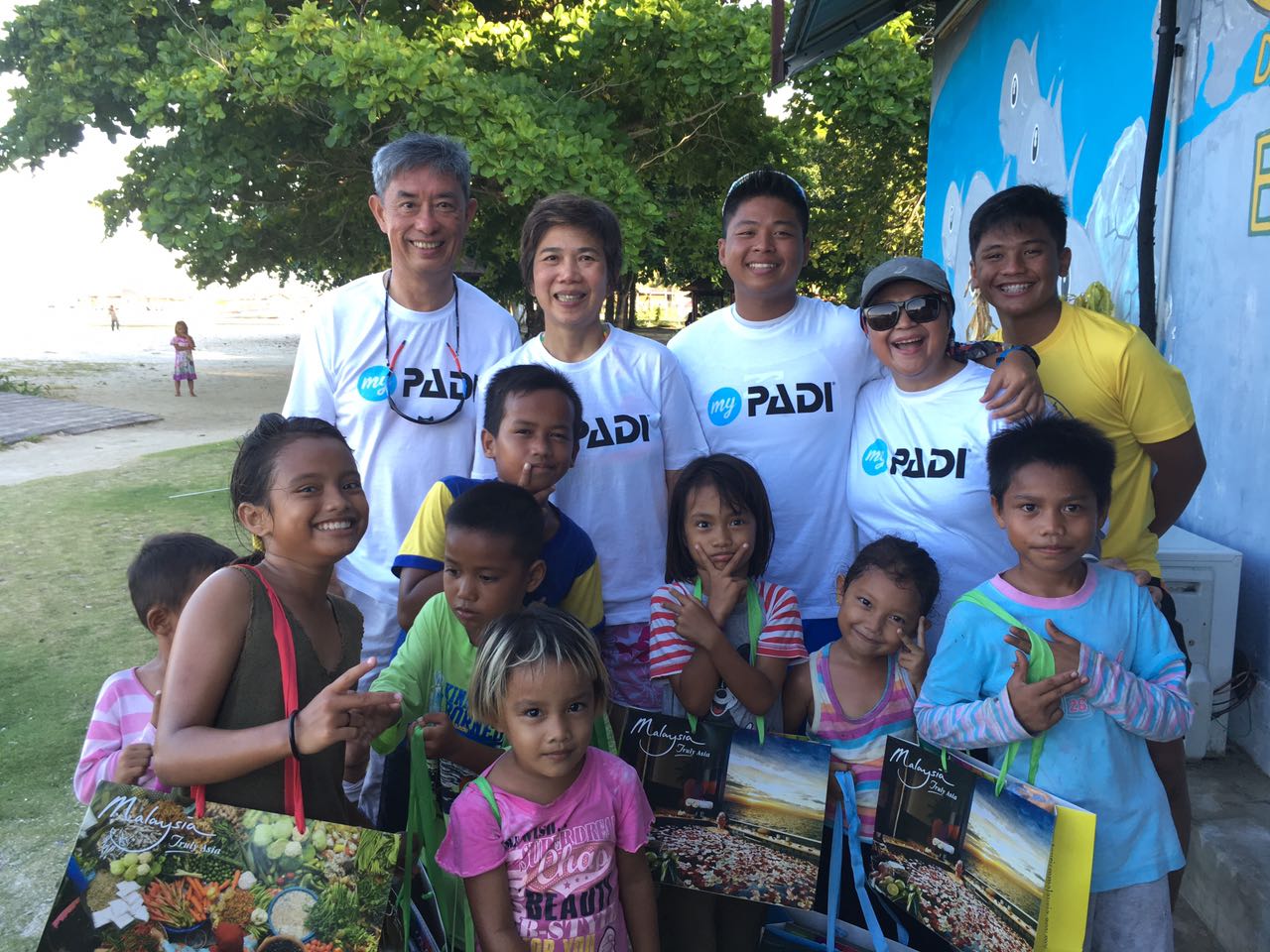 During the camp, all family members participated in activities such as nightly marine education video presentations followed by quizzes, beach games, pool parties after the dives. This in turn will strengthen the bonds between family members as well as between different families.  From my observation children who are introvert or shy to speak up in public tends to "loosen up," push their boundaries and eventually have the courage to talk freely. We saw that new friendship emerge because their schoolmates or normal friends are not around them; therefore they have no other choice but to befriend other children at the camp.
In addition, part of the Kids Scuba Camp program with the PADI Seal Team and PADI Junior Open Water Divers is about discipline and being responsible towards the underwater marine environment while using scuba equipment while following the correct procedure. Having this type of course outline will hopefully play a part in easing environmental problems such as the global warming and teach our future generation to be more responsible towards the Marine environment and conservation.
Kids Scuba Camp Mabul/ Sipadan 2016 was made possible with the support fromclose friends and associates of Kids Scuba, Borneo Divers Mabul Resort, PADI Asia Pacific, Divelog Magazine Australia, Emirates Diving Association Magazine and other personal contributions.
"My heartiest congratulations on the effort by Kids Scuba Camp on Mabul Island, Although I was not diving with them, I was completely over-awed by the excitement and passion!
Syed, Your dedication to giving the kids a truly invaluable experience and lessons for life is very inspiring. The PADI  Dive Professionals direct involvement and interaction with the kids, Teens  (and us, too!) on the theory and practices of Scuba Diving  brought a real-world example of marine conservation to the fore. It was a magic experience which I will never forget." – My Eljer Aljuarez, Borneo Diver Resort Dive Manager/ Instructor.
Editor's Note:
Malaysia is known for its beautiful islands Marine Parks and magnificent underwater "rainforests". Some of them are rated as world class diving sites and are unique in its' own way. By keeping this in mind, I would sometime tell the kids that we actually are blessed to have some prominent dive sites that are as good as any other places in the region.  We should be proud of what we have and infuse them with that kind of feeling.
To sum up, scuba diving as families in a broader prospect can bring so many advantages which go beyond imagination.  These are some of the key highlights that I have personally seen through my perspective as the Founder and Instructor with Kids Scuba of what diving as a family in Malaysia could do to an individual. Personally, when I'm looking at them it actually makes me want to do more in terms of informing other families and kids on how important educating the younger generation is as well as transcending into a deeper understanding of what marine conservation and Marine environment is all about.