If you're already a strong snorkeler, or at least comfortable with your face in the water, you're well on your way to getting Open Water Diver certified. But it won't be a total cakewalk. Here are the top three skills that will surprise even the most experienced snorkelers.
You'll need to become comfortable underwater with no mask on.
But don't worry—this is a skill you will build up to in class. Students first partially flood their mask to feel what it's like to have water near their eyes. Then you'll fully flood your mask when you're ready, and with instructor supervision.
"This is the number one thing that can throw people for a loop," says Rob Kohl, course director and owner of Seal Sports in Mandeville, Louisiana. "Our brains tell us we cannot breathe when we have water on our eyes, so we have to overcome this psychologically."
You will learn how to find balance with your weight underwater.
When snorkeling, if you're staying on the surface, you don't have to think much—if at all—about your weight or buoyancy. But with scuba diving, you'll play with weights on a weight belt or integrated weight system, and with air in your buoyancy compensator, aka BC, until you find that neutral sweet spot.
According to Kohl, "This is really unique for people at first. You want to be neither sinking nor floating, so you learn to put just the right amount of air into your BC."
The good news: "After 10 to 15 dives, anyone can have this skill dialed in."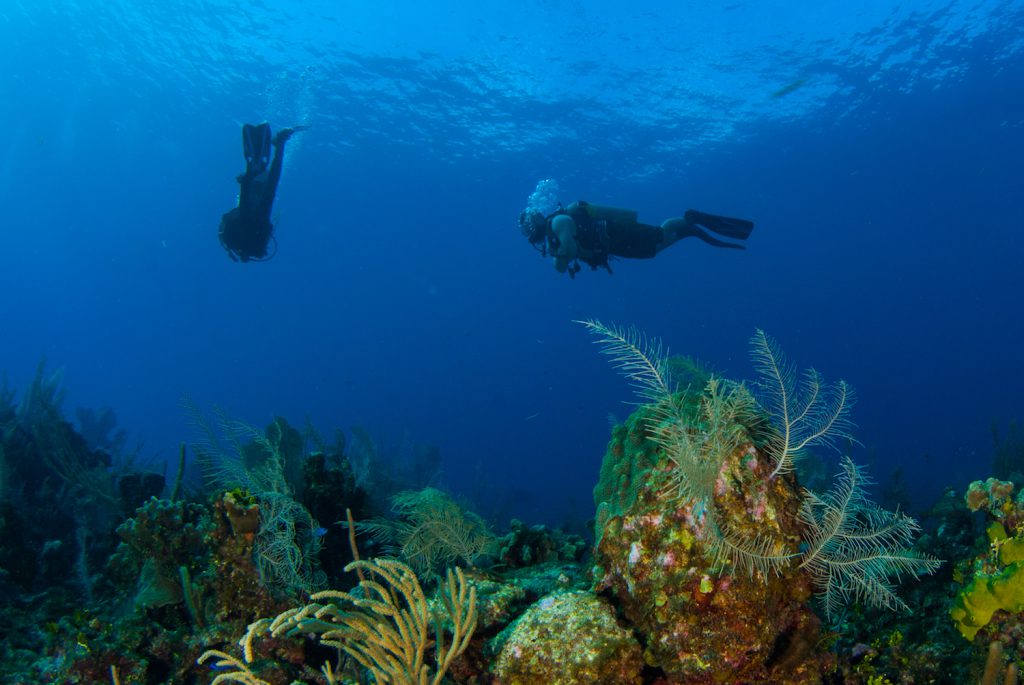 You will find a natural breathing pattern underwater.
"I usually ask people if they hike, jog or swim laps," says Scott Shelley, course director for Ventura Dive and Sport in Ventura, California.
He adds, "If you've developed a breathing pattern for another sport, you'll surely find one for scuba."
Because the threat looms of water coming down the snorkel barrel, most surface swimmers don't find a calm, regular breathing pattern.
"They just haven't started taking deep, long, slow breaths yet," says Shelley, "You just need to relax and let the equipment do its job. It's one of those things that comes very naturally to people by the end of the Open Water course."
Ready to take the giant leap into scuba diving? Sign up for a PADI Open Water Diver course.