Article written by PADI AmbassaDiver, Chris Stevens
Having travelled the world and been a certified scuba diver since 2009, I've been lucky enough to tick quite a lot off my scuba diving bucket list in various locations across the globe. However, the diving in Cape Town in South Africa was very much a truly spectacular one.
While some divers may have a thing for the small critters, I love the big stuff. Cruising with whale sharks, manta rays, grey nurse sharks and huge schools of barracuda are the underwater encounters I'm always stoked about.
So when I learned that I had the opportunity to get into the big blue with the rare sevengill shark and baby seals, nothing could stop me, not even the frigid water temperature!
Playful Seals And A Surprise Visitor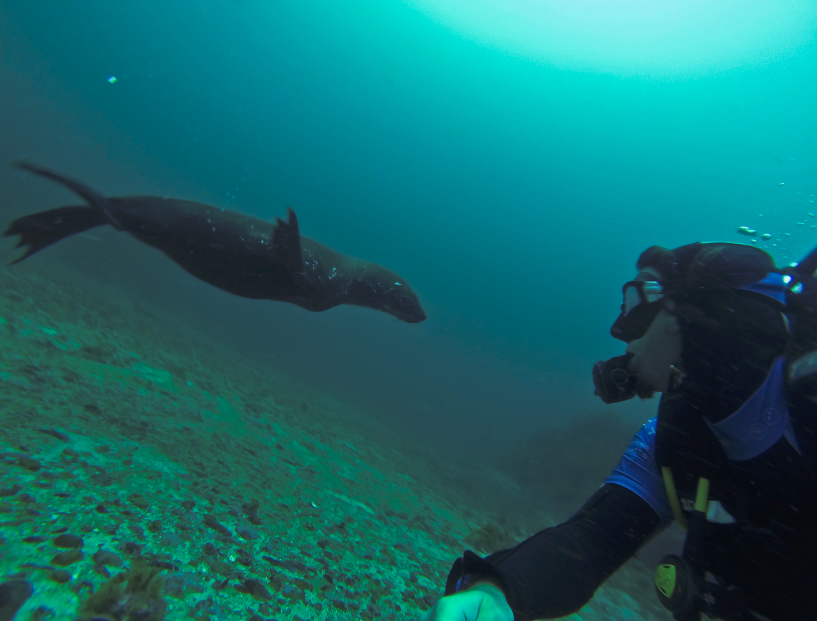 The first dive site was admittedly the one I was most excited about – the seal colony with a plethora of pups. Only a short boat trip around the coast from Simons Town, which included guest appearances from breaching whales, the dive site is a crèche for seals – a safe haven from the open water of South Africa, which is famous for its Great White Shark population!
Geared up in 10mm of wetsuit (including jacket, boots, gloves and hat) we jumped into the rather refreshing water (that's a serious understatement!) and after adjusting my buoyancy to all that rubber, I descended into the shallows.
Unlike any other creature I've met underwater, seals seemed to be very keen to interact and as soon as I descended. All I could see were their noses nearly pressed against my mask and their playful antics as they weaved amongst our bubbles.
It might sound cliché, but it was a pretty magical experience!
With all the young seals distracting us, I didn't see what was approaching to the side of me! When I finally looked over I was shocked to discover a fully grown Sevengill cow shark crushing towards me!
Amongst the adrenaline of being so close (it was within arm's reach!) As the Sevengill shark meandered through, the rest of the group turned in shock and did some excited underwater dancing while the seals understandably kept at a safe distance!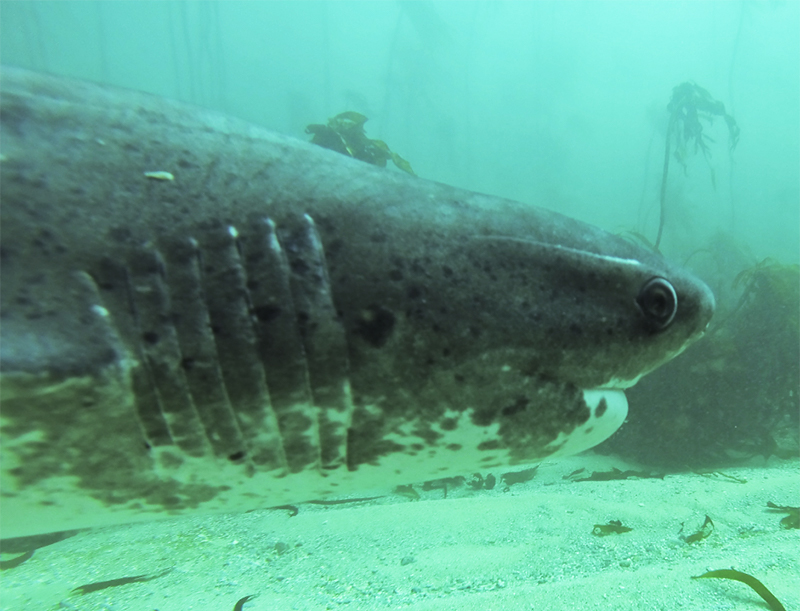 Back on the surface we discovered that in all their years diving there, none of the instructors had ever encountered a shark at that dive site. Mother Nature can really pull some surprises no matter how many times you explore the same location!
Eerie Kelp Forests
After a welcome (and warm!) cup of tea on the boat and still buzzing with excitement from my close encounter, it was time to head back into the depths in search of more Sevengill cow sharks – with absolutely no pressure on the instructors now!
The second dive site was a totally new experience for me – set amongst the kelp forests which swayed gently in the current.
To be honest, it was worth it just to experience this new landscape and I was mesmerised by this underwater jungle.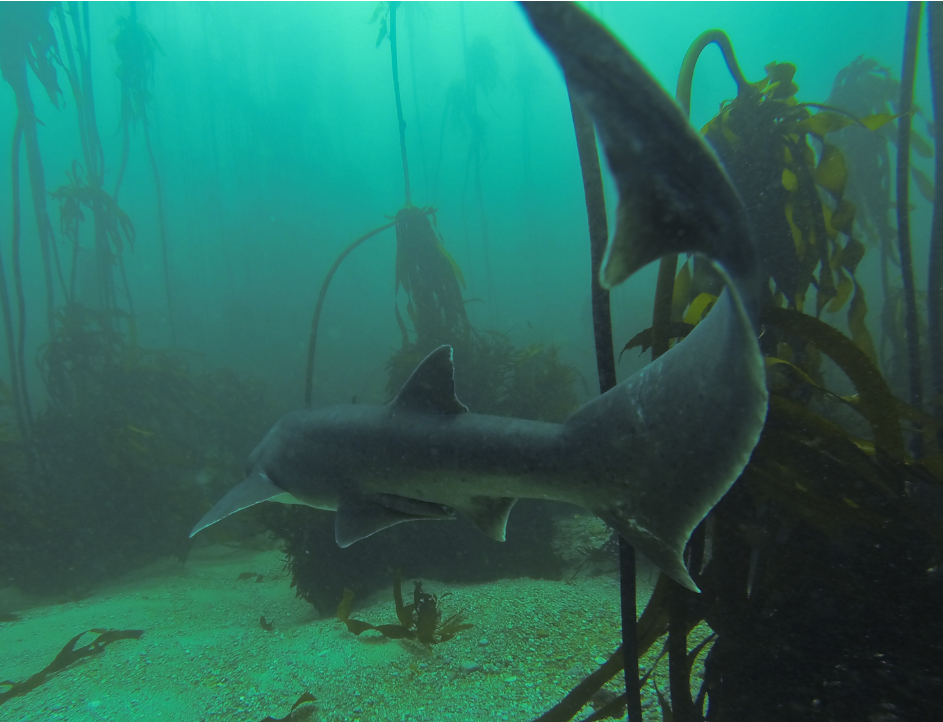 But we were here to see more sharks and our run of luck continued with heaps of Sevengill sharks cruising around the dive site. Their eerie shadows swimming towards us between the kelp forests and having no problems with making us get out of their paths!
One of the things I noticed on the second dive was the fact the Sevengills have a permanent smile on their faces – a cheeky grin almost!
One of My Top Dives
Overall, my experience scuba diving in Cape Town instantly put it up amongst one of my favourite dive sites and experiences in the world. The unique wildlife and amazing underwater landscape makes it stand out against the sometimes repetitive coral gardens of the tropics!
If you're looking for an unusual place to scuba dive, filled with surprises and amazing underwater encounters, then make sure Cape Town is on your to do list!
Unfortunately due to the buoyancy control and currents, it's unsuitable for new divers, but if you have some dives under your belt, it's worth the chilly temperatures and layers of rubber!
Learn more about diving in South Africa and read our Vacation Spotlight.