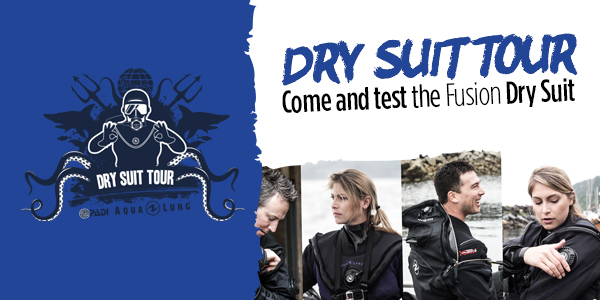 Want to stay warm underwater? Want to extend your scuba diving season? Then dive dry. A dry suit seals you off from the water and keeps you comfortable, even in surprisingly cold water.
PADI® has joined forces with Aqua Lung to bring you the Dry Suit Tour 2017. We invite you to test an Aqua Lung Fusion Aircore dry suit for free*. Showcasing at six dive locations across the UK, this will be your chance to dive a range of Aqua Lung Fusion Aircore dry suits, all under the expert supervision of PADI Dive Centers.
Booking is essential to secure your place as numbers are limited. Simply pick your preferred location and date below and contact the PADI Dive Center or Resort listed to reserve your place.
We look forward to seeing you!
*Please note, entry fee to the dive location (if applicable) is not included.