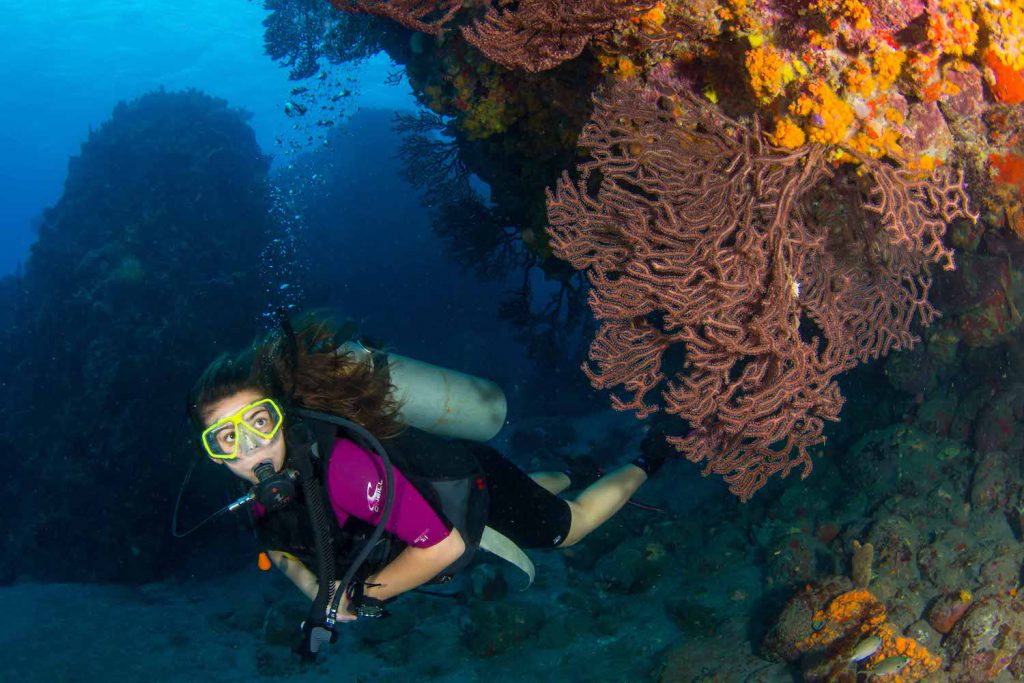 PADI® Dive Centers are all about showing the love to ladies who dive, or want to try scuba diving. Free massages, discounted boat dives, clean up events and a mermaid skill challenge are just a few of the fun events scheduled for Women's Dive Day – 15 July 2017. Read on to learn about a few of the events happening on Women's Dive Day:
Free PADI Specialty Courses
Specialty dives are a great way to gain confidence and experience new adventures. Here are a few PADI Dive Centers offering free specialty courses for Women's Dive Day.

Curious about diving with a full face mask? Scuba Emporium (IL, USA) is offering a free Full Face Mask class at Haigh Quarry on Women's Dive Day. Women divers (and friends) are also invited to join in on fun dives and a free cook out.
Kona Honu Divers (HI, USA) has a three-tank boat dive going to Au Au Crater with free Nitrox air fills, and ladies have the opportunity to earn the Fish ID or Underwater Naturalist specialty for no extra charge. Visit Kona Honu Divers' website for details and to reserve your spot.

Women's Dive Day Spiffs and Special Offers
Two dive shops in Florida, USA are offering special deals on dive charters in celebration of Women's Dive Day. Narcosis, on the gulf coast, is offering $20 off a boat trip – call 727-934-3483 to book. Jupiter Dive Center on the Atlantic side of Florida, is offering women 20% off their 9am, two-tank boat on Women's Dive Day.
Discovery Diving (NC, USA) has a special afternoon charter followed by complimentary wine and cheese. Back on shore, ladies can receive a chair massage, manicure and a chance to win some great raffle prizes. For more information or to reserve, contact the store: 252-728-2265 or dive@discoverydiving.com.
Phoenix Scuba (AZ, USA) is offering free Discover Scuba Diving® to women as part of their Girls Day Off! event. From 10am – 3pm, women can come by the store, try scuba, and relax with wine and snacks.
Central Oregon Diving is hosting a cleanup event. Women receive half off rental gear, and a significant discount on the Project AWARE Dive Against Debris specialty. Guys are welcome to participate as well.
Dive, Surf and Celebrate in SoCal
PADI Ambassadiver Szilvia Gogh, in partnership with Ocean Adventures Dive Company, ScubaFit, and Surf Diva will host a luxurious adventure weekend of "water sports, wellness and friendship" June 14-16 in La Jolla, CA, USA. In addition to watersports, ladies can enjoy yoga on the beach, a picnic lunch and dinner at Fabio's Italian Restaurant. For more information visit miss-scuba.com.
Go Native Freediving Women's Dive Day
Whether you're beginner or advanced, join Go Native Freediving on July 8th to celebrate women in the sport of freediving.  The event includes a morning dive at Blue Springs followed by a product demo where women can tryout the latest and greatest freedive equipment. Enjoy free t-shirts, a raffle, guest speakers and a complimentary BBQ.
Women Divers Hall of Fame
For those in New England, all are invited to join the Women Divers Hall of Fame for a day of diving and bonding in Gloucester, MA. Anyone who dives (warm or cold), snorkels, wants to meet other divers, or simply just hang out around divers is encouraged to attend the event and enter to win incredible prizes from DUI, OMS and numerous others, all in support of the Women Divers Hall of Fame Scholarship and Training Grant Program. Click here to learn more.

Patriot Scuba's Battle of the Mermaids
Lake Phoenix, VA will host the first annual Amphitrite's Battle of the Mermaids. Teams of four can show off their skills in: navigation, rescue, search and recovery and a skill circuit.  Ladies interested in learning to dive can try a Discover Scuba Diving experience in some of the clearest water in the mid-Atlantic. The night before the battle, ladies can camp, have a cookout hone their strategy. For additional details, contact Erin thetravelwench@patriotscuba.com or 540-288-6904.
Calgary Dive Shops Team Up for a Lake Clean-Up and BBQ
For the second year in a row, three PADI dive shops in Calgary, AB, Canada will join forces for a lake clean up and BBQ at Heritage Pointe Lake. Lunch, snacks and prizes are included for a cost of $25 per participant with all proceeds donated to Project AWARE. Prizes will be awarded for the most junk collected, the weirdest thing pulled out of the lake and the most hockey pucks (#canadianlakeproblems). Every participant will receive thank you goodies for participating, and there will also be a special, locally-made gift for ladies.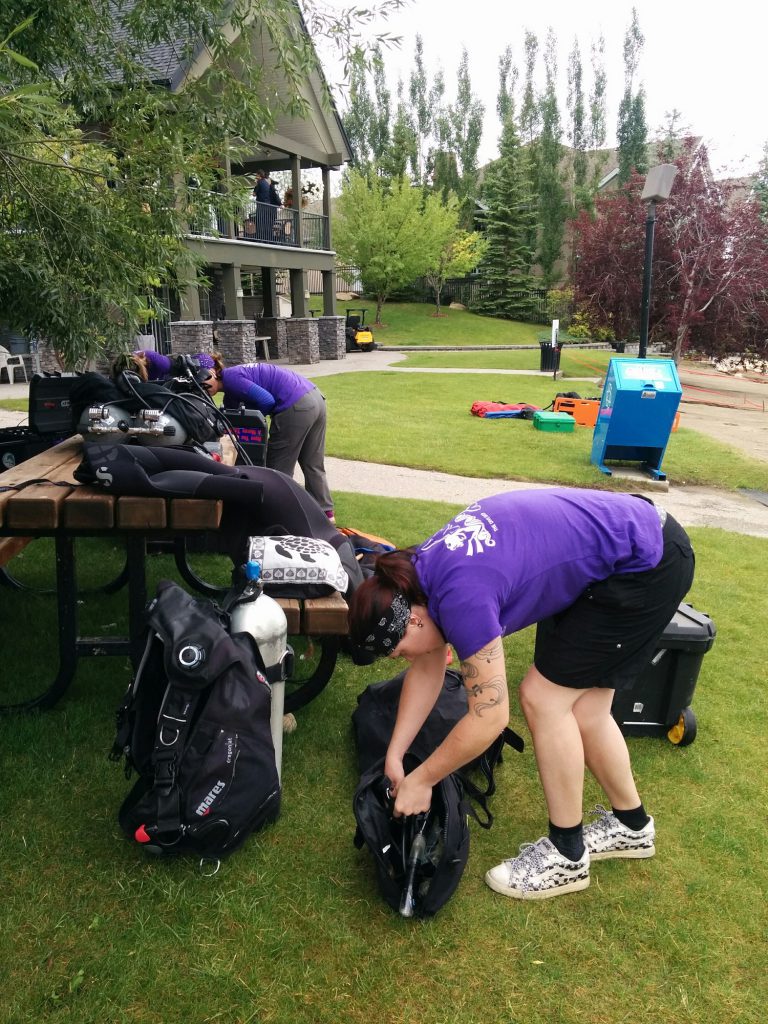 The Dive Shop, Adventures in Scuba, Caribbean Dreams, and Charlene Barker of the Alberta Underwater Council welcome divers and non-divers to this event. "Even guys are welcome, if they can keep up with us ladies and our killer air consumption!" says Sabrina Wyse of The Dive Shop. In the weeks leading up to the event, women can try free Discover Scuba Diving sessions and Discover Sidemount. For more information, or to register: email sabrina@diveshopscuba.com.
P.S. Last year there were firefighters…
Rainbow Reef Dive Center & The History of Diving Museum (Florida, USA) are hosting a 'Ladies in Diving' seminar starting at 10am, followed by a dockside lunch with pre-dive yoga, raffle, and pop-up shop at 11:30am, and then of course a two-tank dive to the Key Largo reefs!
The list above was compiled in early June 2017 and is just a small sample; many events have been added since then. In 2016, PADI Dive Centers hosted more than 700 events in 77 countries! Visit padi.com/women-dive to find an event near you.
Prefer to follow the fun from the comfort of your couch? Broadreach plans to livestream their women's dive day events in the Caribbean via Facebook live and as Instagram stories. You can also use #PADIWOMEN on Twitter, and Instagram to check out Women's Dive Day antics from around the world.