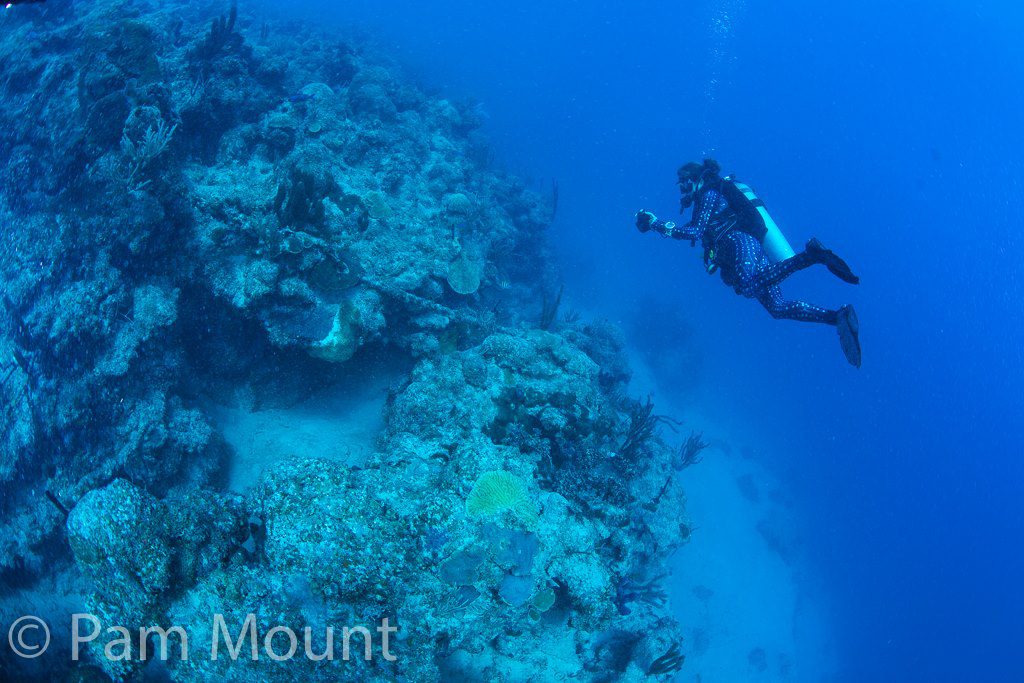 PADI® Master Scuba Diver Trainer™ and one of the winners of our Inspiring PADI Women contest, Kristen Favorito, left her comfortable New York City life at 29 years old to travel the world- a brave move that lots of people dream about, but hardly ever execute. When she got to Thailand, a friend convinced her to give scuba diving a try, and the rest is history. Since then, Kristen has become a passionate ocean conservation advocate, and even introduced Project Aware to a volunteer camp in Mexico that raises money and awareness for sharks. Her desire to help protect marine life has come to life through marine debris and beach cleanups.
"Every piece of trash we picked up was one less piece that was going to be ingested by a defenseless animal," says Kristen.
Get to know Kristen's story in the interview below:
Tell us your story of becoming a PADI Open Water Diver.
I was 29 and working in NYC, clawing my way up the corporate ladder. I was unhappy and burnt out, and decided one day on a total whim to buy a one-way ticket to Nepal. As I was planning my trip, a friend of mine insisted I get scuba certified. I had never really thought about it up to that point, and to be honest, I had always been a little fearful of the ocean. He was so insistent that he paid my fees and told me to see a friend of his in Koh Tao, Thailand. I hesitantly agreed. Three months into my trip, I found myself in Koh Tao, and the rest is history. From the moment I descended on my first dive, I was hooked. I found diving incredibly relaxing and serene, every creature alien, and the mystery of it never ending. I went directly into my Advanced Open Water Diver course. From there, I dove just about every place my travels took me, and 8 months later when I returned home, expecting to pick my career right up from where I left off, I just couldn't bring myself to do it. Instead, I went back to Thailand and completed my Rescue and Divemaster courses. A year after finishing my DM, I became a PADI Instructor in Mexico.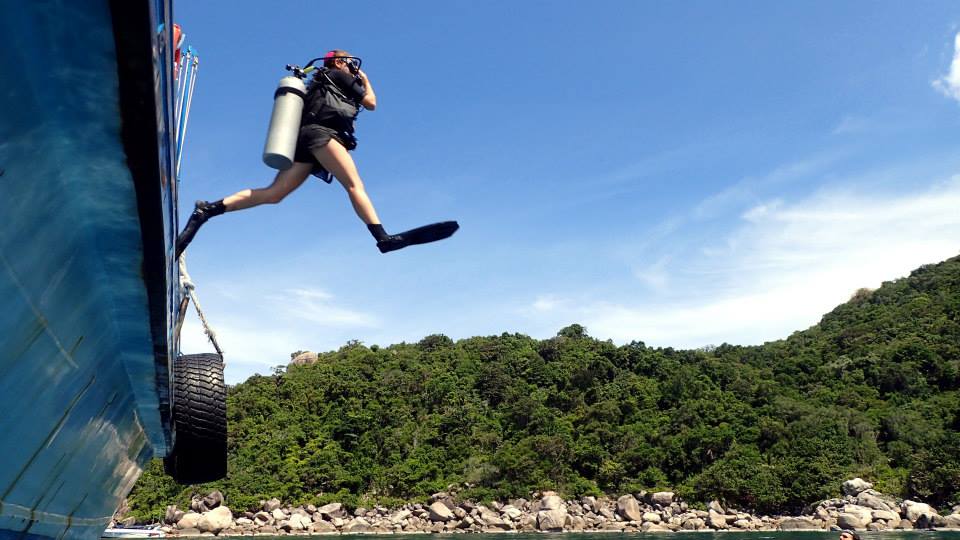 Tell us more about the work you do to help protect marine life.
You always wish you could do more. I don't have the reach I wish I had. But for me, it's about the little things, the small acts. I pick up debris whenever I see it. I try to organize events to clean dive sites, even if it just me asking a friend if he/she wants to dive the pier one day with the sole purpose to remove as much discarded fishing line as possible. On a research training dive, my dive leader and I found a long line strung across the reef, so we canceled the training and spent the entire dive carefully removing the line and hooks. When I participate in beach clean-ups, I go with a positive attitude and a smile. I try to explain to others exactly why what we are doing is so important. By doing these things, I am protecting marine animals from ingesting or being tangled in hazardous materials. I try to educate myself as much as possible, which is why I participated in a coral reef research internship. It helped me understand our living reef system much better. I try my best to spread my love of the ocean, and the need for conservation efforts to peers, students and anyone else I can, because the more people I get on my team in advocating for our oceans, the bigger difference I am making in the world.
When or how did you know that you could make the world better through diving?
I remember reading a line in one of the PADI course manuals. It said something along the lines of, 'as divers we are the only ones that can make a difference in the collection and removal of under water debris.' We are the only ones with the training and ability to reach and remove what is under the waves. I really took that to heart. Not only are we the only ones that can remove underwater debris, but we are the most logical advocates for change so that it doesn't end up there in the firt place. It is up to us to spread the word, whether it be to family and friends, social networks, or beyond.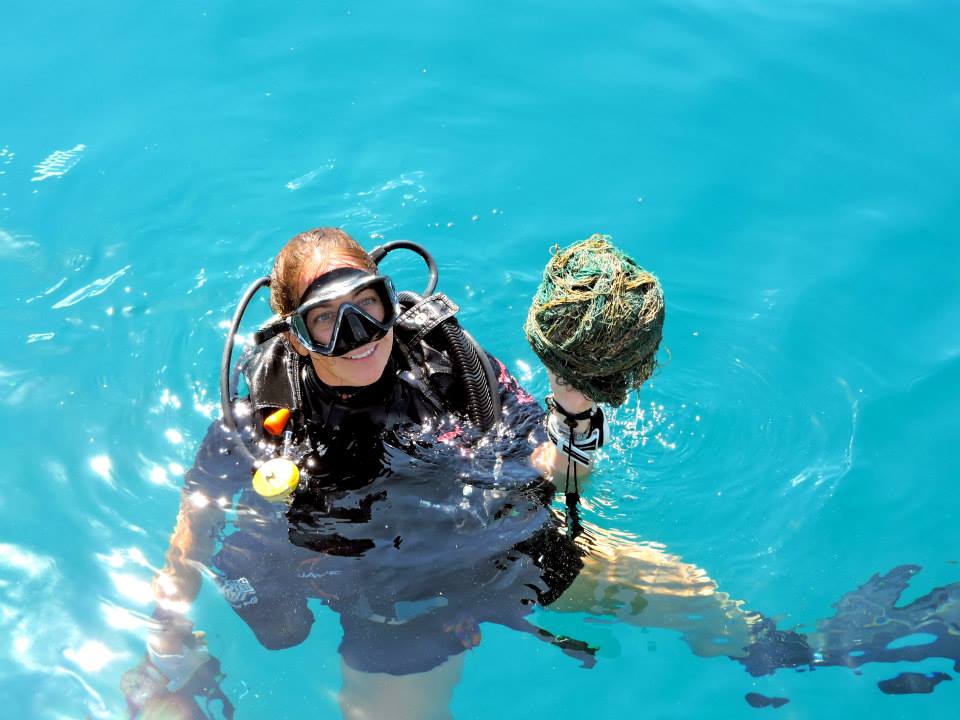 What inspired you to start working with Project Aware and what have you learned through them?
When I was a Divemaster candidate we were asked to do a beach clean-up once a week, and also participated in dive against debris clean-ups. I actually looked forward to this weekly event, but it also was heartbreaking to see trash washed up on our beaches just one day after we had worked so hard to clean it. In order to keep my spirits up, I learned to frame our work differently. Every piece of trash we picked up was one less piece that was going to be ingested by a defenseless animal. One less piece that could cause harm. I also learned that through Project AWARE we were contributing to a knowledge base that would be used to strengthen policy and enact change that would hopefully quell the behavior from which our problem stems. I was also inspired by my dive resort, Ban's, who was leading the island of Koh Tao in an initiative to create self-sustaining, environmentally conscious operations. It's one thing to be an environmental advocate, but I was blown away and inspired by the actions they were taking to really make a difference on their small island. I wanted to do the same, wherever my new diving career took me.
How do you hope to inspire more women to get involved in diving and marine animal conservation?
I want to inspire women and men alike in this effort. I want to lead by example. I hope I can continue to instruct for many years and inspire my students to make a difference in small ways. Earlier this year I talked to my friend's class of kindergarten students up in NYC. We talked about the strange and amazing animals under the sea (they were awestruck) and how we all need to do our part to protect the ocean by reducing, reusing and recycling. Several weeks later, I got an update about how the class participated in a mock beach clean up and then created art projects out of the trash they collected. I'm proud to have had a part in that experience for them. I would love to do more things like this in the future.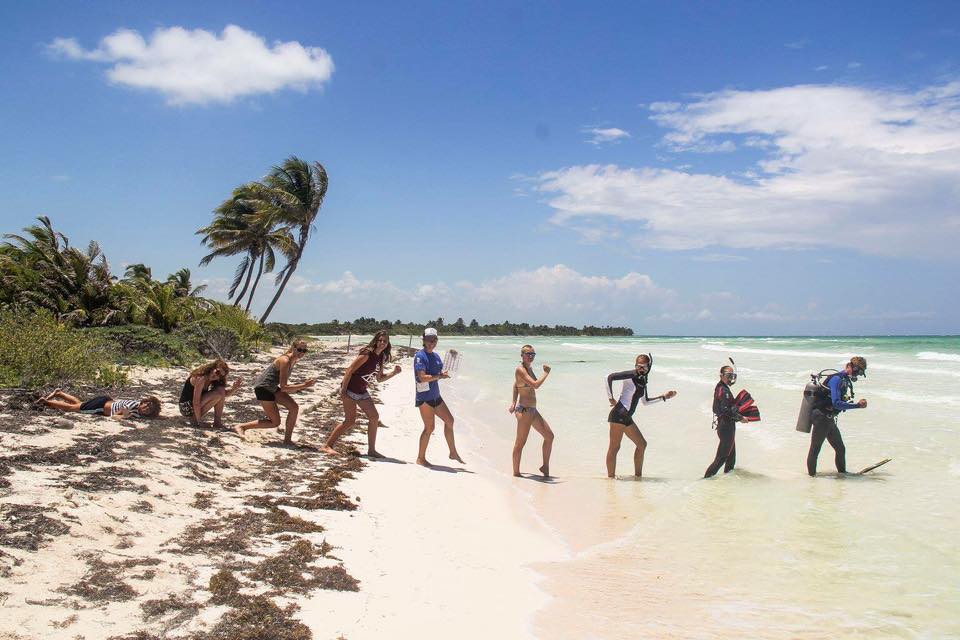 "My PADI is…a tool that allows me to explore and spread my love of the underwater world."
"My Hope is…to live my passion, make a difference in the world and inspire people to do the same."
"My Ocean is…my happy place."
Join divers from around the world for the third annual PADI Women's Dive Day! Find an event here.