This post marks the last in a series from guest blogger, Lowri James. We've been following her and her husband's journey from non-divers to PADI professionals…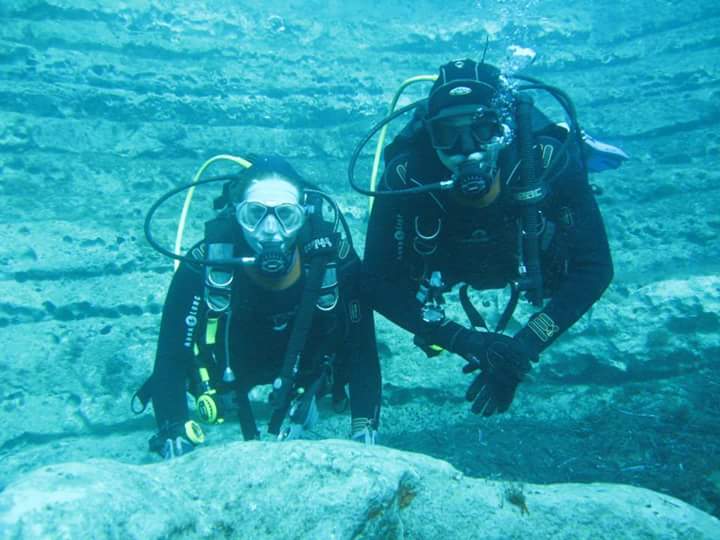 Oli and I have now been living in Cyprus for almost 5 months, working at Cyprus Diving Adventures – a PADI 5-star dive centre located in Pissouri.  We have continued to progress as professionals and it was an extremely rewarding feeling to recently qualify as a Discover Scuba Diving leader.  Our goal and ambition is to eventually qualify as Open Water Scuba Instructors and that goal is now well and truly in sight.
After qualifying as PADI Dive Masters back in 2015, the first step in becoming PADI professionals, we have spent a lot of time gaining more and more hands-on experience with customers and assisting with a range of different courses.  We feel this has been invaluable in enabling us to work towards becoming instructors.  The IDC (instructor development course) pack we received provided us with all the materials we will need as instructors, complete with a very useful PADI rucksack.  The Diving Workbook complete with the Encyclopaedia of Recreational Diving is excellent for keeping our dive and dive theory knowledge up to date and fresh, and working through this regularly will build our confidence ready for the written examinations.
I have been very lucky to have been taught by some highly professional Scuba Diving instructors and now look up to them as mentors and friends.  They clearly have such a passion and enthusiasm for the sport, which comes across in their teaching.  For me, the idea that I will very soon be leading people through the start of their diving career and beyond is a very exciting thought, making sure that I am teaching each student to be the very best and safest diver they can be.  I hope too that my love for diving will come across in my teaching and open a new world of discovery and opportunities for my students, which can lead to some incredible and life changes experiences.
Oli and I have spent many years investing in our diving career, hoping that it would someday lead us to our dream of living abroad, and sharing our love of the underwater world with others.  Soon to be qualified Open Water Scuba Instructors, further developing our experience, we are very excited to see what other adventures lie ahead in our future.
'Go confidently in the direction of your dreams!  Live the life you've imagined'
If these posts have inspired you to embark on your own journey to becoming PADI professionals then check out our Teach Scuba Diving micro-site.