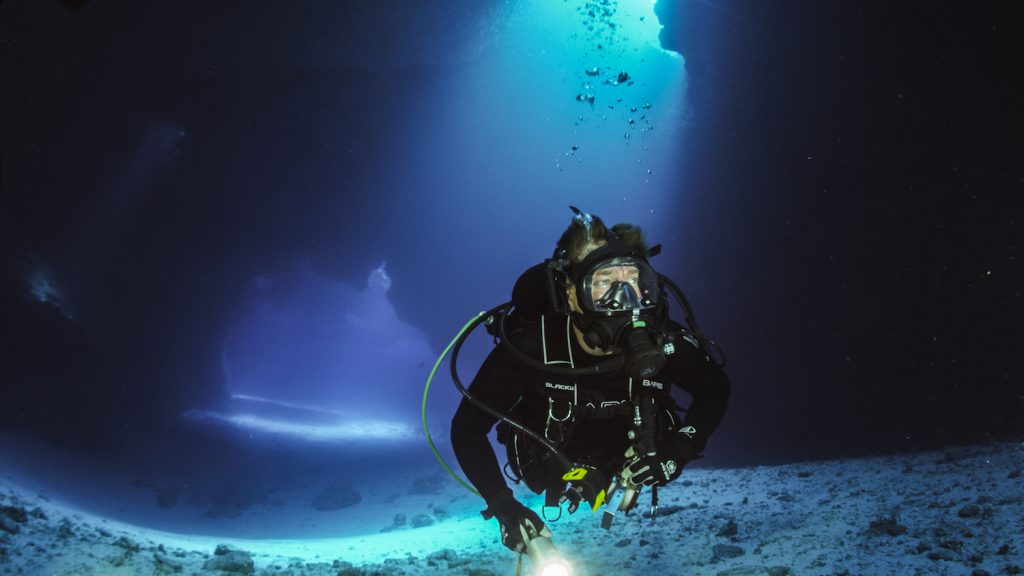 Imagine spending six months on a boat, sailing thousands of nautical miles, suffering from sleep deprivation and sometimes illness, all while filming and editing a television show. This was Ellis Emmett's life while filming his new show for Outside TV – Over The Horizon.
"The key to mobile television production on a boat is keeping everything streamlined," Ellis said. "Our vessel was home to our crew of five. But it was also our office, video editing suite, dive platform, our lifeline and our transportation to remote island destinations.
"Being such a small team we all had to wear many hats and each had a lot of responsibility. We  dealt with a huge array of situations, both above and below the waterline. Everyone did remarkably well, especially considering that filming a television series like this had never been attempted before."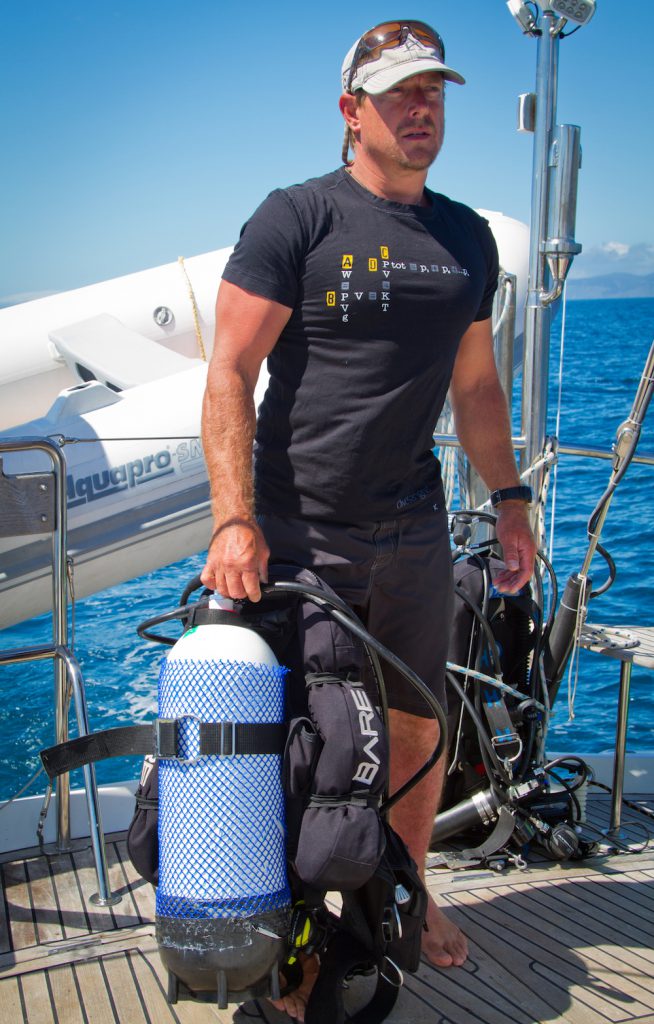 Ellis Emmett is passionate about pushing his limits & overcoming challenges. His adventures have been featured on networks such as National Geographic, The Outdoor Life Network, Halogen and The Travel Channel. We asked Ellis where he finds inspiration for his travels. Here's what he said:
"I have a passion for exploring remote destinations that are less-influenced by the outside world. These places are getting harder to find but the general rule is, the harder it is to access the more untouched it will be.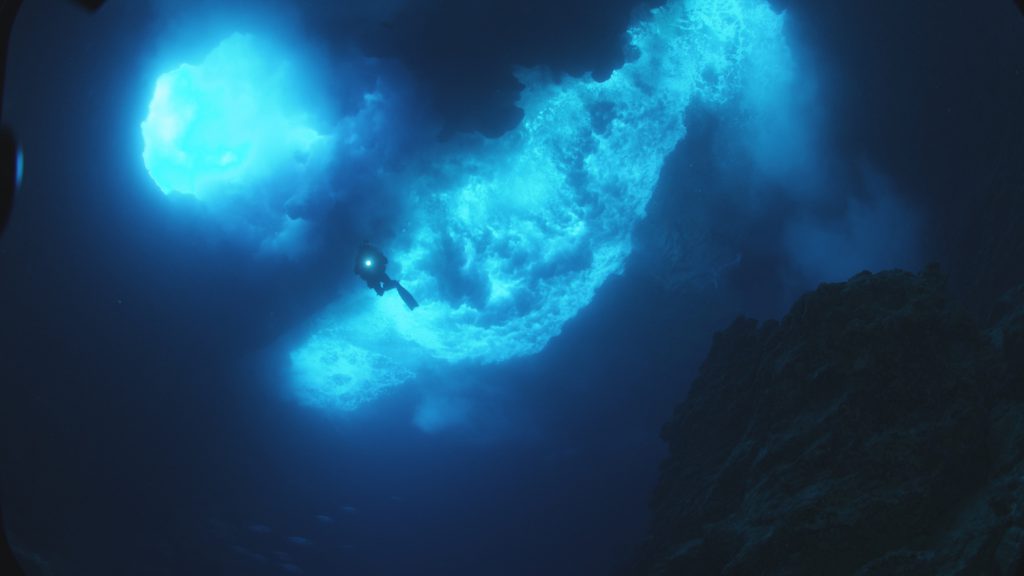 "I always get excited about a destination when I can't find much information about it online. And it's always exciting zooming in on Google Maps finding those tiny islands that are only a few pixels across and surrounded by hundreds of miles of blue and knowing that you will soon be sailing there."
To some people, dive spots like Fiji or The Marshall Islands may seem remote. For an experienced diver like Ellis, these destinations are just a starting place.
"Following the annual Southern Indian Fire walking festival in Suva, we sailed into the remote and seldom visited Lau Group, a chain of over 60 islands and atolls in eastern Fiji that only recently opened up to outsiders.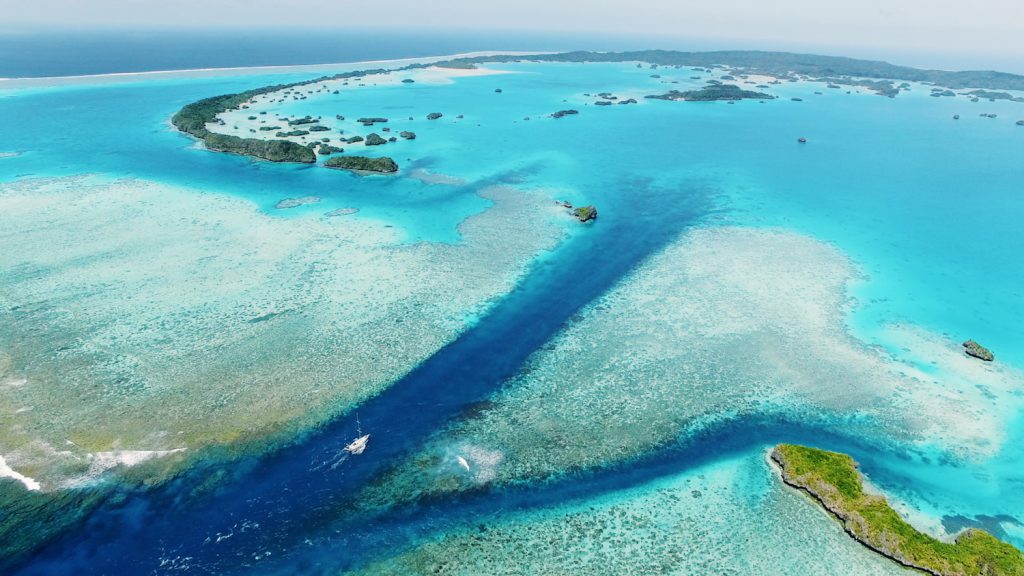 "We stopped for a few days at Fulaga Atoll and I met a man by the name of Tai. He lead me up a steep trail through the bush to a cave full of human skeletons. Tai explained these were the remains of Tongan warriors that once sailed here in dugout canoes to wage war on these tiny islands in an attempt to expand the greater Tongan empire. These were the ones that never made it back home."
In addition to delving into the Pacific Islands' cultural history, Over the Horizon travels to historically-significant sites such as Bikini Island. In fact, an entire episode (episode 5) is dedicated to Bikini.
"Very few people will get to the remote destination of Bikini Atoll, let alone dive on wrecks like the USS Saratoga," Ellis said. "The USS Saratoga is somewhat of a legend of the Pacific Theater during WWII. She was torpedoed multiple times, bombed and even took multiple direct impacts from Kamikaze pilots. Several times the Japanese reported that they had sunk her, but she refused to go down.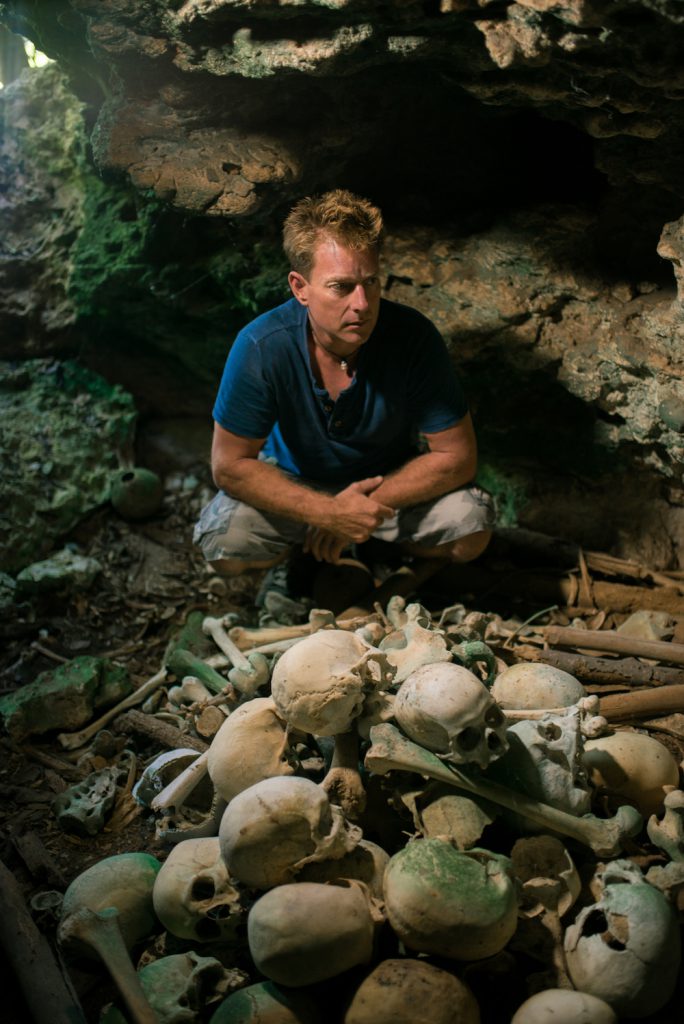 "The USS Saratoga is one of only a handful of wrecks sunk by a nuclear explosion. She's still in pretty good shape for spending over 70-years on the bottom. Inside the wreck there is still lots to see, from live torpedoes and unexploded ordinates to aircraft below deck and two aircraft upside down in the sand off her starboard side."
Bikini Atoll is a spectacular diving destination that's currently uninhabitable. Ellis explains, "In 1946, 161 Bikini Islanders were asked to leave their paradise island home so nuclear testing could take place. Over a 12-year period, 23 nuclear tests took place at Bikini Atoll. Seventy years on, due to the remaining radiation contamination in the soil, the Bikinians and their many generations of descendants are still not able to return to their home.
"Prior to this expedition, I thought I had a basic understanding of the nuclear testing history in the Marshall Islands, in particular, Bikini Atoll, but I learned so much more after sailing there and meeting its people. I had the pleasure of talking with two of the twelve original Bikinians who are still alive," Ellis said.
During his travels, Ellis also spends time getting to know the local wildlife. In The Kingdom of Tonga, he made friends with a baby humpback whale.
"It is hard to describe the feeling of sharing the water with a giant (up to 36-tons) humpback mother and her baby calf," said Ellis. "As the calves get older they quite often get very inquisitive, and despite trying to keep your distance, they will swim up to you to check you out."
See a short clip of Ellis swimming with whales in Tonga from episode 2 of Over The Horizon (My Pacific Quest in some countries).
My PADI Is… PADI has been the basis for my dive training, as well as my introduction to diving itself. I completed my PADI® Open Water Diver certification in New Zealand when I was 16 and since then, I've been fortunate enough to dive all over the world. My PADI certification has lead to amazing experiences, from swimming with humpback whales in the South Pacific, exploring WWll shipwrecks in the Solomon Islands, to diving volcanic fissures in Iceland and much more.
As a kid, I was inspired by people such as Jacques Cousteau, and I couldn't wait for my birthday to come around so that I could become an underwater explorer too. I guess I've come full circle now; hopefully some of our viewers will be inspired to experience the aquatic world for themselves.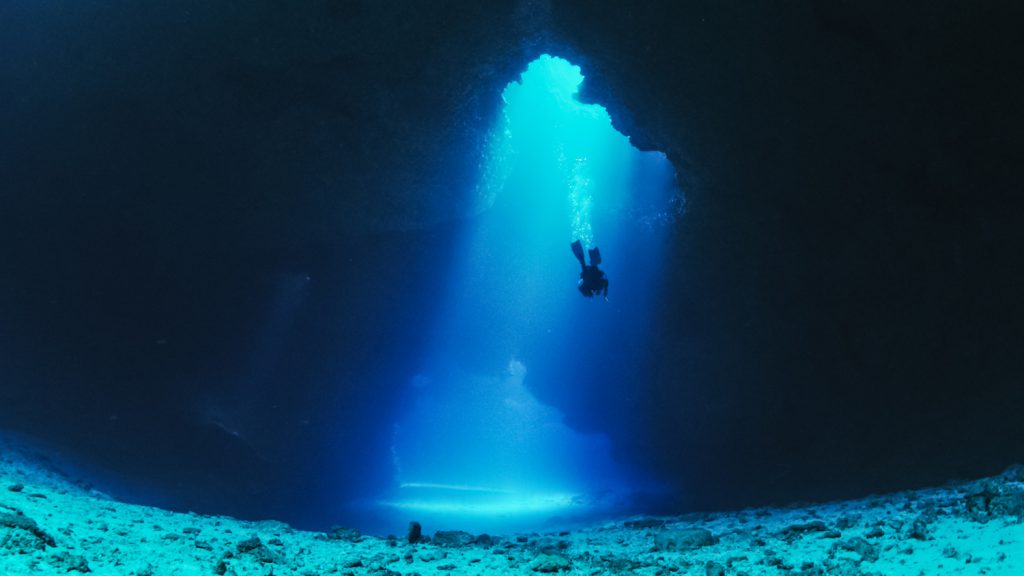 My Ocean Is… Our oceans are the lifeblood of the planet. They are the heart and lungs of the earth breathing in carbon dioxide and exhaling oxygen. They regulate our global temperature, greatly influence weather patterns, and provide the main source of nourishment for over a billion people. And yet everywhere I have travelled I have seen first-hand the problems our oceans are facing.
Rising sea temperatures, and sea levels, coral bleaching, pollution, overfishing, and non-endemic species creating havoc with the natural balance. Several places we filmed, on both our previous series Descending as well as Over the Horizon, we saw evidence of these compounding problems.
In Tarawa, in the Gilbert Islands, I met an old man who invited me back to his home. Once there he spoke of the changes he had seen over the course of his lifetime. He then showed me marks on the legs of his bed, just below the level of his mattress. He told me that these were the marks left behind from the last king tide, where the sea had encroached onto the land flooding many people's homes in the village. He pointed at the dirt floor and said there were fish swimming in here. They have several king tides each year, and the highest elevation in the entire Gilbert Islands is only 3-meters above sea level.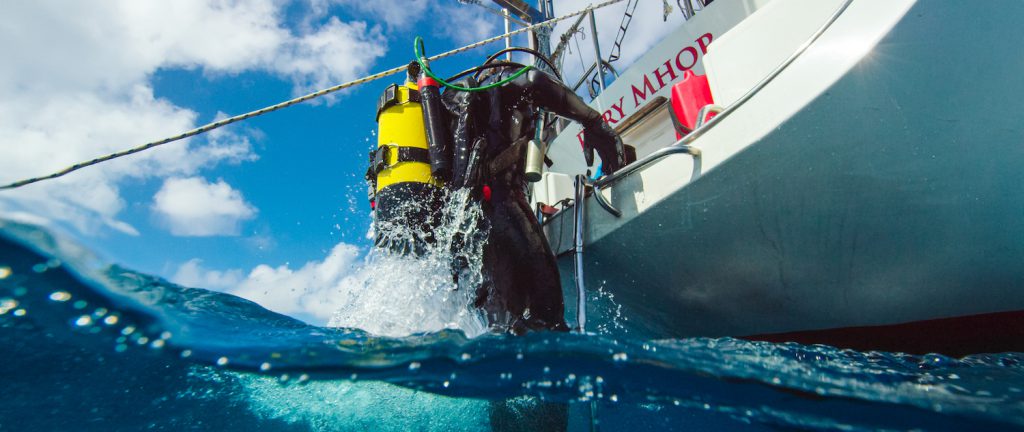 My Hope Is… that our new series Over The Horizon (My Pacific Quest in some countries) will help enlighten people about how incredibly diverse and rich our planet and oceans are. Consequently, I hope it will inspire viewers to go out and discover and experience it for themselves and in doing so they will become more passionate and willing to fight to help save it.
You can follow Ellis' future adventures on Facebook, Twitter or via his website gowildproductions.co.nz. Check out Over the Horizon on Outside TV Features – available via iOS, Apple TV, Android, ROKU, Amazon Fire TV and Amazon Channels, or visit the Over the Horizon show page on OutsideTV.com to watch shorts from each episode.