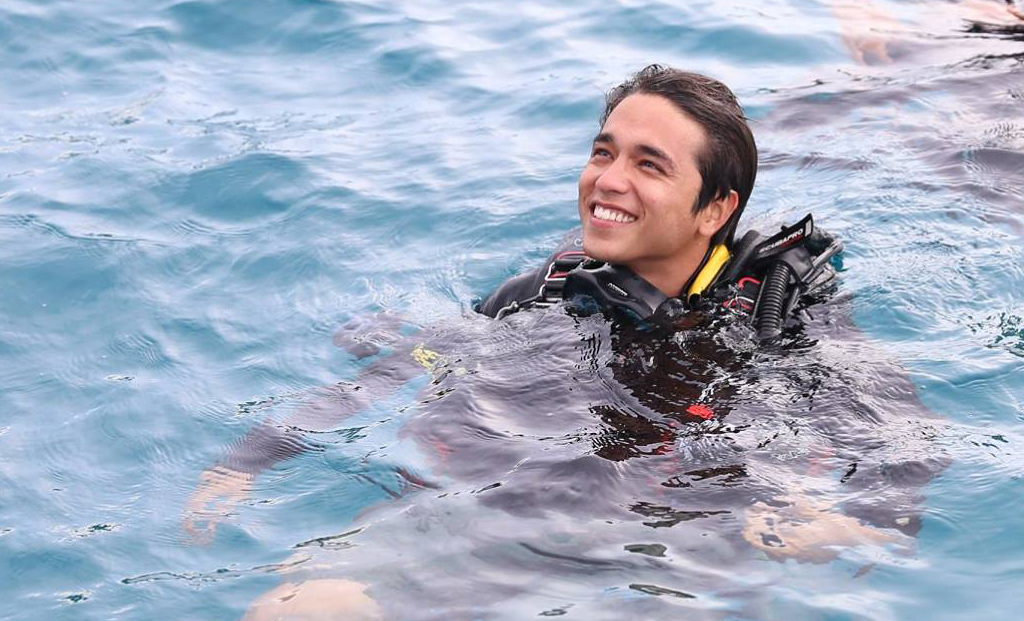 All photos supplied by EEC Thailand.
Alexander Rendell is known for many things; acting, singing, his love of football and last, but certainly not least, his passion for the environment. This passion shines through in everything he does, particularly when answering our questions about his diving journey and his role with the Environmental Education Centre (EEC) Thailand.
How did you first get involved in diving?
The first time I was exposed to diving was when I was on holiday in the Maldives. At the resort I was staying at, they offered DSD programs and I remember being really excited to discover the underwater world. The experience was so much more fulfilling than I had expected.
The underwater world was beautiful and I was completely blown away by the actual feeling of scuba diving. The sense of freedom and calm was overwhelming and I was immediately hooked. Two weeks later I was a PADI Open Water Diver!
Tell us about your favourite dive site in Thailand.
Koh Haa lagoon near Koh Lanta is by far my favourite dive site in Thailand. The location is quite secluded and not well known by tourists. There are not many speedboats either and the area is mostly undisturbed, giving way for a wide array for marine life to inhabit the area. When diving in the lagoon, you can sense the extra silence and calmness. Now, most of my diving is work related, whether I'm teaching students or doing conservation work, but whenever I have the chance to go on holiday, Koh Haa is where I go.
And what about your favourite dive site in the world?
Honestly, I would still say Koh Haa Lagoon. It's my ultimate favourite so far.
You clearly have a passion for conservation, do you think being a diver has played a role in shaping this?
Diving has definitely played a big role in shaping my passion for conservation. When you dive, you get the opportunity to observe, connect, and understand the marine life that inhabits the ocean. Therefore, with every dive, my appreciation and my love towards the ocean grows and the more I feel the need to protect and save it. I'm sure diving has the same effect on more people who have tried it.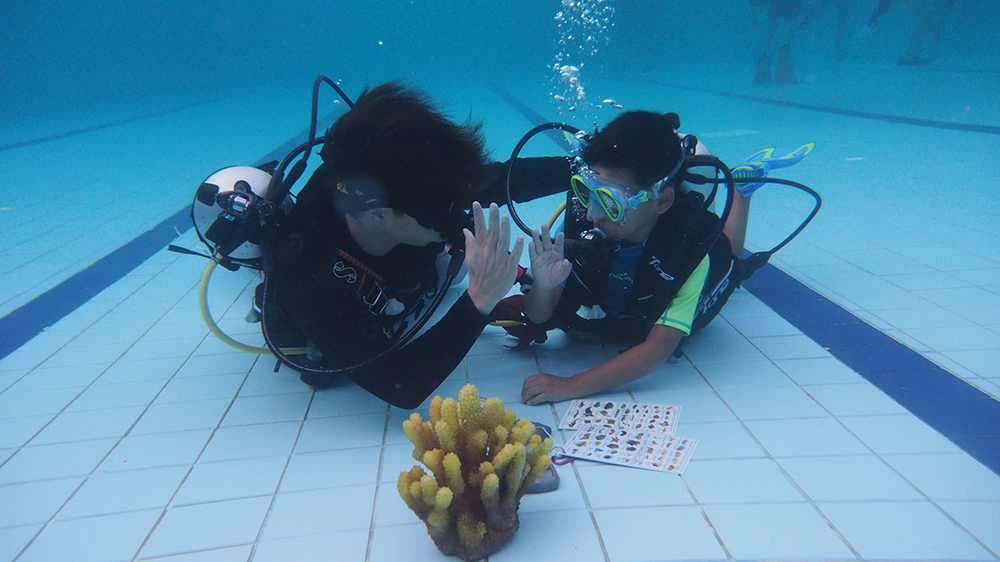 Artificial coral is used when teaching kids about marine life
Tell us about EEC Thailand, which you co-founded.
Environmental Education Centre (EEC) Thailand is an organisation that aims to educate the Thai society on environmental matters by introducing an innovative and progressive approach to education. With the belief that knowledge and public participation is key to the long-term conservation of natural resources, EEC Thailand organises environmental education focused camps to allow students to learn about the environment by directly interacting with nature to gear the consciousness of the public towards conservation.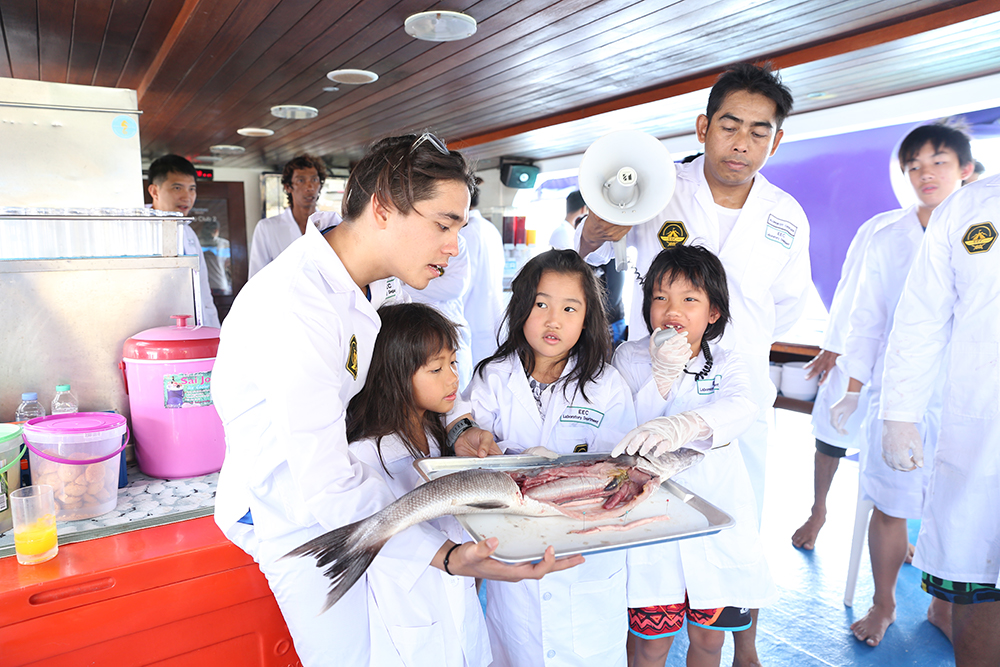 Students learn more about the internal structure of a barracuda and practise being social educators by presenting their findings. 
Our classroom is mobile and completely adaptable to the environmental content that the students are learning about. For example, with our Marine Life Camps, we use scuba diving as an educational tool to take the students down to their underwater classroom along with scientific research methods to educate and inspire them in becoming young conservationists.
Where did the idea for EEC come from?
I began taking part in conservation activities from the age of 10 when I first me my mentor, Kru Alonkot Chukaew, a conservationist doing research on wild elephants in Kho Yai, Thailand.
Kru Alongkot took me in as a student and let me be involved in the process of helping injured wild elephants as well as teaching me the basic principles of conservation.
After completing my undergraduate degree I started taking on activities that allowed me to connect with the environment – such as diving – while continuing to work with Kru Alongkot at the Thai Elephant Conservation Center. Upon Kru Alongkat's many roles as a conservationist, he would teach young children about elephants and conservation in the same way that he had taught me many years before.
Watching him teach, I was inspired to pay it forward and take this form of education to the greater public to, hopefully, raise a new generation of conservationists.
Why is it important to you that we educate the next generation about conservation?
The next generation are our future decision makers. A lot of damage has happened as a result of careless decisions from my generation and earlier generations. So I believe the key to the long term sustainability of the environment is to put a love for nature and its resources straight into the hearts and the consciousness of people, through education, while they're still young.
I'm sure that every EEC Thailand camp is memorable in its own way, but are there any moments from camp that stand out to you?
Recently, EEC Thailand put together a project called 'Fighting Extinction,' where 25 students were selected to conduct field research on five endangered animals. Of the 25 students there was one in the Whale Shark team in particular that stood out to me. This student was a 10-year-old girl who had been on EEC camps for more than two years but barely spoke a word. However when she got up to present in front of 350 people, she spoke loudly and firmly as she educated the public on how we have to all come together to help the whale sharks. After the conference, I asked her how she was able to come out of her shell and speak up and she replied "I have to speak on behalf of the whale sharks because the whale sharks don't speak!"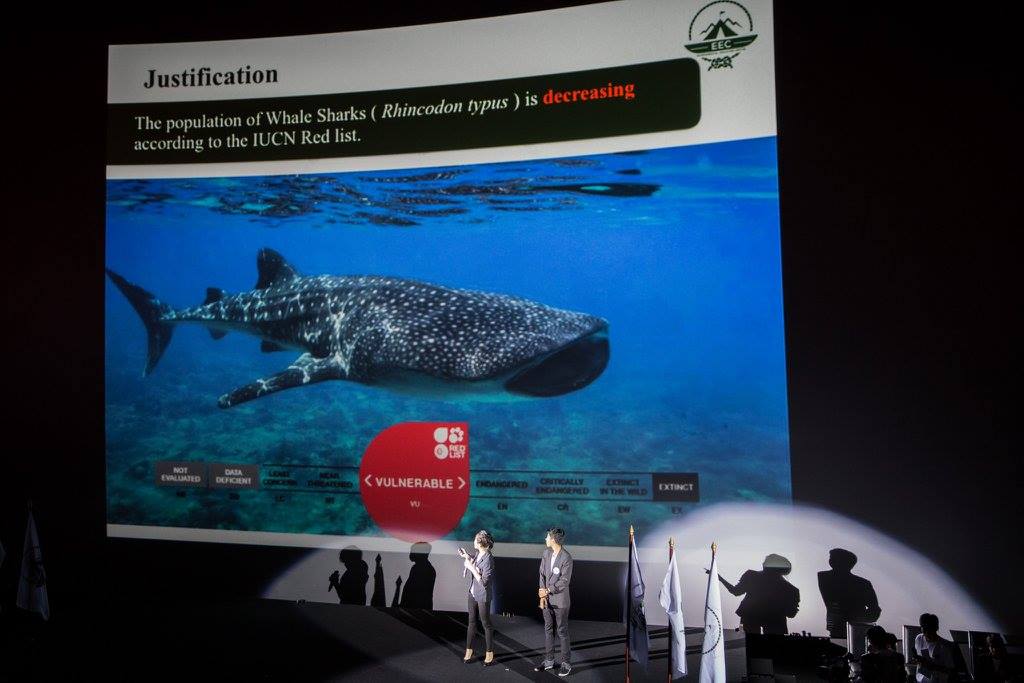 This moment stood out among the rest because it was a moment that gave me a great sense of accomplishment towards the EEC mission.