So, you've decided to take the plunge and complete your PADI Open Water Diver course. Before you can explore the underwater world, your scuba journey must first begin on land – by learning the academics behind dive skills, scuba equipment and safety.
The theory portion of your PADI Open Water Diver course can be completed either in a classroom environment, or with digital learning (such as PADI eLearning online, or PADI Touch for tablets). We'll take a look at both options to help you decide which is the best choice for you.
Digital learning
Although digital learning calls for a degree of self-discipline, it offers full flexibility in terms of when, where and how you complete your dive theory.
Anytime, anywhere: With 24/7 access, you can fit your studies around your own schedule, whether you prefer to tackle topics in short bite-size chunks or as longer sessions in one go. You can opt to learn from the comfort of your own home, a coffee shop or even en route to your scuba destination.
Save time on holiday: If you're planning to learn to dive on holiday, by completing the theory portion of your course before a scuba trip, you'll be able to get to the underwater action much sooner after you arrive at your chosen PADI Dive Center or Resort – without spending precious holiday days inside a classroom.
Learn at your own pace: With a rich mixture of content, videos, diagrams and interactive quizzes, PADI eLearning and PADI Touch adapt to suit your style and pace of learning. You'll be able to study each chapter at your own pace, repeating any sections needed to help refresh and embed your understanding of each topic – without worrying that you'll be 'holding up the class'.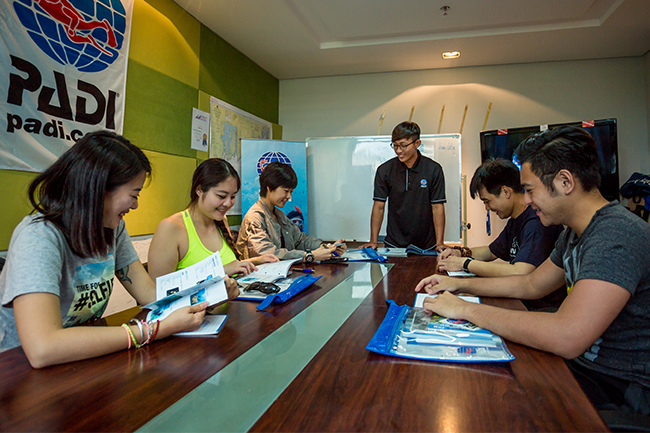 Classroom learning
Although classroom sessions will take place at a specific time and place, for many scuba students, the benefit of this environment is the early social interaction it brings.
Shared experiences: By working alongside fellow students on your scuba course, you'll have the opportunity to enjoy a shared learning experience as well as meeting new friends. By the time you start your in-water lessons, you'll have already started to build relationships with your new dive buddies.
The personal touch: Acecdotes and personal experiences shared by your PADI Instructor can help to bring lessons to life in a truly unique way, and you'll likely find that discussions and questions asked by other students bring new and interesting perspectives to each topic.
Get instant feedback: Although you won't necessarily be able to repeat each topic several times, one advantage of classroom learning is that your PADI Instructor – your source of diving expertise – is available right there and then to help answer any specific questions you have, and can guide you through trickier topics and concepts in more detail.
Which is the best option?
It's not possible to say categorically whether digital or classroom is the best learning option; it's a personal choice that depends on your personal circumstances and style of learning. However, in general:
Choose digital learning if you…
Are self disciplined to complete your lessons
Don't want to attend sessions at specific times or locations
Want to complete your dive theory before you travel
Enjoy learning at your own pace
Choose classroom learning if you…
Need a bit of a nudge to start studying
Enjoy discussion and learning with other people
Like to have instant feedback to your questions
Want to meet your buddies before your practical lessons
What next?
Locate a PADI Dive Center or Resort to find out more about courses and availability, or sign up for a PADI Open Water Diver digital course to start learning today.