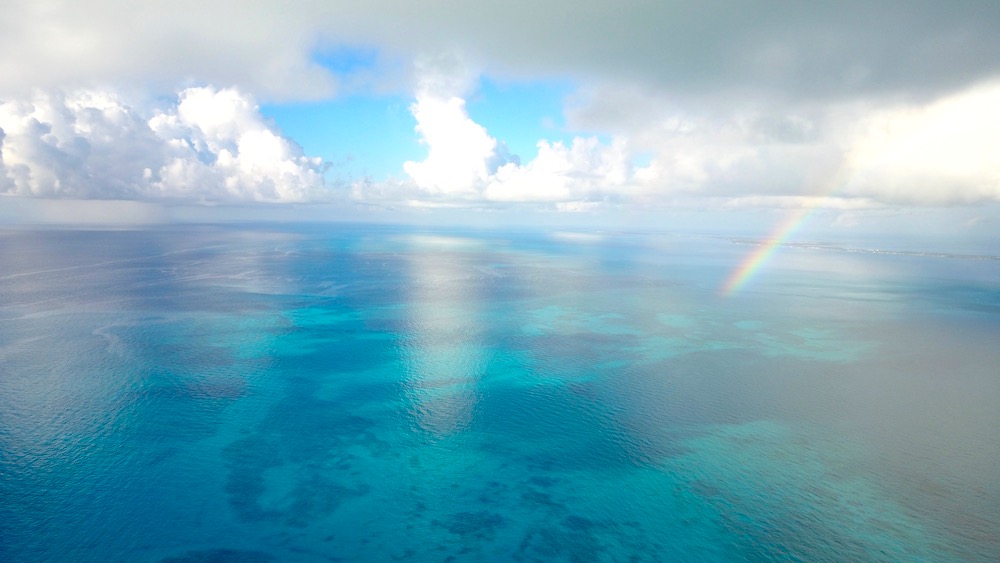 Some of our most beloved dive destinations have suffered severe devastation after an active hurricane season, including power outages, water shortages and extensive damage to property, leaving the dive community wondering how to help – and when the dive shops will be open again for business.
Though the damage of hurricanes Irma and Maria is still being tallied, the majority of locations are now ready to welcome tourists to their incredible dive sites.
Here's a look at which areas are ready for divers and which are still recovering (click here for larger version of the map).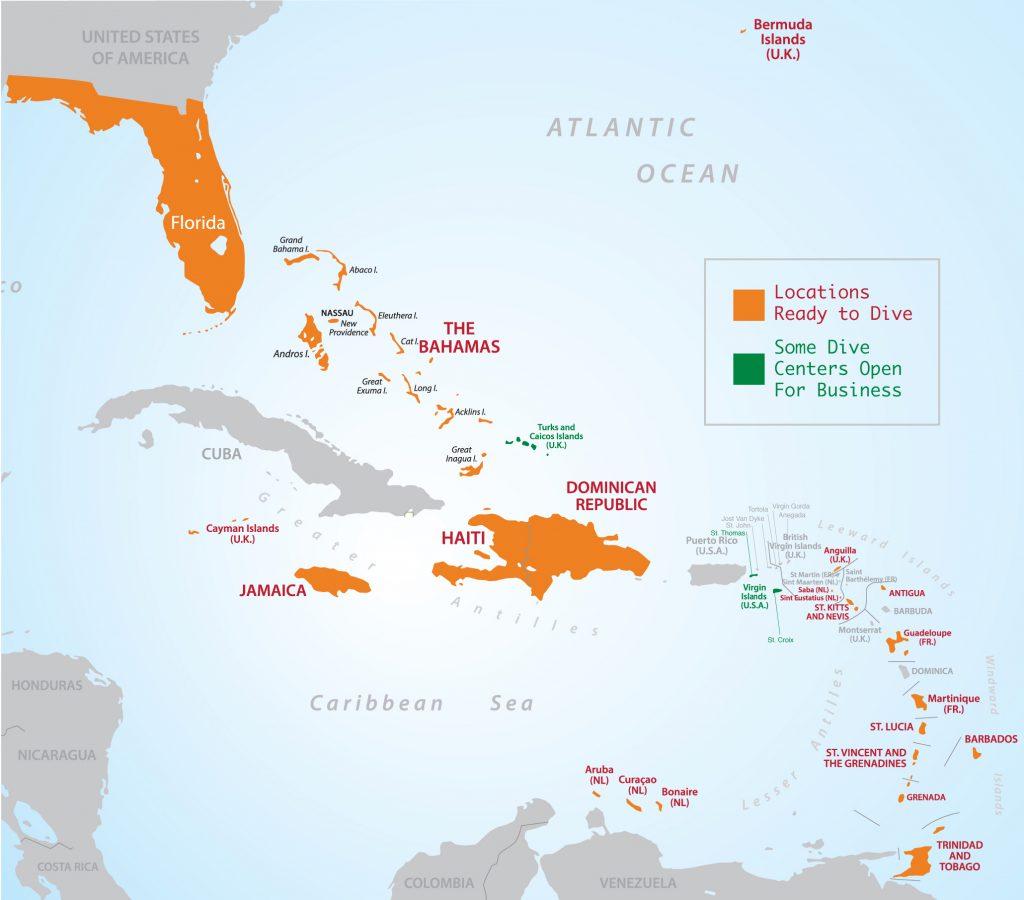 Hear directly from some of the dive operators in the affected locations below. Note that not all locations are listed. Please reference the map above to see which locations are ready for divers.
LOCATIONS READY FOR DIVERS
Anguilla
"There are still hotels that will be open, villas available and restaurants serving great food! The beaches are waiting for you and so are we!" – Shoal Bay Scuba/Roy's Bayside Grill
The Bahamas
"The Bahamas is fortunate to have recovered quickly from this detrimental 2017 hurricane season. The water is warm, the visibility is incredible, and the marine life is as vibrant as ever. It is amazing how quickly life under the water returns to normal after major storms, and is a testament to the adaptability and endurance of this amazing ecosystem." – PADI AmbassaDiver TM Liz Parkinson
"All of our staff and facilities are safe here on the island. We are extremely fortunate and our hearts are with those who have been seriously impacted by this storm. Boats are going back out after Hurricane Irma!" – Stuart Cove's
Bermuda
"Our thoughts and best wishes go out to Barbuda and everyone in the Caribbean and Florida as they face Irma and the aftermath. We have not been destroyed by Hurricane Irma. Please note that Bermuda is not Barbuda. We are lateral on the map to North Carolina, and nowhere near the Caribbean. Technically we are in the North Atlantic."– Blue Water Divers & Water Sports
Dominican Republic
"Two hurricanes in two weeks! We are back and we are open. The water has cleared up, the shop is unpacked, the crew is raring to go and we are just waiting on you." – Samana Diving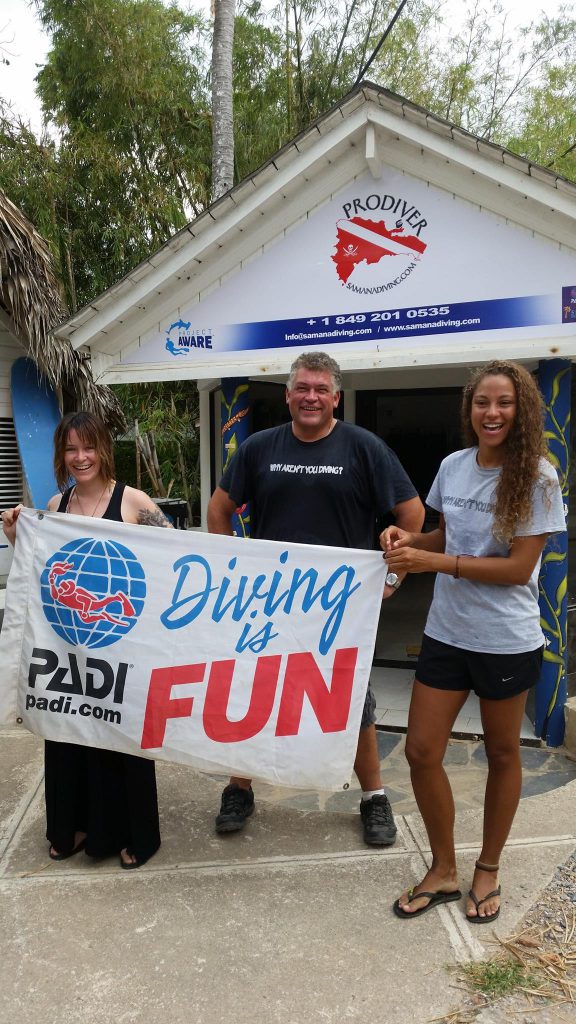 Florida: The Keys, North Florida, Ft. Lauderdale, Jupiter, Panhandle, Marco Island
"It is important to acknowledge the destructive capabilities of a hurricane, and the reality of the changes in reef structure, coral density and fish life. A lot of recognizable coral structures we knew and loved had changed, or were simply not there. The sand has been displaced. Sea fans and soft corals are less plentiful; however, the substrate is there to support their return. Overall we were very lucky. The reefs fared remarkably well given a hit from a category 4 hurricane. The wrecks in the Upper Keys are still standing proud, a few dings and missing pieces from the surge, but otherwise unscathed. Every day more fish return, with sharks, turtles and stingrays still cruising happily along the spur-and-groove formations of the reefs. When these amazing creatures welcome us back to their home, we should dust off our fins and make sure our buoyancy is peak perfect. Let's all do our part and give the reefs and animals the respect they deserve as we dive back into that beautiful watery realm. The best way YOU can help is to come visit us in the Florida Keys. With the healing of our reefs around us, and restoration of the lives of residents and businesses here in the Florida Keys, we eagerly await your return." PADI AmbassaDiver Jack Fishman (Rainbow Reef Dive Center)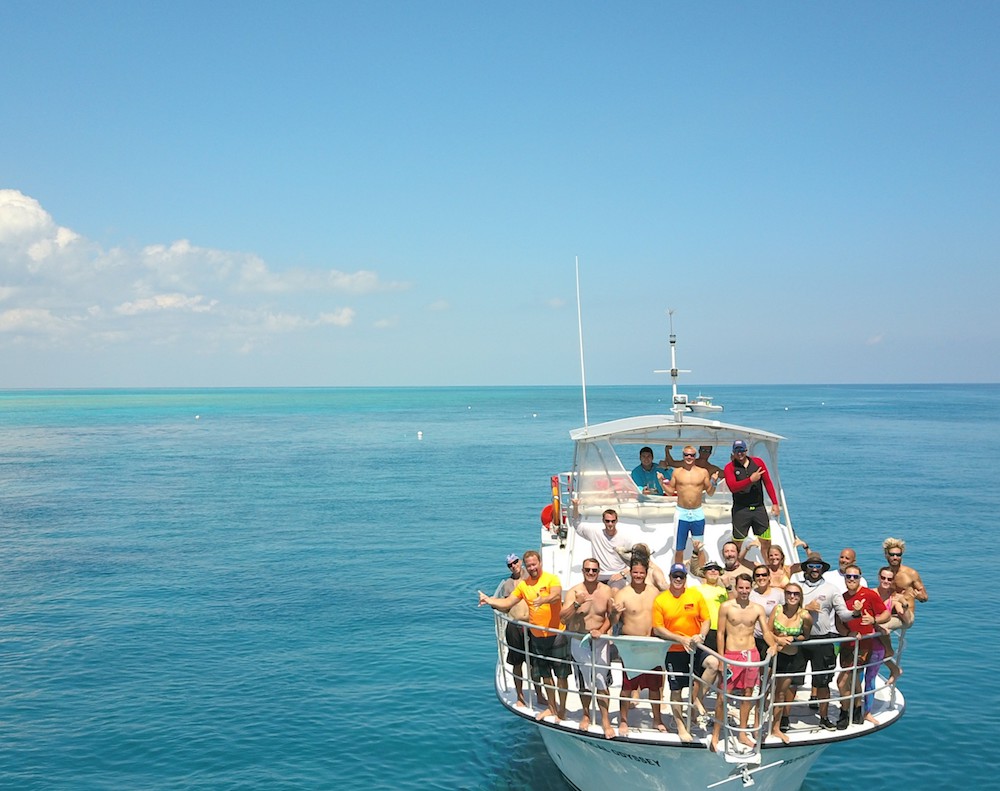 "All of our Force-E locations were very lucky and we haven't seen any damage. All three Force-E stores are up and running now … come on in and let us know what you need." – Force-E Scuba Centers
"We are open and fully operational. Come by and let us know how you are and get your tanks filled. Take a break to talk about diving." – Scuba Works
"Happy to report that our boats have held up well and we're back in business. Wishing all of our friends a speedy recovery from Hurricane Irma." – South Florida Diving Headquarters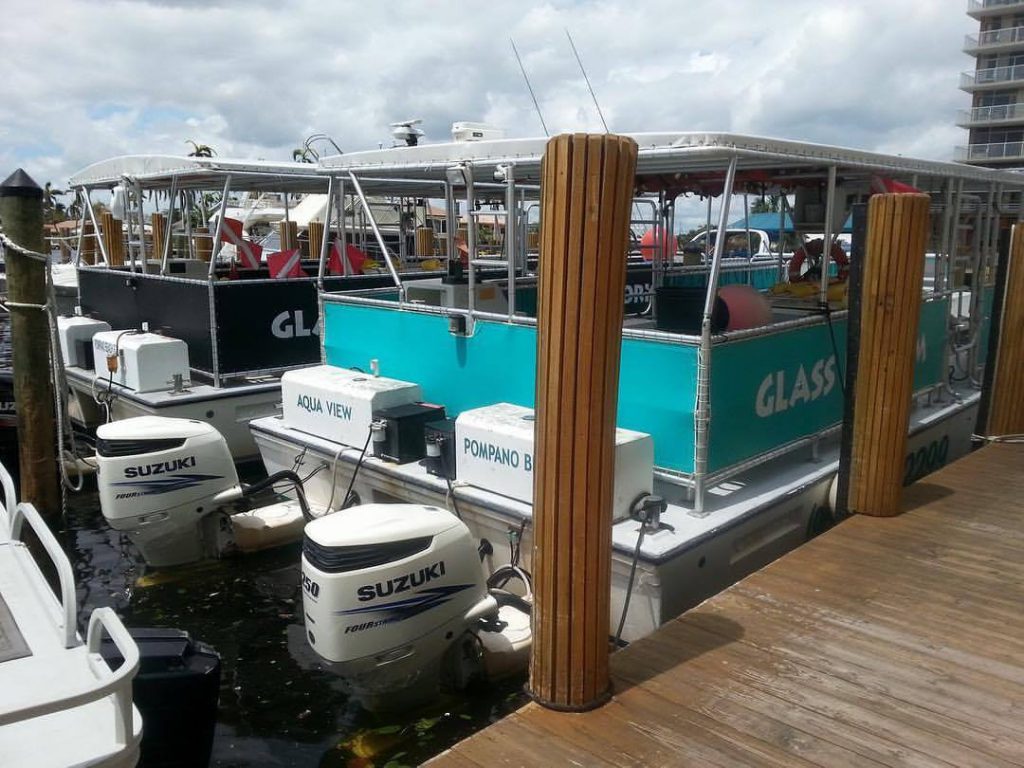 "We all want to thank you all for the many calls, texts, emails and Facebook messages asking if we are all OK. All three of us are OK. No damage to the store. We are operating and open as usual." – The Dive Place
"We are back open! Come and see us if you need some A/C to cool off and go diving!" – Seminole Scuba
Saba
"Our team is all well, our dive center is still where it was and even our boats seem to be ok. Considering the impact category 4 hurricane Irma had on Saba and our neighboring islands, we are happy to be fine." – Saba Divers
"All fine – the island is 100% operational; divers enjoying dives as always, all hotels 100%- c'mon down!" – Sea Saba
St. Eustatius
"We are good and completely exhausted but we will make it happen! Thank you kindly for your help." – Golden Rock
St. Kitts/Nevis
"Thanks to all for your concerns during the passage of Hurricane Irma. We are all safe and Nevis has had minimal damage." – Scuba Safaris
LOCATIONS WITH SOME DIVE CENTERS OPEN
British Virgin Islands
"While we see some damage on some of the sites, the marine life is still out there waiting for us. This week we have seen Eagle Rays, Turtles, Reef Shark, lots of Lobsters, Crabs and a Leopard Worm…and so much more." –Blue Water Divers 
To donate to the ongoing efforts for the British Virgin Islands, visit:
BVI Governent Donation Site: http://pledgeling.us/bvi
BVI Relief: https://bvirelief.com/
BVI Dept. of Disaster Management (DDM): http://www.bviddm.com/
BVI Volunteers: www.bvivolunteers.com
St. Thomas
"STDC is running trips! Who's coming diving? Our phone lines are down, please email info@stthomasdivingclub.com. Let's dive!" –St. Thomas Diving Club
"Thank you all for your positive thoughts and well wishes. We will overcome this! We hope to be open by November 11, but that all depends on the rest of the island's progress, as well as the water conditions.  If you would like to book with us after that date, please email us at info@cokidive.com. We would love to take you diving!" –Coki Dive Center
Turks and Caicos Islands
"Still magic, still beautiful by nature. Stunning beaches and turquoise seas. The missing ingredient? You." –Big Blue Unlimited
"Provo Crusader freshly painted and back in the water!" –Dive Provo Turks and Caicos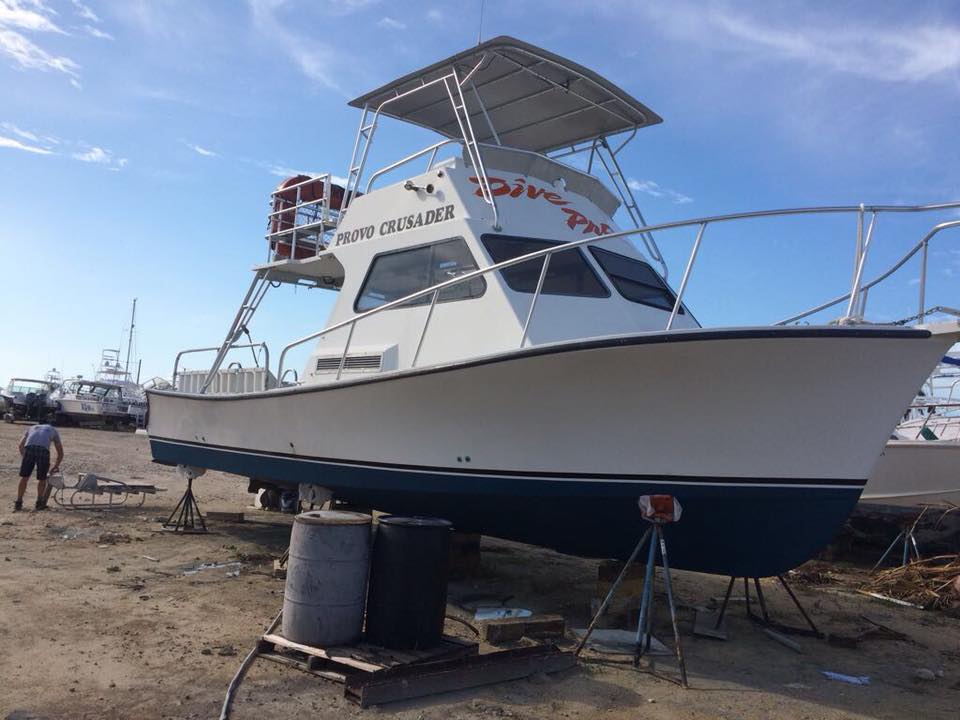 St. Croix
"The dive shop was not affected, other than a little bit of water damage … but hey, it's a dive shop. We're used to water. The boats are fine thanks to wonderful prep by Captain John Gillette." – St. Croix Bluewater Adventures
"All of N2 Crew is safe and accounted for! There is still a lot of work to be done but we are thankful for what little we have." – N2 The Blue
To donate to St. Croix, visit their Facebook page.
LOCATIONS STILL RECOVERING
Dominica
"We would like to thank all of our friends and past guests for their thoughts and well wishes during Hurricane Maria. We will continue to keep the island of Dominica and our neighboring islands who have been affected by this natural disaster in our hearts." – Buddy Dive Dominica
"Due to the island-wide impact of Hurricane Maria, both Castle Comfort Lodge and Dive Dominica are currently closed. Fortunately, our boats were moved to safety in St. Lucia prior to the storm. Once we are able to assess the extent of the restoration efforts needed for the Lodge, dive operation and supporting island infrastructure, we will provide a timetable with a reopening date." – Dive Dominica, LTD
To donate to Dominica, visit their Facebook page at: Facebook.com/DiscoverDominica
Puerto Rico/Vieques
*Updated (11/28): Some locations in Puerto Rico are now accepting reservations! Please contact your PADI Dive Center before booking your flights to inquire about availability.
"To all who have dived with us and those that will in the future: We did not lose our boat, we did lose the compressor and a couple of tanks. We are still here, we will go back diving and our home, our Puerto Rico will rise!" – Sea Ventures Pro Dive Center
"Passing through here to let you know since I have not been able to communicate to you, that Angela, our children and I are good and that we are not past anything that we can not recover with more force. A big hug to everyone!" – Neptune's Divers
"Our water supply relies on Puerto Rico's rainforest, El Yunque, from where water is funneled through a pipeline and pumped into our houses with electricity. We get our food and gas and hygienic supplies and building materials and tools and drinks and flashlights and fans and animal feed and water purification tablets from the main island or through Amazon, like everybody else in the world. The main island has been devastated as well and the postal system is not working right now." – Isla Nena Scuba
To donate to Puerto Rico/Vieques, visit:
http://unidosporpuertorico.com/en/
https://secure.directrelief.org/site/Donation2?df_id=2105&2105.donation=form1
St. John
"We pledge to keep Low Key Watersports intact and will continue for as long as possible." – Low Key Watersports, Inc
To donate to St. John, visit their Facebook page.
St. Maarten/Martin
"The staff have been busy cleaning up their homes and the diving school. A couple of marines who have been diving with us and who were on the island last year have also provided assistance. It is a good thing that the food and water are starting to run. Emergency aid is slow." – Dive Safaris
"All the team is well and safe. The shop is down and so is everything that was there. One of our boats is down and two have reparable damage. Jef is working on cleaning/protecting what is left. We will bring the shop and island back." – Ocean Explorers
To donate to St. Maarten/Martin, visit their Facebook page.
For more information on how you can help after hurricanes Harvey, Irma, and Maria, visit our relief post here.