As divers we are all exposed to, and aware of, marine debris and the problem it is causing our delicate oceans. But, how can this knowledge be passed on and represented to people who may not have much day-to-day interaction with the ocean? Eco designer, Linda Thomas has a novel approach; by creating a 'Wave of Waste' dress from discarded bodyboards. We caught up with her to find out more…
Where did the inspiration for this Wave of Waste dress come from?
I was inspired to make the "Wave of Waste" dress after seeing the shocking stack of dumped bodyboards collected by the BeachCare team of Keep Britain Tidy in Cornwall last year. I was shocked to hear that more than 14,500 broken cheap bodyboards are dumped just in Devon and Cornwall every year with many more drifting off to sea to breakdown into macro and microplastic waste.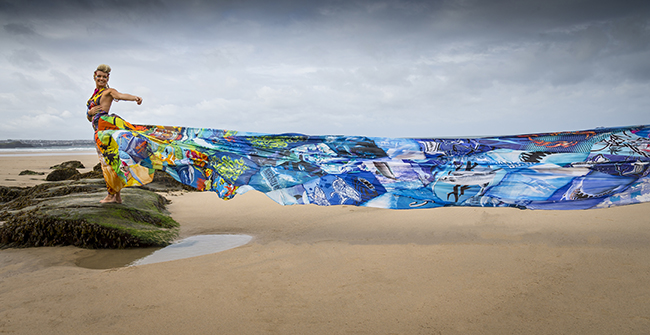 How did you go about making it?
I made it by tearing the covers off 100 of these boards. Neil from Keep Britain Tidy helped me, and my family also got involved. It was a really unpleasant process and stank! Once washed  (by hand so no waste went down the plughole) and dried in the sun I then arranged the nylon covers with the help of my son. I wanted there to be a flow of colour but also a clash of the horrible patterns. I would deliberately put a sexist "it's girl's surf stuff" image aimed at young girls right next to a stupidly aggressive shark image. I wanted it to look quite beautiful at first glance and then to have an unpleasant edge with closer inspection.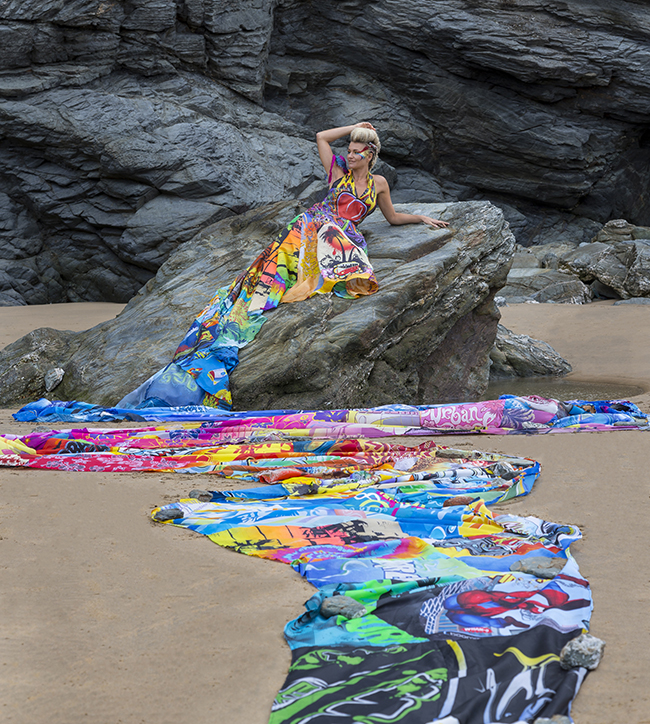 As an eco-designer, what prompted you to take on this challenge?
I wanted to help create a visually stunning image that could bring the problem to the attention of more people. I have to admit my original sketch for the dress had a 1 metre not 22 metre train on it. The dress just seemed to grown into a bigger and bigger symbol as I grew to dislike the material I was working with more and more and became more and more connected to the issue.
What message do you hope this dress sends to all who see it?
The message we would like to send out is that these cheap polystyrene covered boards, or snappers, are poor value for people and planet. Choose a better board bought from a surf shop that is more solid or hire one and then it will be a better safer ride and will last much longer.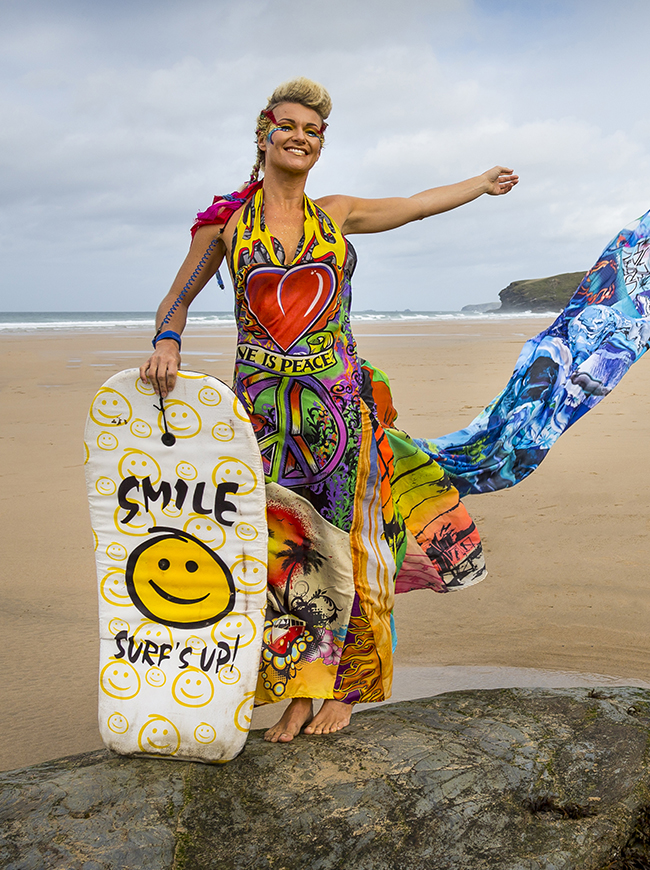 What are your top tips for reducing waste, and living in a more eco-friendly way?
I live by the motto Refuse, reduce, reuse, recycle. So current things to really easily refuse are: single use cups, straws, plastic bottles and plastic bags. Pretty effortless alternatives for all of those. With my work  as an eco fashion designer beyond the Wave of Waste dress I use upcycled fabrics to make my dresses and stitch with organic cotton, not polyester. Realising that all poly… fabrics are plastic and not buying them is another simple change to make. The other one is taking responsibility and being respectful of our shared environment, so not being afraid to clear up any waste we find, regardless of whose it is. Every 2minutebeachclean we do can save countless lives, so it is always worth doing what we can. The Dive against Debris initiative is a great way for Scuba divers to get involved too.
Photo credits: 
Dress: Linda Thomas Eco Design
Board collecting and organising: Beach Care of Keep Britain Tidy
Photography: Symages Photography
Eco Hair: Clair Swinsoce Studio Couture
Eco Make up: Rebecca Rose Robinson
Model: Emma Adams