If you work at PADI® Headquarters, chances are you have a huge passion for the underwater world- and with that comes a deep concern for the health of the ocean. It's one thing to talk about conservation, but a whole new game to take action and maintain a sustainable lifestyle.
As an organization, it is our goal to mobilize divers to become a force for good to make a significant impact on key issues facing our oceans and affecting quality of life. Through the PADI Four Pillars of Change, one of our focuses is reducing the negative impact that we have on the planet as humans and that begins with our staff.
We want to share how just some of the PADI employees across the world are personally committed to positive change through conscious actions and decisions they make each and every day.
PADI Americas (Rancho Santa Margarita, California) 
"As an ocean advocate I incorporate a reusable water bottle, coffee mug and silverware into my daily habits – anything to reduce personal plastic use.  I make it my responsibility to know sustainable food options and support restaurants with a similar mindset. It's easy to have an "out of sight out of mind" or "how is my one straw going to make a difference?" approach, but I promise after witnessing ONE plastic bag wrapped around a turtle or sea lion's neck, you understand the significance of your daily decisions."" –Kristina Leadbeater, Regional Training Consultant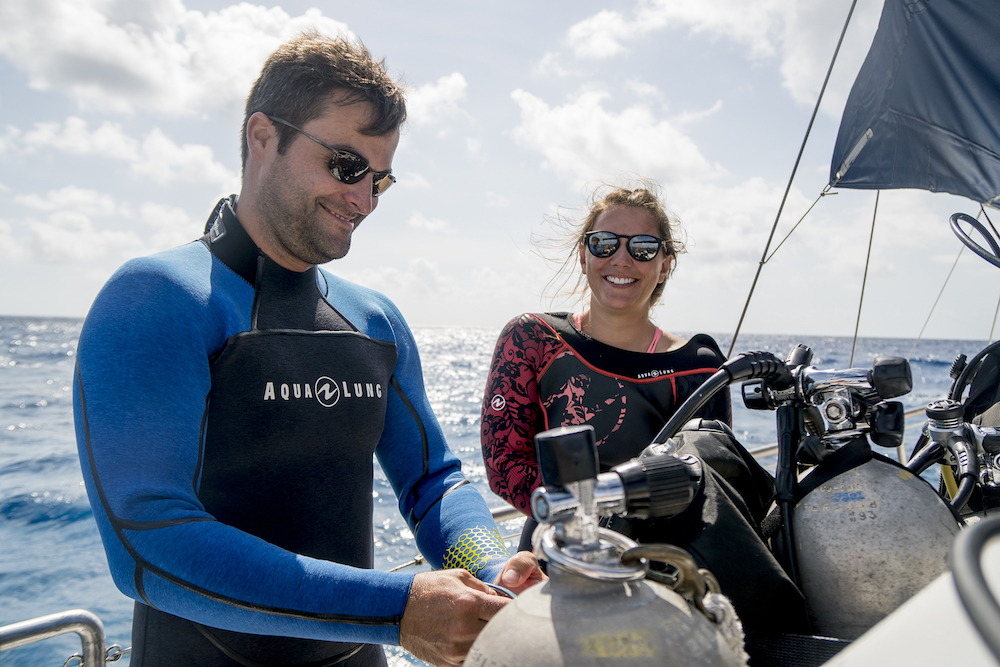 "After spending enough time in the sea, I've come to realize the serious situation facing our marine life and habitats. One way I try to help is by using reusable water containers that decrease our carbon footprint while reducing the amount of plastic being lost in our landfills and oceans." –Bryan Stiver, Digital Asset Management
"As a passionate diver, traveler and marine conservationist, I have witnessed humanity's wide reaching impacts on our ocean. Even though the negative impacts we have as a species are quite large and sometimes overwhelming, I have found that it is the smallest decisions we make on a daily basis as individuals that have the biggest positive impact.  For this reason, I do not use single use plastics, and I try to make informed decisions about what I eat and what I purchase as a consumer. " –Michael Richardson, Regional Training Consultant
"As a diver, I know how important ones buoyancy and streamline is to protect the precious marine life we are lucky enough to explore. That is why I continued my education to become a PADI Advanced Open Water Diver and complete more dives including a Peak Performance Buoyancy dive. This really helped me take my buoyancy to the next level to ensure that my interaction with the underwater world is a positive and healthy one." –Kealy McLain, Customer Service Supervisor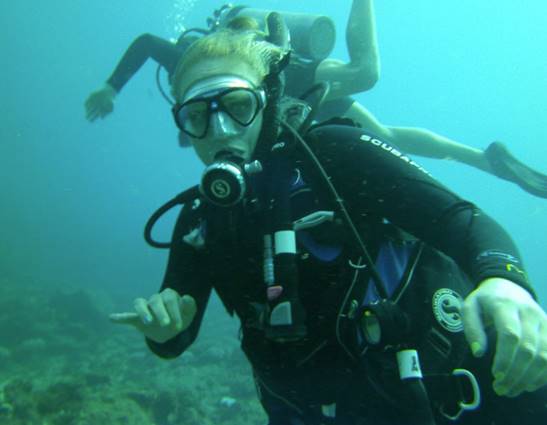 "I have 2 small children, and not only do I want to set a positive example, but I want to leave a clean ocean for them to dive in for years to come.  We try to have as close to a zero-waste household as possible through composting, bulk purchases at stores, using reusable bags and jars, and recycling what we can't reuse. The less of an impact we make in consumption, the less that goes into our oceans and landfills. As a family of 4 and a dog, we are down to one bag of trash per week." -Nick Buskirk, Regional Manager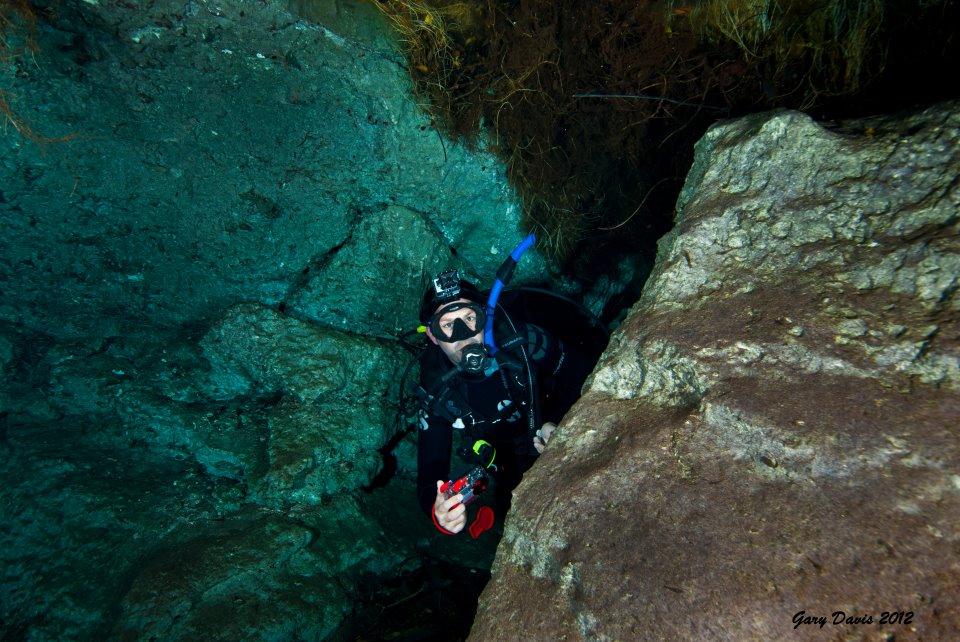 "One of the best ways to help the ocean is to be an eco-tourist. I have a major travel bug, and when I'm not working at PADI HQ, I enjoy globetrotting to faraway oceans and opening my eyes to the beauty that can be found in other parts of the world.  As visitors, we can be mindful of our impact on the ocean by making informed decisions when visiting a destination. There is nothing worse than booking an excursion and finding out that your tour is actually doing a disservice to ocean life.  Doing your research and supporting facilities that don't exploit wildlife and that promote sustainable businesses practices (use of mooring buoys, water conservation, proper waste disposal, respect for local cultures, laws and regulations, proper waste disposal, etc.) will help drive positive changes in a region and leave the ocean stable for future generations to enjoy." –Emily Krak, Marketing Consultant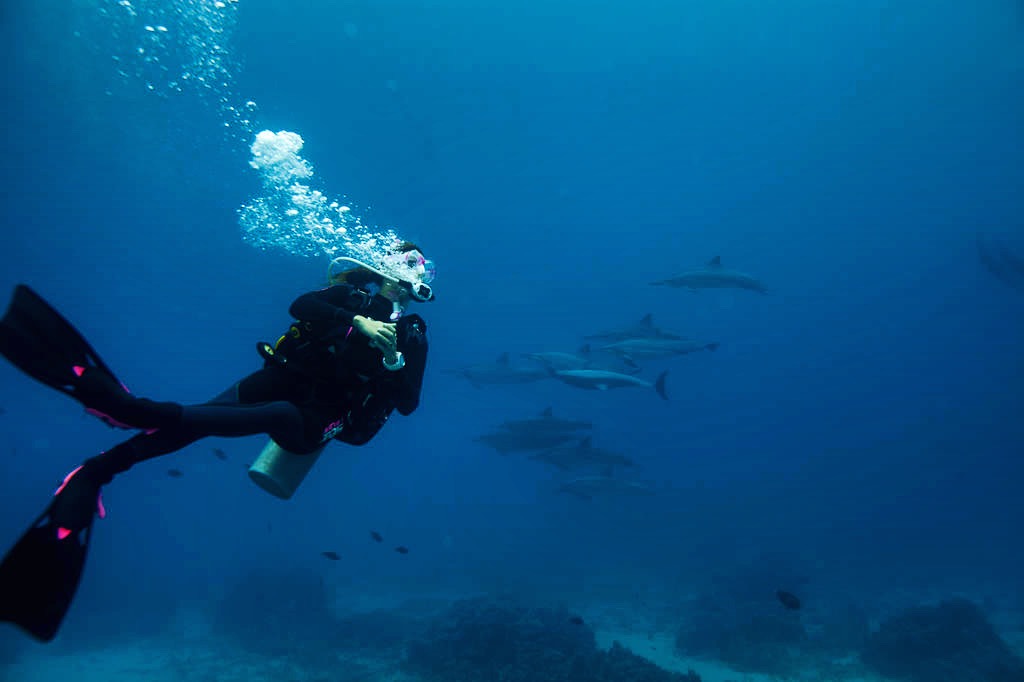 PADI Europe, Middle East, Africa (Bristol, United Kingdom)
"It may seem strange that a diver who loves to look at fish also likes to eat them, but I am very careful to make sure that I make sustainable choices. It's really easy at home, but more difficult at restaurants. I make a point of asking restaurants where their fish comes from, preferably before I book, so that I can choose somewhere else if they don't know. Fresh locally sourced sustainable fish is usually the tastiest anyway!" – Vikki Batten, PADI Technical Diving Division, Director Rebreather Technologies
"The sea is my life and my home, and as such, I want to try to protect it through small, but significant daily actions that go from using cloth grocery bags and reusable water bottles to turning off appliances when they aren't at use and buying compact fluorescent light bulbs to reduce energy use." – Fabio Figurella, PADI Regional Manager, South Italy
"As a diver, I ensure that I always make wise choices when considering any kind of product that comes from the sea. I use the Marine Conservation Society's 'Good Fish Guide' to ensure I only ever eat sustainable fish, and to help support those fishermen and stores that practice sustainable fishing." – Rich Somerset, Territory Director, Sales & Training (T30)
"At home I ensure all of my cleaning products – washing up liquid, dishwasher tablets, etc., are all from environmentally friendly brands so the chemicals don't cause any harm when they enter the water system, and ultimately, the ocean." – Cathy Evans, Social Media Marketing Consultant
"Even now that I'm not so much in the water anymore, I'm quite worried about the future of our oceans.  I try to use my reusable bottle of water and fill it up with tap water to minimize the consequences I have on the environment.  Nowadays, in our micro-worlds, we do not realize the impact that we have on the world around us. Not seeing the problem, does not mean it is not there." –Francisco Casas Sanchez, Regional Training and Sales Consultant
PADI Asia Pacific (Sydney, Australia)
"To reduce the amount of plastic that ends up in our oceans, I've given up using plastic straws and I have installed a water filtration system in my house rather than drinking from water bottles." –Tim Hunt, Territory Director
"I use reusable 'keep-cups' for my  coffee every day" – Rita, Customer Service
"After seeing the movie a Plastic Ocean, it really opened my eyes to the effects that plastic has on our planet. I've taken a pledge to stop using single use plastics like straws, plastic bottles and plastic bags. I now use and carry reusable bags and a metal drinking bottle with me. I also pick rubbish up whenever I see it, doing my part and taking 3 for the sea." –Amanda Dorahy, Sales Support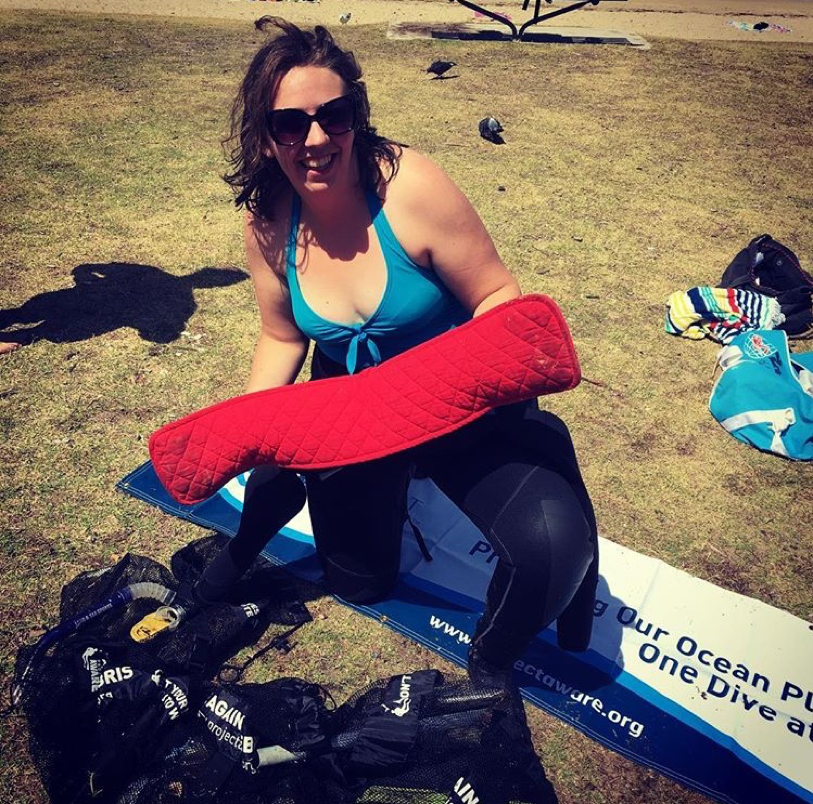 "I organized to do a talk about ocean conservation at my daughter's school. Together with Hannah from Project AWARE, we spoke about scuba diving and how scuba divers can do underwater clean ups. We also talked about the 'ugly journey of trash,' and why we should avoid single-use plastic to about 80 children in their first year of school." –Clare Smith, Territory Support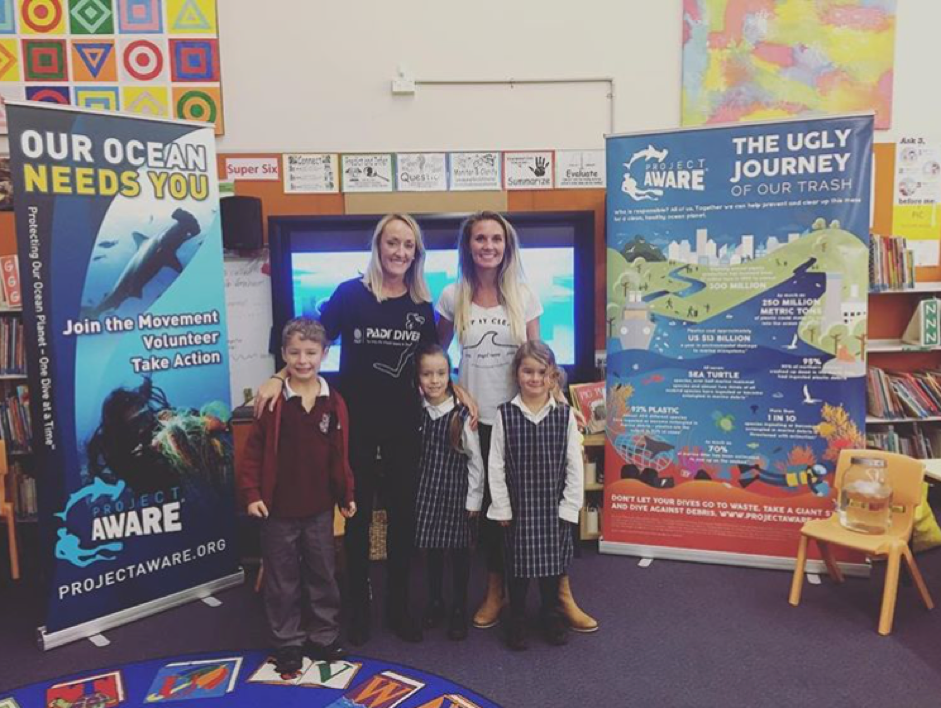 "On my morning walks along my local beach, I started taking notice of just how much waste washed up on shore. I thought to myself, rather than just walking past and ignoring it, why not pick up a couple of pieces of trash along the way. It requires zero effort but can really make a difference." –Alison Hush, Marketing Consultant
"When doing my grocery shopping I try and eliminate or reduce plastic wherever possible. I take my reusable bags with me, choose fruit and vegetables that aren't wrapped in plastic and get my meat from the deli counter so it isn't prepackaged in plastic." –Junya Kato, Regional Training Consultant
"I use a glass refillable water bottle and also use my own shopping bags." –Helen, Customer Service
"When I go for my walk at Mona Vale beach I'll pick up any rubbish I find along the way. I also order drinks without a plastic straw and I don't purchase plastic bottles of water. Instead, I have a glass bottle that I refill." –Tennille, Customer Service
"I get social about protecting our ocean! I keep my Facebook cover photo as the image below and I always try to include conservation hashtags when i post e.g. #ProtectOurOceans #SayNoToPlastic #BanTheBag #FightForOurReef etc. More importantly every day I: drink coffee from my reusable cup, have a metal straw in my purse, use cotton or paper bags while shopping, buy as much unwrapped food as possible, recycle all plastics, and pick up every piece of plastic I see, especially while diving and on beach & coastal walks." –Brigit Jagar, Regional Training Consultant

"To reduce the amount of plastic making its way to the ocean, I use my PADI Backpack when I go grocery shopping rather than plastic bags." –Neil Richards, Regional Manager
"I have my own shopping bags that I use when grocery shopping rather than using the store's plastic bags." –Arnolda, Customer Service
"I pick up rubbish any time I'm walking the dog at the oval and when I'm at the beach. I also use my own bags for shopping." –Sue, Customer Service
"I say NO to plastic and YES to reusable alternatives for me and my family. We use metal straws – the image is my son using one at home – beeswax wraps for the kids lunches rather than plastic wrap and I use a reusable cup for my coffee every day (even if it's pink!). I also encourage everyone I meet to watch 'A Plastic Ocean' – I'll even let people borrow my iPad to watch it if they make a donation to Project AWARE®." –Tony Cook, Regional Training Consultant
#iampadi