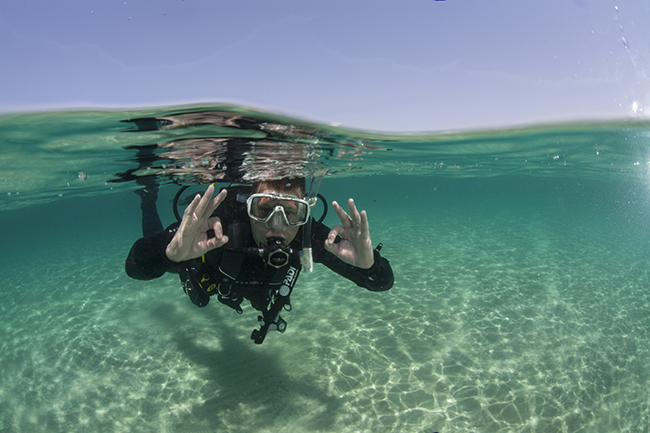 Has anyone ever said you look like a Christmas tree in your dive gear?
Are you loaded down by your need to buy every dive accessory available at your local dive store?
If you or someone you know answers yes to these questions, we'd like to tell you about the invisible enemy of divers. It's called drag. And it's wearing everyone out. Drag, is the friction felt on an object moving through water. The more drag an object has, the more energy it takes to propel it forward. Tidy up your scuba kit and adjust the trim on your gear. Not only will you enjoy less fatigue, you'll also keep your gear and the reef from being damaged.
So how do you do this?
Here are 6 ways to store and secure your gear while diving.
Add a pocket or a pouch. Usually threaded through the webbing on your BCD, this is a place to keep accessories like a flashlight, slate or spare mask.
Add a D-ring. Add marine grade stainless steel D-rings to your BCD straps, weight belt or tank strap. They make handy anchors for clipping other accessories.
Acquire a good octo holder. Keep your spare octo from dangling and damaging the environment. Use clips and a D-ring to secure it in a place for easy access.
Get some clips. Use clips to attach things like a mesh bag or flashlight to your gear when not in use. Remember to buy durable clips made of an alloy resistant to corrosion. You'll never regret having a few extra clips in your dive bag.
Use surgical tubing. It's not just a way to attach a pencil to your slate. Elastic tubing can be used as a custom rubber band to secure hanging accessories.
Try a Lanyard. Lanyards are a great way to keep from dropping things you hold in your hand while diving. Be careful using a lanyard to attach accessories. You may need another method to keep it from hanging.
For more help looking after your scuba equipment, take the PADI Equipment Specialist Course at your favorite PADI dive shop.