Before veteran Michael was introduced to Deptheraphy and found release under the water through scuba diving his and wife, Charlotte's lives were very different. We spoke to them to find out how diving affected Michael's mental heath and in turn affected the lives of his closest family.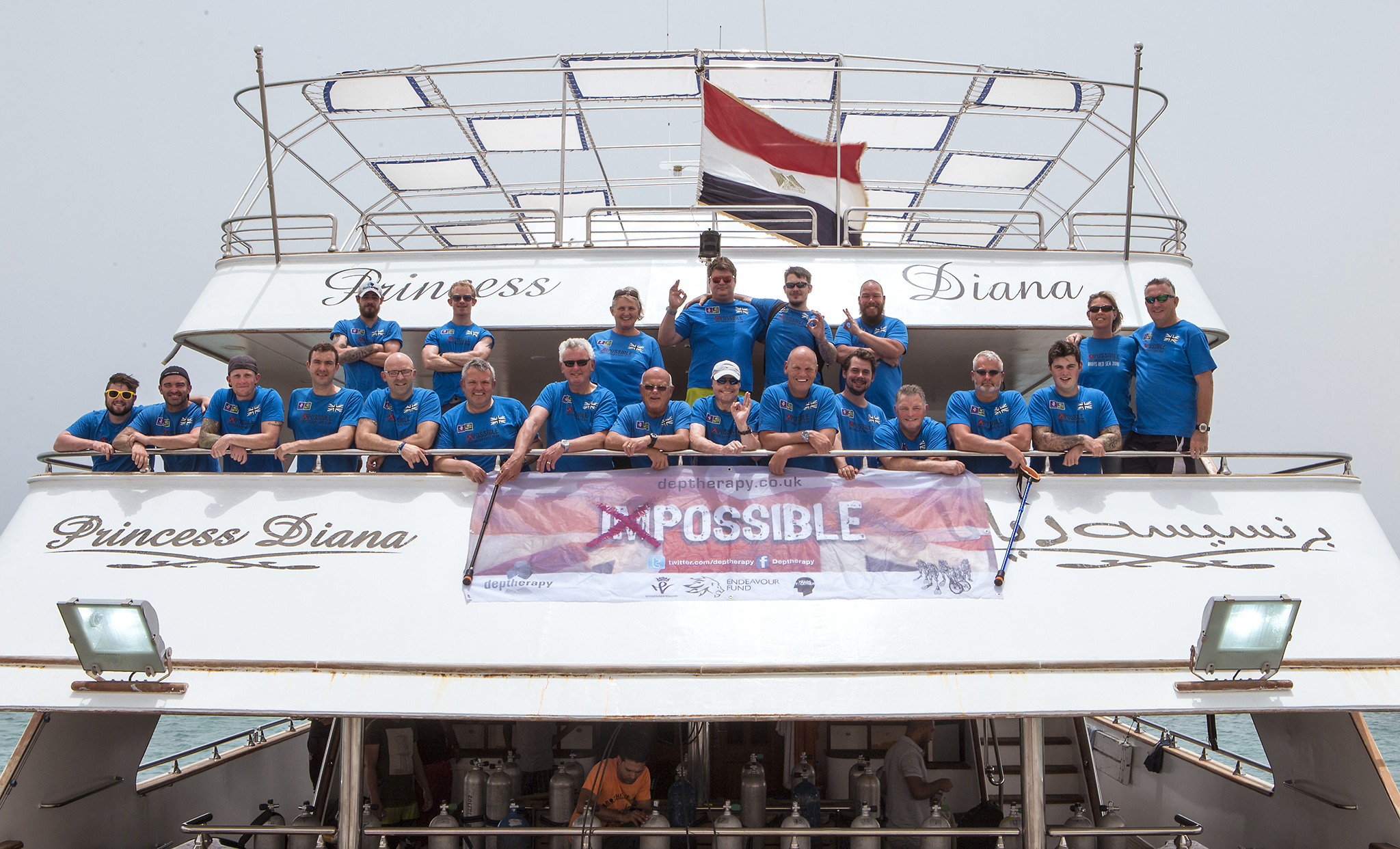 Can you share a bit about what life was life before scuba diving and Deptheraphy?
Michael served in the Royal Engineers for 10 years before he was diagnosed with Multiple Sclerosis. His diagnosis brought a premature end to his career and job that he loved it was everything he knew from the age of 18. A number of other personal issues such a divorce, losing his home, being forced to leave his job, being diagnosed with MS and accepting the changes his body was going through, which he had no control over, made life pretty tough. Over the last 9 years we have had numerous trips in and out of hospital along with 3 different disease modifying MS treatments to try and find something that could not only give him a good quality of life but something that could stop the relapses which were plaguing his body; often leaving him totally numb and unable to walk.
Before Michael began scuba diving and his relationship with Deptherapy he left behind a trail of destruction. He gave up caring about himself and coasted through life. He longed to find a hobby not only that he enjoyed and ignited a passion but most importantly something that was worth using his limited energy supply for. Life outside of the army is tough for anyone who has to leave behind friendships, work, security and a life that only fellow service personnel can understand. So for a long while it was difficult to find a place where he could channel his energy into, with people who understood him and what it was like living with a life changing illness and the limits this brings to your life.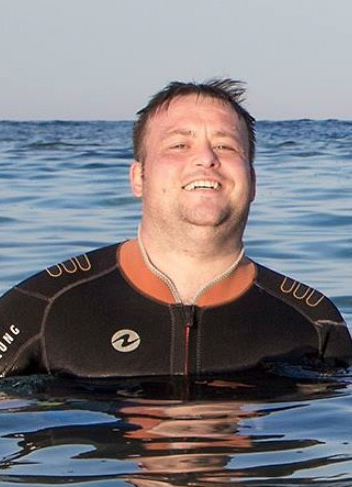 How did you find out about Deptherapy?
We first found out about Deptherapy through Michael's friend who he served in the army with, Luke Simpson, who had taken part in a previous Deptherapy diving programme. Michael had always enjoyed diving on holidays as in the water he feels free but never really pursued it much further as due to his complex medical issues he never thought it would be something he could achieve. I spoke to Michael about contacting Richard Cullen about the realities of him possibly take part in a dive. Michael was very off about me contacting Richard as he was so used to nothing ever working out as his illness/medication always got in the way and he had become quite a recluse.
I initially emailed Richard Cullen without Michaels knowldge to try and get the ball rolling and see if he could potentially join the dive programme. Richard was an amazing help guiding us through the process and sending Michael on a medical to see if he was fit to dive. We then hit the same brick wall, Michaels newest treatment, a form of Chemotherapy, along with other medication he was on meant he was not able to dive.
We spent another year trying to eliminate some of the medication that was causing an issue with the help of Michael's Neurologist and our GP. Richard was always there for support dropping Michael a message every now and then to see how he was getting on, letting him know that he always had a place on the programme once he was fit enough and that the Deptherapy team was there for support if he needed it. This support was a really important role in getting Michael mentally fit enough to dive as he no longer believed in himself.
What was it about the experience of learning to Scuba Dive that has helped you?
When Michael first heard he was fit to dive he was on such a high, he had this amazing opportunity to do something for himself and most importantly something he really enjoyed. Getting to the Airport and meeting everyone was the beginning of this journey; he was with a group of people where he felt he belonged for the first time in a long time.
Getting into the water for Michael was freedom, relief, the ability to find an inner peace that he couldn't channel on the land and seemed to remove some of the pain his body feels every day. He gained so much more than a qualification. This was a new lease of life for him. He has seen with the help and support of Deptherapy and PADI® he could feel a drive and passion for something again. Michael's disability wasn't just something on paper. It was something that had taken over his life, it changed everything as he knew it. Learning to scuba dive with experienced instructors who understood the limitations of various disabilities showing that there is a way for everyone to be included and being part of the Deptherapy family has given him a new zest for life that we will be forever grateful for. It really has made the impossible possible; something Deptherapy really believe in. He now talks about one day teaching our daughter how to dive, something they both look forward to.
Charlotte, as a non-diver, do you feel that scuba diving has affected your life in any way?
As a non-diver I was very pessimistic about the effects of scuba diving. I don't particularly enjoy the water so couldn't see how it would really have such a profound effect on someone, especially Michael as his illness had taken over our lives. Its very difficult to see the person you love lose all passion for life and to watch them coast through not enjoying anything. Scuba diving has given our family a future, our child the chance to hear her Daddy talk about the fun he is experiencing and one day looks forward to sharing with her. He now lives life in the present rather than focusing on how things were in the past. The broad spectrum of injured personnel that Deptherapy and PADI help opens my eyes to the power of water as a way of healing and highlighting just how powerful the mind and human body are and with the right support anything can be achieved.
Michael, what does My PADI® mean to you?
My PADI gives me a freedom beneath the waves. It unites me with fellow members of my PADI family bringing us together regardless of age, language or disability. It's a relief from the pressures of life on the land and opens up opportunity of new great adventures under the sea I never felt were possible.