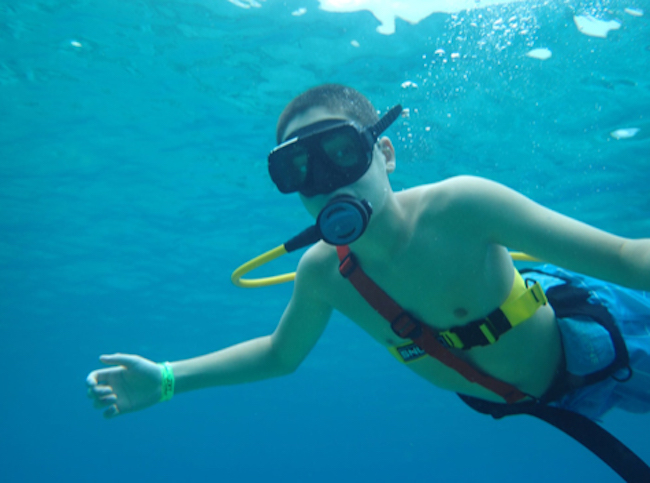 In honor of World Autism Day, we spoke to divers and families affected by autism about their experience with scuba diving. Though there isn't a lot of research about the benefits of scuba diving for autistic individuals, we hope you'll agree our interviewees have some promising things to say. First, we'd like to introduce you to Nate Blumhoefer, a diver in Minnesota, USA.
"I wanted to be a diver for as long as I can remember," Nate said. "I view divers in the same way I view astronauts and cosmonauts. We explore places others only dream of."
Due to his autism diagnosis, Nate qualified for programs that helped pay for his PADI® Open Water certification at Aquaventure Dive and Photo Center. Learning to dive was easier than he imagined, "I expected there to be lots of difficult calculations to determine no decompression times and other important factors to a dive. I was relieved to find there are dive tables to aid with this, and computers that can do all of it for you!"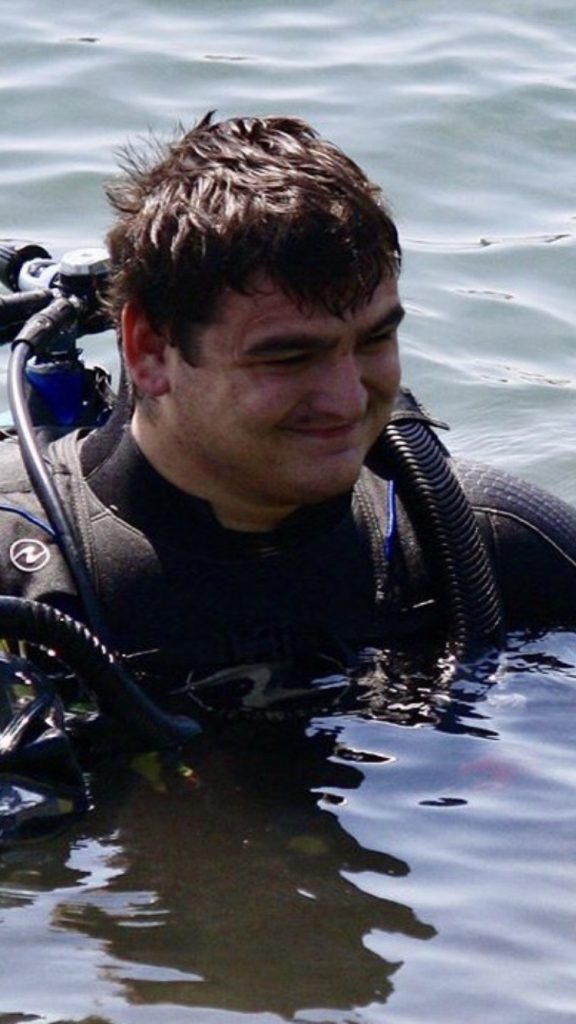 Feeling pressure is one of the things Nate likes about scuba diving, "As someone with autism, I need deep pressure to feel comfortable. I wear compression garments at all times, and wetsuits are the ultimate compression garment!"
Nate's comments are reinforced by research on the calming effects of pressure for certain autistic individuals. The mother of a diver with autism said her son described the feeling of scuba diving as a "giant hug."
One day, Nate hopes to work as an Aquarist for a public aquarium or zoo. He currently works at two different aquariums in Minnesota: as a volunteer diver at the Great Lakes Aquarium, and a topside educator at Sea Life Aquarium.
At the Great Lakes Aquarium, Nate gets to interact with the animals and aquarium guests from inside the exhibit. He enjoys pointing out interesting fish to guests and playing rock paper scissors with them through the glass.
"My favorite part of working at Sea Life is teaching children about the beauty of the natural world around them, both under and above the waves. The look of wonderment as they gaze upon a 16-foot long (5m) sawfish is absolutely priceless," Nate said.
When asked about the biggest misconception people have about individuals with autism, Nate said, "The main misconception seems to be that autistics, like myself, are violent. Though this may be true in some instances, I have yet to meet anyone with autism who was violent without being under extreme distress that would cause anyone to lash out. The second biggest misconception I've encountered is something I call the 'Rainman Concept.' Not all autistics are savants, in the field of math or otherwise."
Nate also had a message for people with autism: "Never let your disability, mental, physical, or otherwise keep you from being yourself and enjoying life!"
Nate's message of self-confidence and encouragement to try new things was echoed by Ghada, the mother of an autistic young man named Faris. With the support of his family, Faris was able to explore the underwater world and achieve things beyond anyone's expectations.
"I am a scuba diver and I come from a family of scuba divers. It was my dream to one day dive with my son, a dream I thought would never come true," she said. "But my brother Sami, the world's best IDC Staff Instructor, saw diving potential in Faris."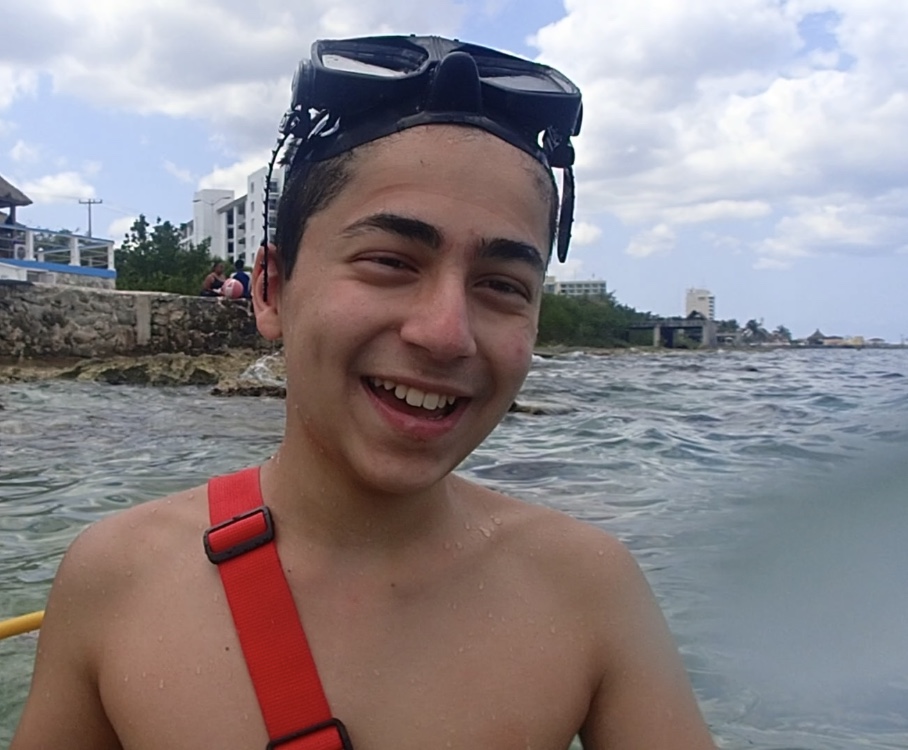 Utilizing his years of experience and skills as a PADI Professional, Sami taught Faris how to swim. One day, on a family vacation in Cozumel, Mexico, Faris asked if he could try snuba diving.
"Of course my protective instincts as a mother kicked in and I hesitated," Ghada said. "But Sami knew Faris was capable of far more than his disease leads us to believe. For the first time in his life, at 14-years-old, despite all of his disabilities, Faris undertook his first diving adventure – and he nailed it! He dove with such grace, such skill, I was never more proud. More importantly, Faris was never more proud of himself."
We asked Ghada: what was something you thought you knew about either scuba diving or autism that you now see in a different way? She replied, "I have the same answer for both!"
"Before I got into diving, I thought it would be very difficult. Before I had a child with autism, I thought their lives were extremely limited. I now realize what common misconceptions both are. Just like scuba diving, autism has levels of intricacy. There's more to diving and more to autism than one can imagine, and you won't know until you dive into both worlds. If you know anyone who is autistic, take a lesson from Faris: focus on the "able" not the "disabled." Don't let fears and worries keep you from having amazing adventures. Find a professional and compassionate PADI instructor, like Sami, and just dive in!"
We asked PADI Pro Sami Alhaj, Faris' uncle what advice he could share with instructors who might want to work with autistic kids. "The best advice I could give to any instructor working with anyone with autism is to have lots of patience, and make the teaching experience more fun than work," Sami said.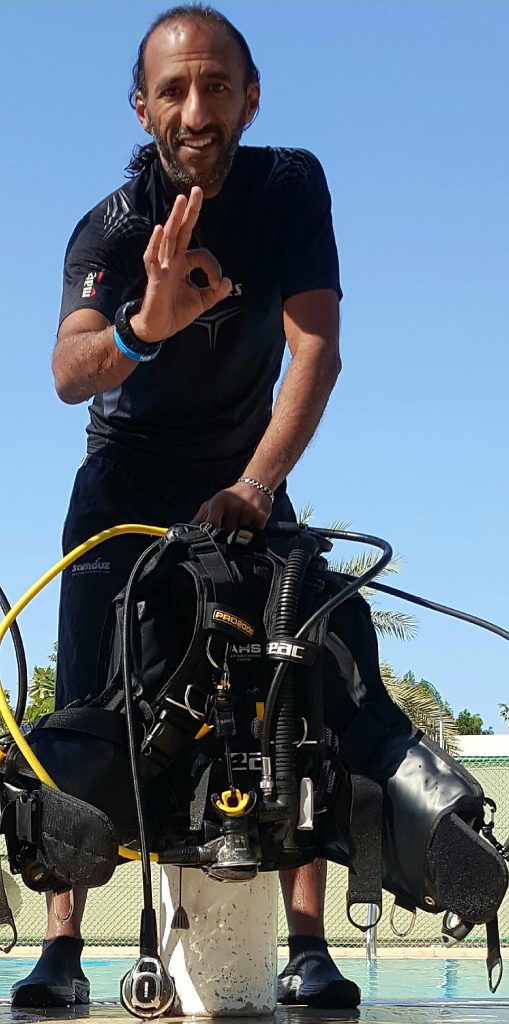 "If I asked Faris to swim the length of a pool, he would take it like a school teacher asking him to solve a mathematical equation in class. But when I had him throw a floating ball from one side to the other and then swim to pick it up, things turned around. His response became better, he smiled and had more enthusiasm. But then again isn't that what diving is all about? We dive to have fun underwater!"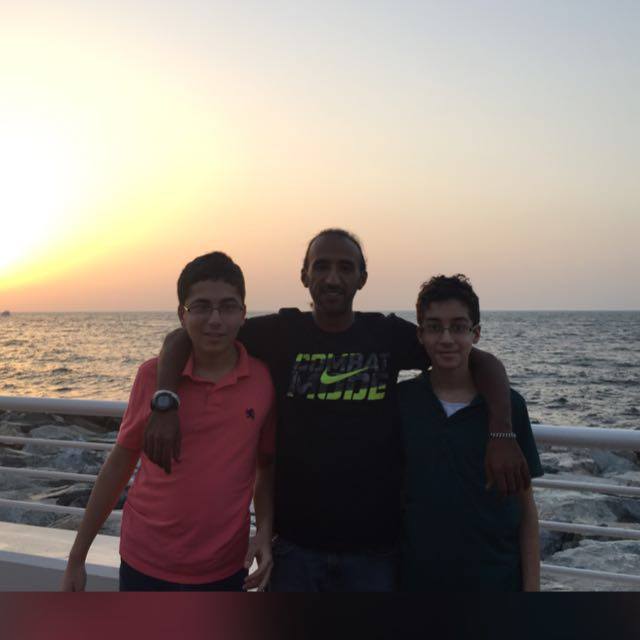 Faris is currently working towards a spot on the US Special Olympics swim team and hopes to become a PADI certified diver one day. Sami plans to continue his work spreading love for the ocean to young autistic children and hopes parents, PADI professionals, and readers will consider donating to the UAE's Autism Trust Foundation.
Can scuba diving help people with autism?
The experience of autism varies from person to person, however, for those suffering from anxiety, other research offers hope. A recent study conducted by Johns Hopkins University (and sponsored by the Cody Unser First Step Foundation) proved scuba diving offers therapeutic benefits to individuals suffering from neurological and physiological impairments including anxiety and obsessive-compulsive disorder. The scientists' findings are echoed by veterans who've worked with Patriots for Disabled Divers and find relief from pain and anxiety related to amputations, spinal injuries, traumatic brain injuries and PTSD.
FURTHER READING
Read one mother's story of her autistic son's journey to scuba certification.
Learn more about the Cody Unser First Step Foundation.
Find out how to support Patriots for Disabled Divers.