There are so many ways to describe Karen Koens; Business owner, mother of three (and teacher to three) as well as PADI Instructor are just a few of them.
In 2004, Karen and her family purchased Subsurface Fiji – they weren't yet certified divers and knew little about running a dive shop but they dived in (pun intended) wholeheartedly. Fast-forward to today and Karen is a PADI® Open Water Scuba Instructor as are her two sons, Taylor and Harry, her daughter Estelle is also a PADI Divemaster and Subsurface Fiji is a thriving dive shop.
We spoke to Karen as she reflected on how she juggled all of these roles, what it means to be a PADI Woman and how it's been sharing her scuba journey with her kids.
---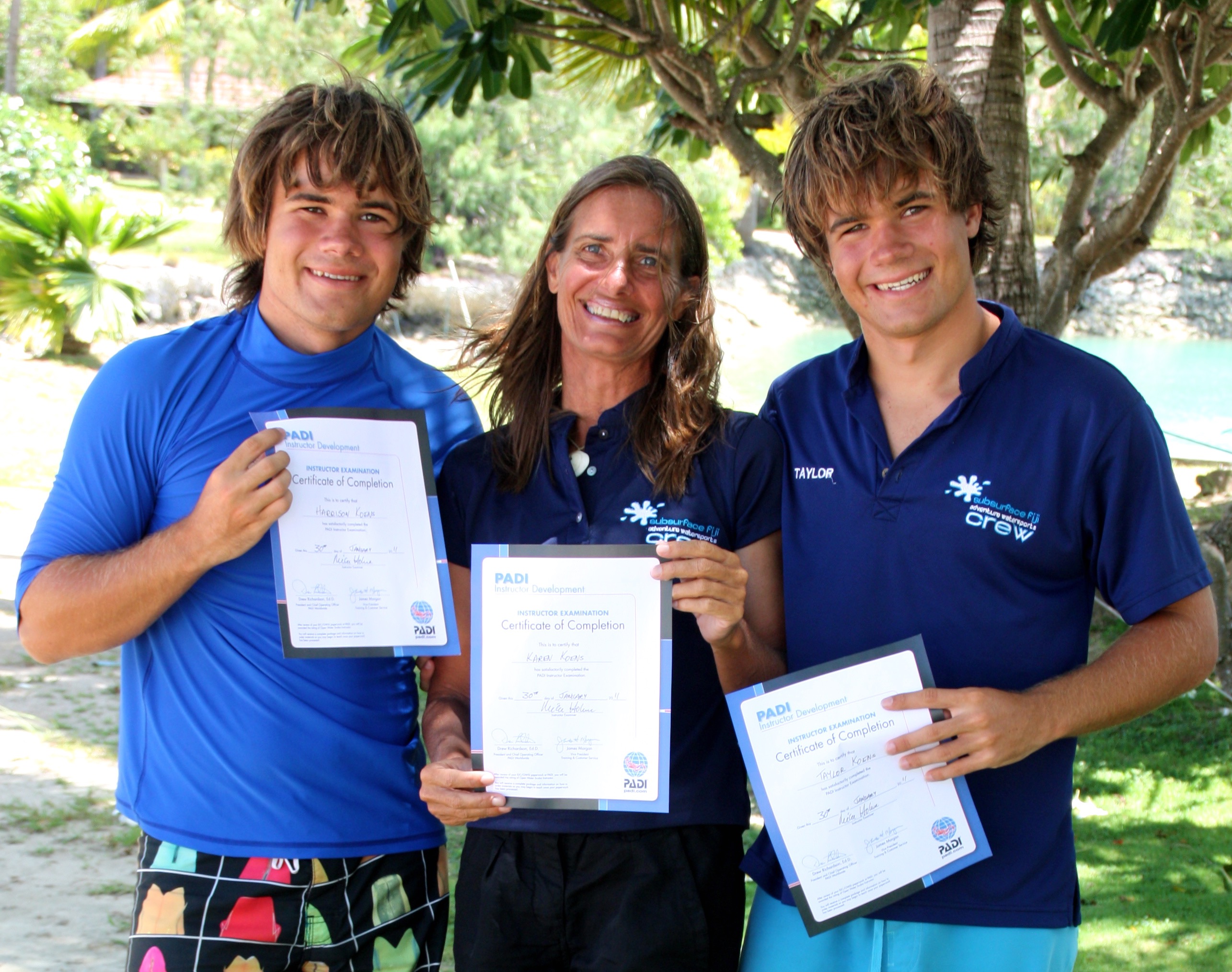 What inspired you to start diving?
MyPADI® journey began in 2004 when we left New Zealand and relocated the family home to Beachcomber Island, a small tropical island in Fiji. We had just boldly purchased Subsurface Fiji, the country's largest watersports and scuba diving company – a brave move considering we had never dived as this stage.
It had long been my dream to move to a tropical island and learn to dive, but I'd never had the opportunity. Now, with 24 dive staff and 7 dive boats, I had no option but to get certified!
Why did you decide to become a PADI Professional?
As a business owner, I needed further diving education and wanted to be on the same level as my employees. Every new certification I completed was really fulfilling and the more knowledge I gained, the more I enjoyed becoming a diver. I also became a much better buddy with each new certification.
In 2011, you took your Instructor Development Course (IDC) alongside your sons. Have your kids always been a part of your diving journey?
My twin sons were almost 11 years old when we purchased Subsurface Fiji and my daughter was just 6 years old. We were all non-divers, so my sons and I started our diving journey together. We all progressed rapidly from Open Water Diver to Advanced Open Water Diver and Rescue Diver.
Estelle was not far behind, taking the PADI Bubblemaker program and then onto the PADI Seal Team programs when she was old enough.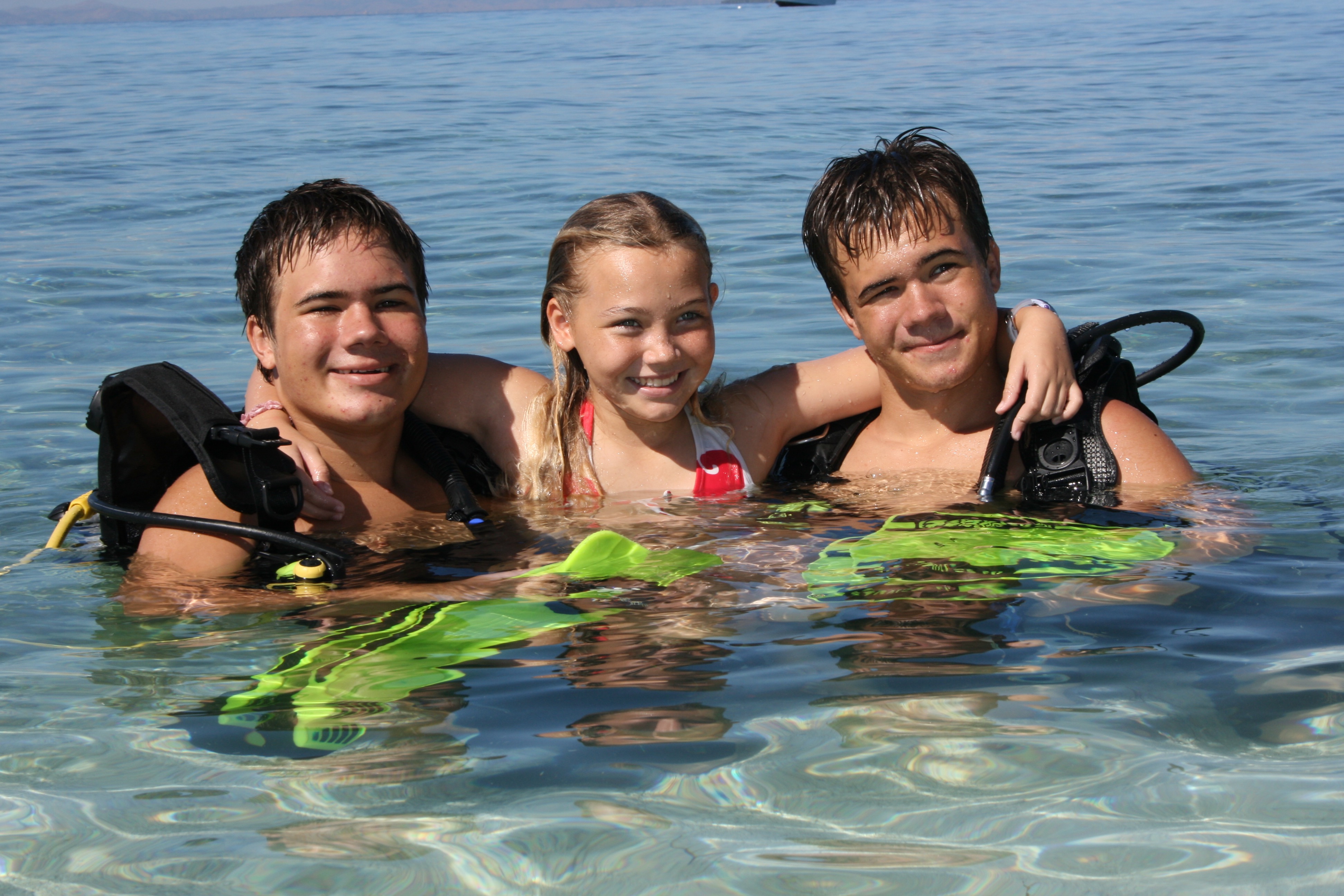 Harry & Taylor became Master Scuba Divers at 12 years old. There were no further qualifications they could attain until they turned 18 so instead they turned their interest to underwater photography and environmental awareness. Their new interests saw them sharing the prestigious PADI Young Achiever of the Year Award at the age of 14 – an awesome effort as this award if open to anyone up to 21 years old. They also played a key role in Subsurface being the Project AWARE (R) Environmental Achievement Award winners for three years.
I decided early on that as we had commenced our diving adventures together, we would become PADI Pros together. Two weeks after the boys turned 18, they became PADI Divemasters. It was also the end of the school year, with a 2 month holiday break, so it was the perfect time to run an IDC.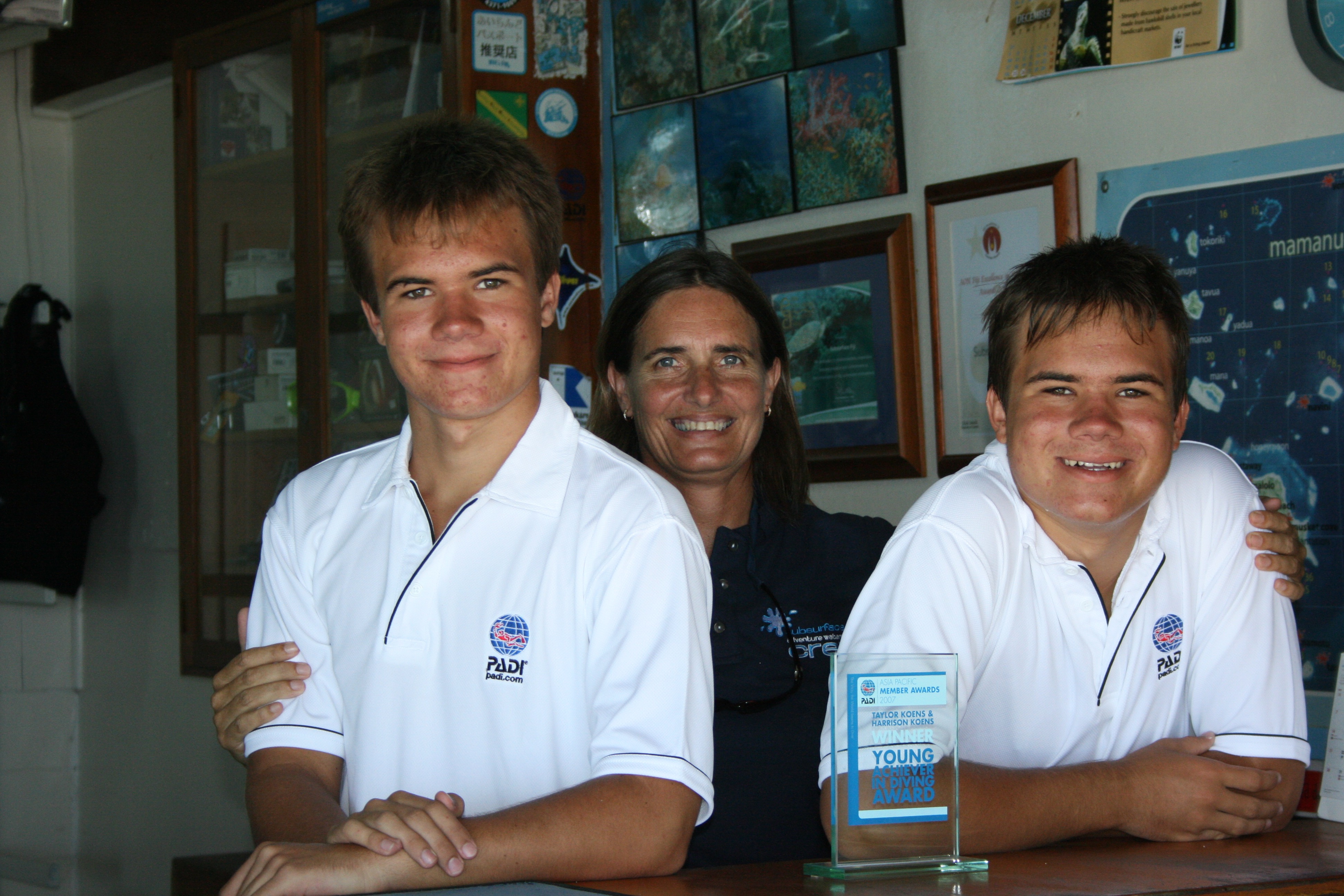 Tell us what it was like to take this course with your sons?
It was just great fun! It became a very memorable family experience. A huge bonus was that they had just finished high school – so they were an enormous help with the physics! We were supportive of each other in practicing our exams, and classroom and pool presentations, which made it very comfortable when doing our Instructor Examination.
It made me incredibly proud to have them on the course. They not only helped me, but spent many evenings also helping the Fijian candidates on the course with their theory.
The highlight was really seeing their determination that not only they would do well, but that I would too! They arranged the early dawn pool sessions (they even brought my gear down to the pool!) so I could practise my confined water skills, they encouraged practicing the presentations in the evening and would throw new physics scenarios at me to make sure I had a full understanding.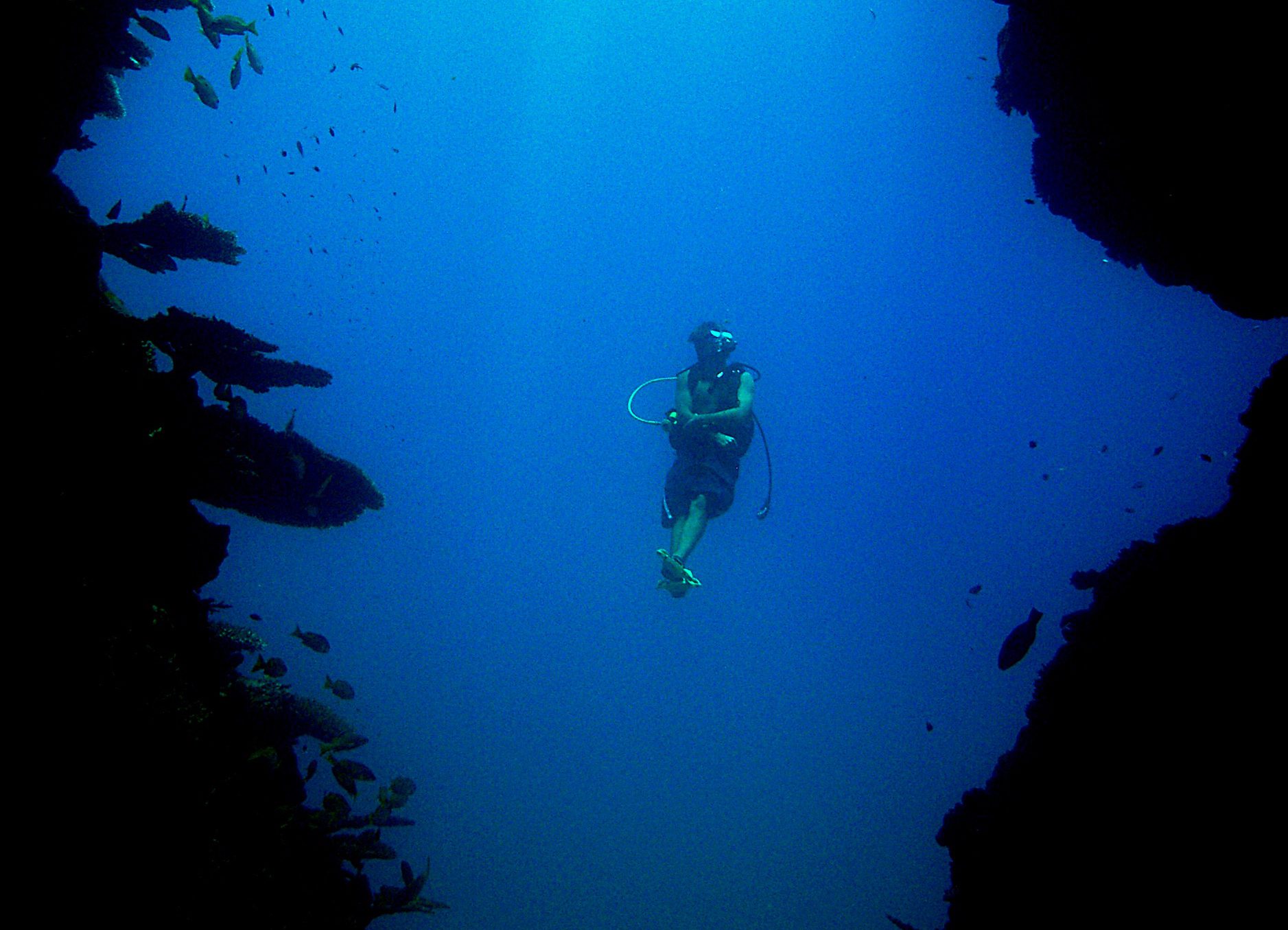 Having your family involved in the business must be pretty special – what are some of the best parts of this for you?
It sure helped with the home schooling! Budgets and wages were used for Maths, t-shirt and poster designs became Art, business letters were written in English and in Science we followed up on the organisms they had seen underwater.
All three kids spent the working day alongside me, the new and understood the business well. They would offer extremely helpful suggestions and ideas, would answer guest queries about fish identification, help with camera set up and various other tasks when staff were busy. All the while having a great time meeting so many people from diverse backgrounds.
The dive shows, both within Fiji and internationally were also incredible for us. We had great fun staying in beautiful Fijian resorts where shows and expos have been held and the highlight of course was spending a week in Las Vegas during DEMA.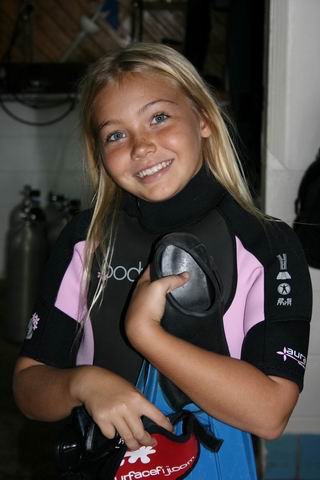 What do you think are the benefits of diving as a family and sharing the journey with your kids?
It really has been an immensely joyful, exciting, rewarding and hugely fulfilling family journey – Watching them playfully catch divers' bubbles, seeing them experience the feeling of 'floating in space', capturing so much of the underwater world on camera so they can learn more about their fish friends, seeing them get other people excited about diving, watching them make an impact on their aquatic environment and of course seeing the boys teach their first Open Water Diver courses!
Diving is one of the few activities where age doesn't become a barrier and we're all equal underwater.
I've also found diving has provided countless birthday gifts! I have always given the kids adventure experiences as birthday gifts – Estelle's 9th Birthday was a Bubblemaker party with her friends and for the boys 12th birthday we took them diving at the famous Beqa's Shark Dive.
It's also given us countless things to talk about! This common passion that we share and we relive together through the photos and videos after our dives.
Finally, why is PADI Women's Dive Day important to you? 
PADI Women's Dive Day has always been successful in getting more women diving – and that's fantastic! Last year (as well as other Women's Dive Day activities) we ran a Women's Night Dive. For most participants, it was their first experience diving in the dark. I don't think they would've done the dive without the camaraderie of the other women. It was just great fun.
Want to learn more about PADI Women's Dive Day? Check out this page for more information and to find a Women's Dive Day event near you.