As divers, we're ambassadors of the underwater world, and collecting marine debris is an easy way to help preserve its beauty. Pack a few extra essentials in your dive bag and you'll be all set to protect the ocean — one dive at a time.
Mesh bag
Mesh bags are the perfect container for small items of trash; they are light, foldable and easy to carry in your pocket until needed. Once out of the water, they'll drain and dry easily, and can double up as a kit bag.
Tip: Choose one with a drawstring toggle to help keep contents secure. Bags with reinforced openings and handles can make it easier to add items while you're swimming along.
Dive slate
Slates are useful for two things: writing down your dive plan so you can check it underwater, and recording survey findings. They can be wrist-mounted or tablet style and usually come with an underwater pencil attached.
Tip: Keep a 'magic eraser' handy — they're particularly effective for cleaning your dive slate!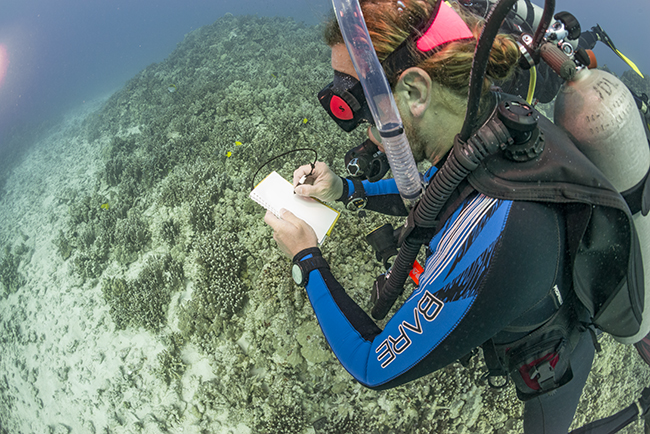 Knife or scissors
One common type of marine debris is fishing nets, so carry something that will help you cut it free (and protect yourself from entanglement). Blunt tips are safer around your gear and good for prying things free, while shears are especially handy at cutting monofilament net.
Tip: Titanium materials are lighter and less prone to corrosion. If space is limited, try a compact version that can be mounted on your computer strap.
Lift Bag
If you find debris heavier than 10Ibs/4kg, it won't be safe to use your own buoyancy to transport it; if you drop it, you risk an uncontrolled ascent. Instead, a lift bag provides independent buoyancy for the item, along with clips and straps to secure it safely.
Tip: Training is needed before using lift bags, as they come with their own set of skill and safety considerations.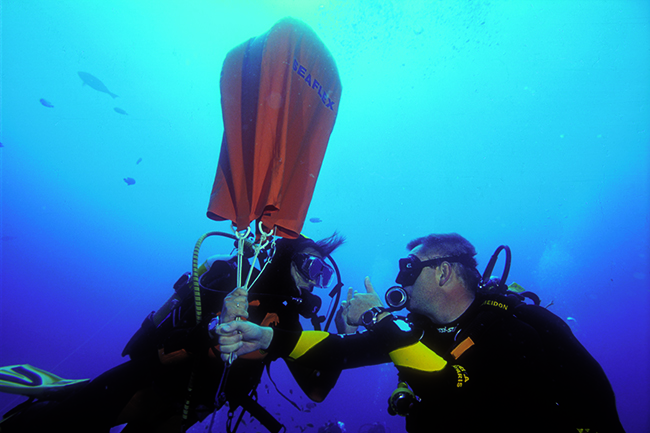 Gloves
Gloves are an essential item for picking up debris with dirty or sharp edges. Thickness varies between 2mm and 7mm, as well as dry options, so choose ones that offer a balance between dexterity and warmth.
Tip: For added protection and durability, look for gloves that feature Kevlar or rubber pads.
Line and reel
You can mark a distance line with measured increments — using marker pen or knots — to help you measure things like the size of an object or search area. A finger reel or spool is the smallest to carry, but make sure you can still operate it while wearing gloves!
Tip: Underwater measuring tapes are hard to find, but standard surveyor's tape works well and should last a few years if washed and dried properly after use.
Once your dive bag is packed and ready for litter-picking action, download the Project AWARE Dive Against Debris Survey Toolkit for advice on completing successful Dives Against Debris®, and the Project AWARE App for reporting your findings. Don't forget to share your top tips with other ocean ambassadors on the PADI Facebook page.