A few months ago, PADI AmbassaDiver Thomas Koch was once again involved in using American Sign Language to certify a new PADI scuba diver. Except this time, that new diver was Thomas's ten year old daughter, Claire, making it a truly heart melting father-daughter experience.
In 2015, Thomas became PADI's first deaf Course Director, and through his organization, Aqua Hands, he has been growing the community of deaf and signing divers around the world. While all scuba divers utilize hand signals and gestures in order to communicate underwater, those with the ability to use sign language, like Thomas and Claire, take underwater communication to a whole new level.
Just before Father's Day, Thomas shared this very special video with the PADI diving community, highlighting Claire's experience becoming certified as a PADI Junior Open Water Diver with the help of her dad and American Sign Language.
After seeing what a positive and inspiring response this video had, we jumped at the opportunity to ask Thomas and Claire a few more in-depth questions about their experience:
Q: Thomas, having introduced so many people to scuba diving over the years, what was it like to be part of your daughter Claire's Junior Open Water Diver certification process?
A: Priceless. I have so much passion for the water world (ocean, river, lake, quarry, spring and even swimming pool). My wife and I had our daughters start swimming at the age of 6 months and are always teaching our daughters (Claire and Charlotte) about sharks, dolphins, and marine/aquatic life. When Claire was six, she did her first Dive Against Debris (beach cleaning). She felt so bad for mother earth that she made a video on Instagram telling people not to throw anything into our ocean. Claire first did SASY (Supplied Air Snorkeling for Youth), then became a PADI SEAL with Instructor Sue Sharkey, completed her Confined Water dives with me, and has now gotten certified by PADI AmbassaDiver Cristina Zenato!
Q: Claire, what inspired you to become a PADI Diver?
A: Because I saw my dad doing scuba diving and I thought it was AWESOME! So I wanted to do the same.
Q: Claire, what was it like getting to sign underwater with your dad?
A: It made communicating very easy and I could talk about scuba diving or we could say names of fishes.
Q: Thomas, same question, what was it like getting to sign underwater with your daughter?
A: American Sign Language is Claire's first language, she spoke in ASL before she could speak. Claire is a CODA (Child of Deaf Adult). It is not a different experience for us where we have to learn beforehand since ASL is what we speak in our house and in our lives, so knowing ASL and being able to sign underwater is a huge advantage where we can talk about anything. We could identify Queen Angel, French Grunt, Sheepshead, Hog Fish, Yellowtail Snappers or Barracuda in Sign Language underwater, or even be able to identify if there is a problem that we can solve underwater rather than end our dive early because we cannot fully communicate to each other.
Q: Thomas, what gave you the idea to have Claire be certified by fellow PADI Ambassadiver Cristina Zenato?
A: Cristina Zenato is a dear friend where I could call her part of our family. My wife and I have decided to have Claire be certified by Cristina to have Claire see Cristina as a strong female role model, and the amazing things she does for the ocean that Claire can look up to. 
Q: Claire, what was your favorite part about having Cristina Zenato be your instructor during your open water dives?
A: Cristina is so nice and I thought it was amazing that it was in the Bahamas and when we went to old shark pit she could tell me the name of each shark. The cool part with Cristina was that she told me that I was certified underwater in sign language and I loved how she told me right away. I squeaked and squeaked.
Q: Claire, what was it like to scuba dive in the ocean for the first time?
A: I was so fascinated because I had never seen the ocean like this in person. I always have seen videos of my dad, but never in my real life. I was so happy to see it. However, there were some areas that had trash where I got sad and hope to be able to get people to keep our ocean clean. Now, I can help clean the ocean underwater, not only on the beach.
Q: Thomas, what was it like to scuba dive in the ocean with Claire for the first time?
A: Overjoyed! I was truly excited for her and was in tears underwater! I told Claire that I am SO excited that she saw SHARKS during her first Open Water dive, dove to a wreck on her second Open Water dive, then swam with dolphins on her third Open Water dive, and completed her final Open Water dive with a numbers of sharks. My first Open Water dive I saw a small catfish in Lake Travis in Austin, Texas. Now, talking to myself, I am so proud of Claire diving in the ocean because when I took my Open Water in a lake, I was kind of nervous when I first went to the ocean after two years diving in fresh water. In the Bahamas, Claire really felt so comfortable and mastered her skills in the ocean as if it was just a huge pool.
Q: Thomas, how do you think learning to dive using sign language helped Claire throughout her certification process?
A: Oh yea! It surely did! We did not have to go to the surface and back underwater during her Confined Water training. We just stayed underwater and when she confronted a challenge, we discussed it underwater and kept trying until she completely mastered the skills. Shockingly, her most favorite skill during the Confined Water dives was removing and replacing her mask. It was something I didn't have to repeat, but she just kept doing it because she was amazed how it could really clear her mask while we were underwater.
Q: Claire, what would you say to any other young kids that might be interested in learning to scuba dive?
A: I know you can learn how to dive and if you learn sign language, it would be so much easier for you to scuba dive. The ocean is so amazing!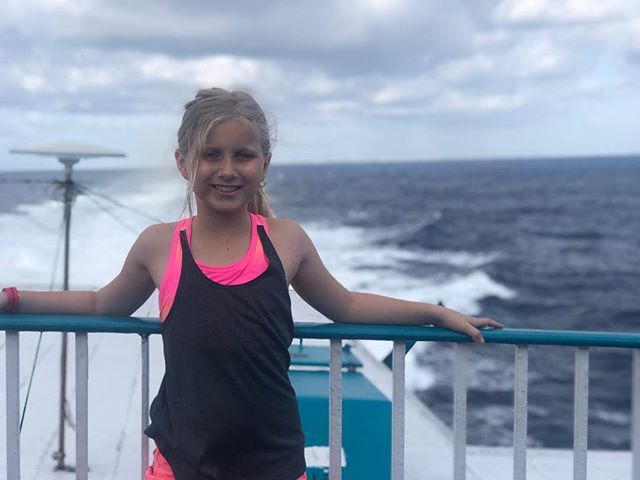 To learn more about Aqua Hands and their work certifying deaf and signing people, you can also follow them on Facebook and Instagram. And if Claire's enthusiasm for diving has inspired you to learn more about PADI certifications for youth, check out our Bubblemaker and SEAL Team programs for children eight and older, and our PADI Junior Open Water Diver certification for children ages ten to fourteen.