When you are travelling you are leaving your print on the world, one way or another. Whether you are going on a dive trip, or have something else in mind for your upcoming holiday, there is no denying the impact we have on the environment, nor that there are small changes we can make in order to make our prints smaller. As mentioned before, there are plenty of ways to help ocean health while travelling, but did you know that there are also small changes in the products you use that can make a difference?
Reusable bottles and cups
When I travel, I always carry reusable bottles in my hand luggage. Not only are these eco-friendly in the way that they reduce the number of plastic bottles being used, but many of them will also keep your water cold for hours on end. These bottles have become statements on their own, and are available in all kinds of styles and colours.
The same goes for coffee cups, with more and more companies deciding to offer programs for re-usable cups, where you will get a certain number of refills for free or at a discount when you bring your cup up to the counter. Every little helps and this is a great example of ways to reduce waste, one little cup at a time.
Biodegradable sunscreen
I've mentioned this before, and it might not be something you'll want to carry in your suitcase on your way to a sunny destination (where you know there'll be sunscreen available). Still, I always make sure to find biodegradable sunscreen when I'm travelling, such as when I went swimming with turtles in Akumal, Mexico. Regardless of whether you are planning on getting up close with animals (just remember to never touch them) or not, biodegradable sunscreen is always the way to go to help protect ocean life. Find out more about which sunscreens to use here.
Bamboo tooth brush
Another eco-friendly travel product I love to use when travelling is a bamboo tooth brush. I use these at home too, as they are a great way to limit the use of plastic (considering most plastic ends up in the ocean). There are many companies that sell these tooth brushes, and they are becoming quite the statement for eco-conscious consumers all around the world.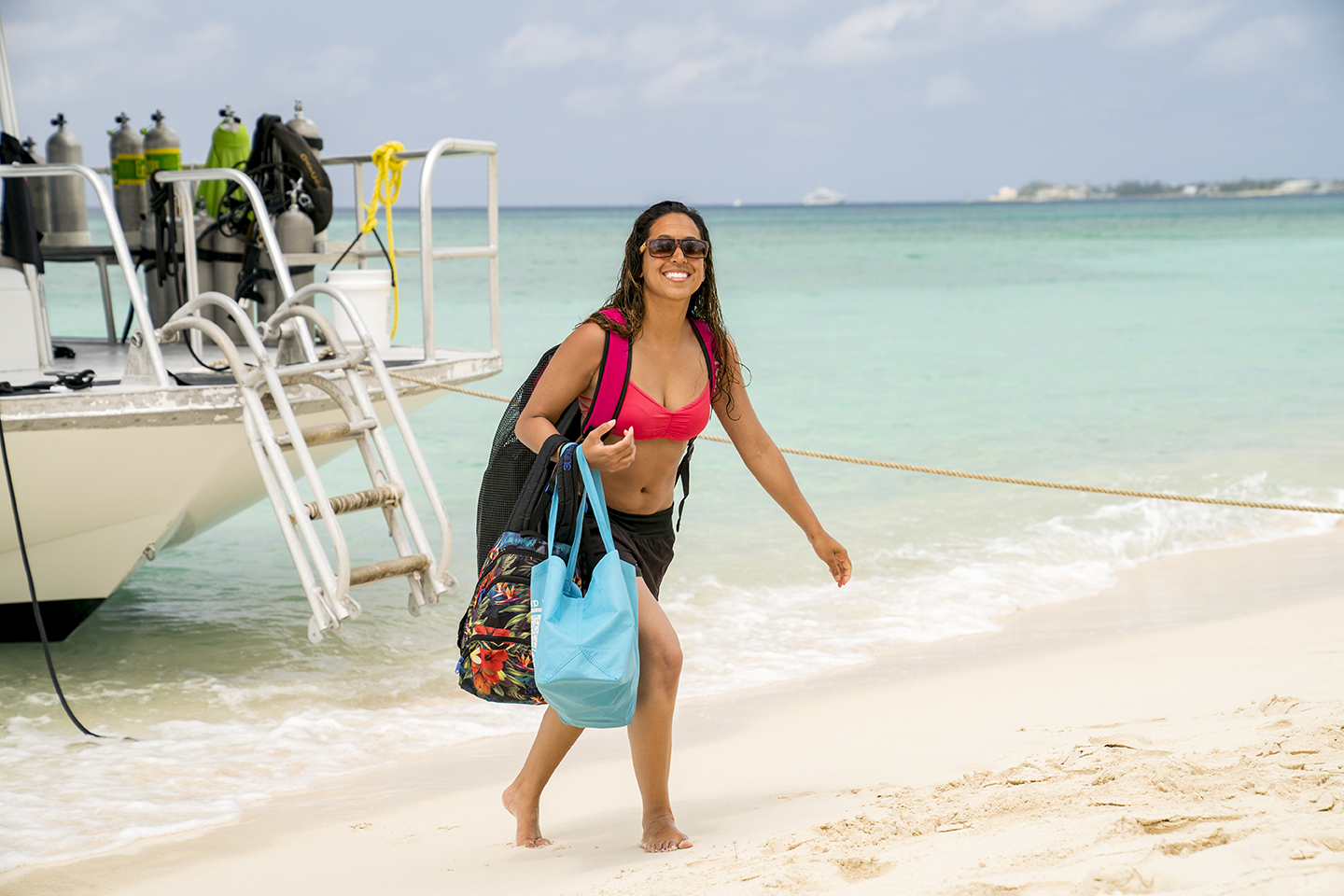 Reusable shopping bags
When travelling, whether it's just for a weekend or long-term, I always bring a reusable shopping bag with me. These are a great way to reduce the number of plastic bags being used and thrown away, and they don't take up a lot of space in my luggage. Whether I need them for grocery shopping or carrying my stuff to the beach, I'm good to go. You'll also find waterproof ones to bring with you on the dive boat!
---
About the Author:
Lisa Stentvedt is a travel blogger and writer from Norway. Follow her adventures on her blog Fjords and Beaches and on Instagram.