Being a hero isn't easy. By definition, a hero:
Challenges the norm
Accepts responsibility for daunting problems
Puts aside personal goals to help others
Doesn't back down when faced with adversity
Looks to the future and believes in a better tomorrow.
In today's post we recognize ocean heroes. Some of them are names you may recognize, like Aquaman, others were nominated by the PADI® community – ordinary people who do extraordinary things.
Ocean heroes: Marcus Eriksen and Anna Cummins
While on a sailing expedition in the North Pacific, Marcus Eriksen and Anna Cummins observed the tragic effects of plastic pollution on marine life. Not long after they returned home, they founded a non-profit, The 5 Gyres Institute. Their organization:
Successfully lobbied to get plastic microbeads banned in the U.S.
Helped found the Plastic Pollution Coalition
Created a plastic-free shopping guide
Started a program to loan manta trawls to Greenpeace, Sea Shepard and citizen scientists
Produced a documentary about plastic smog in the ocean called "Smog of the Sea."
Received special consultative status with the United Nations Economic and Social Council
Started a new "go topless" campaign encouraging consumers to ask for no lid when ordering coffee to go (takeaway coffee lids are rarely recyclable or biodegradable).
Ocean hero: Adrian Grenier
Actor, producer and director Adrian Grenier leveraged his celebrity status to raise awareness about plastic waste. He co-founded the Lonely Whale Foundation and created the #stopsucking campaign to encourage consumers to stop using plastic straws. The campaign was supported by:
Scientists Dr. Sylvia Earle and Dr. Neil deGrasse Tyson
Actors Leonardo DiCaprio, Amanda Seyfried and Ellen Pompeo
Pro sports stars NHL player Erik Karlsson and NFL quarterback Russell Wilson
The campaign challenge video was translated into more than 20 languages and led to a ban on single-use plastic straws in Seattle, USA. This action will prevent more than 2.3 million plastic straws from entering the waste stream, and we hope more cities follow Seattle's lead.
Real-life Ocean Superhero: Dr. Sylvia Earle
"Her Deepness" Dr. Sylvia Earle has dedicated her life to protecting the ocean, and her accomplishments are too numerous to be described in just a few paragraphs. In addition to being an industry icon, delivering a TED Talk, and authoring numerous books, her conservation efforts have been recognized by U.S. Presidents Bill Clinton, George W. Bush and Barack Obama. If you haven't seen the Emmy award-winning documentary about her life and work, Mission Blue, add it to your list.
As part of the PADI 12 Days of Scuba contest, we asked PADI followers on Instagram to tell us about their ocean hero(es) for a chance to win an Aquaman Limited-Edition Xbox. PADI Pros, family and friends received many nominations, but so did scientists who, like Dr. Earle, have made ocean protection their life's work.

@joredejong wrote, "@dollydiabolique is my ocean hero and my day to day hero for trying to be the best you can be. Not just as a marine environmental scientist, dive buddy, or just as a conservationist, but also at the same time taking care of her family and succeeding with that too!"

@annikamarkovich said @scientificdiver is her ocean hero, "because I am inspired by her everyday while I am a student aspiring to be a marine scientist and scientific diver as well."
Conservationists were another popular group of nominees within the 12 Days of Scuba Instagram contest. @ms.vc commented, "My hero is @4ocean for all the work they do cleaning the ocean of plastics and recycling them! It's a job that I admire (and I do it as a small contribution too when I visit the ocean) to preserve that wonderful underwater life."

Other divers wanted to recognize ocean heroes who fight to protect marine life such as sharks and rays. @doanique said, "My hero is @queenofmantas because she's putting so much effort to protect and study manta rays! She's the definition of a cool mermaid!"
@grewe.s gave a shout out to shark conservationists Ocean Ramsey and Liz Parkinson. She nominated "@oceanramsey because she fights for those who need a voice! She creates awareness and a love for these animals and the ocean so we can continue to share it with them. Her and @lizparkinson1 are all the feels with #savethesharks. Go girls!!"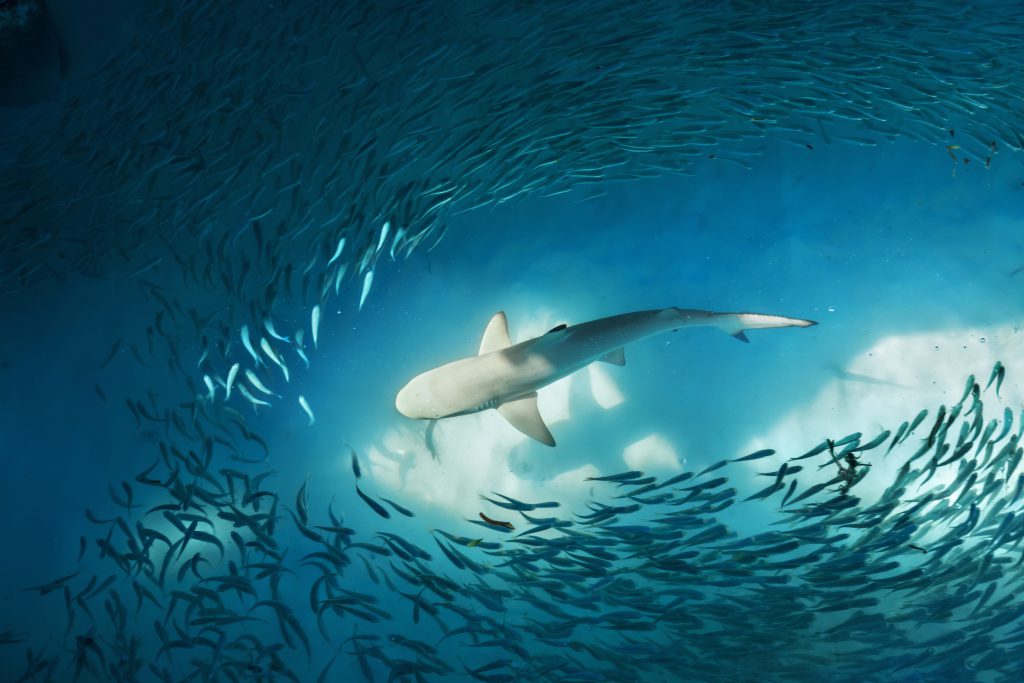 Many divers nominated PADI Divemasters and Instructors as their ocean heroes:
@carriegb12 wrote, "My ocean hero is Adam Langman at Dressel Divers Puerto Aventuras, he helped me to overcome my fear of water and diving so much that I was able to complete both basic and advanced diving courses. I almost drowned as a child so this was no small feat. His patience, support, guidance and knowledge was amazing. I love the water and diving now! Can't wait to do it again."
@ronaldoyap said, "My ocean hero is @mikesidemount because he with his wife Sofia had to leave their country due to the extreme bad conditions of Venezuela. He had to work in several jobs before reopening his shop, adapt to a new culture, learn how to dive in a different environment and prove his excellence. He just turned PADI Course Director and….he never stopped smiling and even [though] my last class with him was 3 years ago, he was always there to guide in me in distance. Now he provides jobs and continues promoting diving. That is a leader and a hero."
@2felis commented, "My ocean hero is @oskarredsea. I think real ocean heroes are not only public figures, but all the ordinary divemasters who make us love the ocean even more. No other divemaster I've met was so caring and supportive both above and below the sea level, so endlessly patient about the mistakes we OWD's make, and so fun to chat with during the surface time."
Our contest winner? A proud father with two sons who look to the future and believe in a better tomorrow.

@lincolnblanco "My 12 year old son and 9 year old son Demetrious are my heroes. To watch my oldest go through his Seal Team and Master Seal Team. The his open water when he was 10. Now my 9 year old is doing his Seal Team training @oceanenterprises. Doing everything because they believe. They believe in STEM. They believe they can do something good for the oceans and the world. They want a career that involves diving. One wants to be a Marine Paleontologist, and the other an Engineer for Marine Exploration. They said when their sister is old enough, since she loves animals, she can be a Marine Biologist. The three can work as a team."
Hollywood Ocean Superhero: Aquaman
We can't talk about heroes without mentioning Aquaman, especially since the Aquaman movie comes out this month. Batman defends Gotham City, Superman defends Metropolis, Aquaman defends the entire ocean.

Aquaman is half-surface dweller, half-Atlantean. His father is human and his mother is Queen of Atlantis. In the film, Aquaman finds himself in the middle of a conflict. Angry Atlanteans want to start a war against surface dwellers who are destroying the ocean, and Aquaman is uniquely positioned to act as a bridge between land and sea to protect the above and underwater worlds. The action-packed adventure spans the vast, visually breathtaking underwater world of the seven seas, and stars Jason Momoa in the title role, alongside Amber Heard, Willem Dafoe, Patrick Wilson, Dolph Lundgren, Yahya Abdul-Mateen II and Nicole Kidman.

Be Part of Something Deeper
It's important to support a film that brings a message of ocean conservation to the masses. See Warner Bros. Pictures' Aquaman in 3D and 2D and IMAX, now in theatres in the UK and opening December 21st in the US. Visit aquamanmovie.com and follow Aquaman on Facebook or Instagram for behind-the-scenes footage and additional release dates.
James Wan directed from a screenplay by David Leslie Johnson-McGoldrick and Will Beall, story by Geoff Johns & James Wan and Will Beall, based on characters created by Paul Norris and Mort Weisinger for DC. The film was produced by Peter Safran and Rob Cowan, with Deborah Snyder, Zack Snyder, Jon Berg, Geoff Johns and Walter Hamada serving as executive producers.
Warner Bros. Pictures Presents a Peter Safran Production, a James Wan Film, Aquaman, distributed worldwide by Warner Bros. Pictures. It is rated PG-13 for sequences of sci-fi violence and action, and for some language.