Join PADI staff at Beneath the Sea in Secaucus, New Jersey, USA. The 43rd edition of the show promises an exciting weekend of workshops, educational seminars and exhibits. At the show, you can:
Meet treasure diver, Jake Dallmyd, at the show.
Learn about the latest in underwater photography and shark diving. You can also explore exotic dive locations, from Raja Ampat to closer-to-home paradises in the Caribbean, in a variety of daily workshops and seminars.
Visit local and international exhibitors to learn about the latest dive equipment, conservation activities, and travel destinations.
Visit the PADI booth (#503 & #505) to receive a cool gift while supplies last.
Join us at the Marine Career Fair @ the Holiday Inn on Friday March 29th from 9am to 5pm.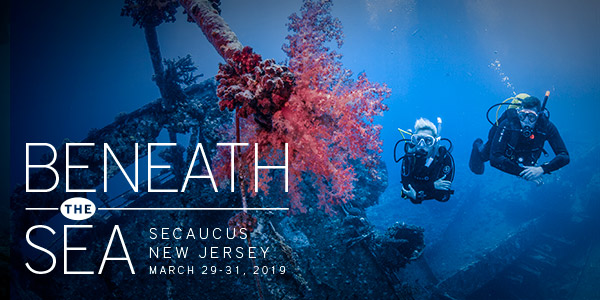 Beneath the Sea
March 29-31 2019
Meadowlands Exposition Center, Secaucus, New Jersey, USA
www.beneaththesea.org