Divers love Mexico for its white-sand beaches, crystal blue waters, colorful culture, plethora of marine life, and stunning cenotes. What some divers don't know, is that these waters are also full of phenomenal wrecks. Here's a look at some of Mexico's best wrecks and the story behind them.
Puerto Morelos: C-56 Cadete Juan Escutia
As a diver, the former president of Mexico, Ernesto Zedillo, decided to create an artificial reef of old warships in the waters of Puerto Morelos. This former minesweeper sank in 2000 and named after Juan Escutia, one of the Ninos Heroes (boy soldiers) who died defending Mexico City in 1847.
In his honor, the C-56 Cadete Juan Escutia sits in 100ft (30m) of water and can feature strong currents, making it best for advanced divers. Marine life includes stingrays, moray eels, and barracudas. During the winter months, passing eagle rays are also common.
Veracruz: Buque Comodoro Manuel Azueta
In November 2018, this former military ship was sunk off the coast of Veracruz, making it one of Mexico's newest wrecks. Located near an officer training academy, it also serves as a practice area for Mexico's Navy divers.
The 330ft (100m) long wreck has a depth of 80ft (24m) and is a great spot for recreational divers. The light current attracts schools of fish including amberjacks, sardines, arrow crabs, and barracuda. And while the wreck is still in its early stages, coral and sponges are already beginning to show signs of a healthy reef system.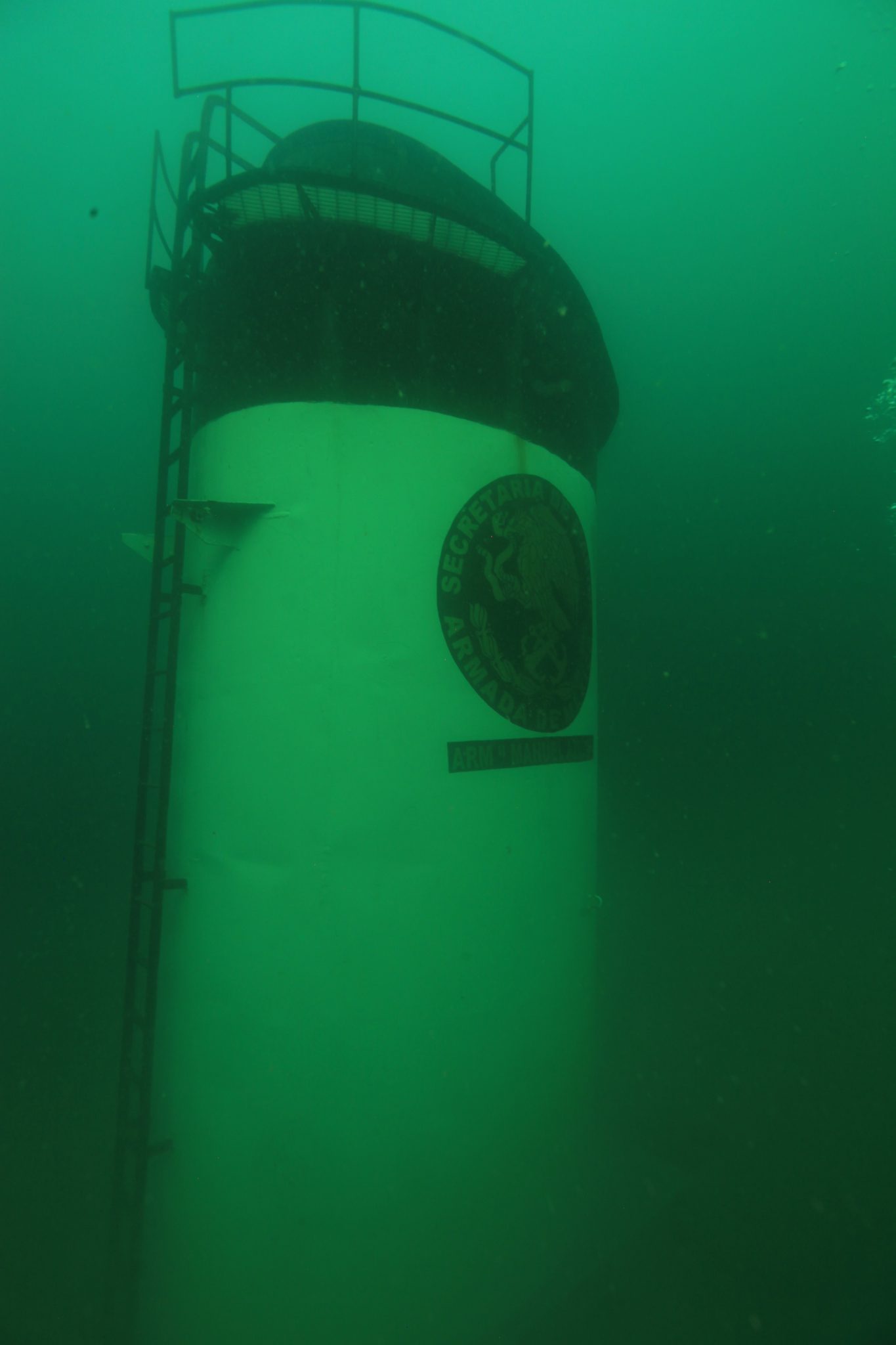 Cozumel: C-53 Felipe Xicotencatl
In its former life, the C-53 patrolled the waters for illegal arms and drugs and assisted in rescue missions in the waters of the Gulf of Mexico and the Mexican Caribbean. In 2000, after 55 years of service, the decommissioned ship was donated just offshore from Chankanaab Park.
The 154ft (46m) long structure stands 40ft (12m) high in 82ft (24m) of water. After almost 20 years, it has grown into an abundant reef covered in sponges and coral. A variety of marine life includes moray eels, starfish, grouper, and schools of shimmering glassy sweepers.
Veracruz: Las Carcachas
In the early 1900s, this mysterious ferry sank in 168ft (51m) of water. The name and cause of the wreck are still unknown, but popular sites on the wreck include an old car, car debris, wheels, bottles, and ceramic.
Measuring 100ft (30m) long at 168ft (51m), the conditions on the wreck are tricky, so penetration is prohibited. Recommended strictly for tec divers, the exterior of the wreck teems with giant grouper, lobster, lionfish, black coral, and schools of amberjack.
Veracruz: C-50 Vicente Riva Palacio
This decommissioned Naval vessel served in WWII and is located off Isla Verde and the Anegada Reef. In the early 2000s, it sank as an artificial reef and a place to conduct research surveys.
Today, the 180ft (55m) long wreck sits upright in 90ft (27m) of water and is the home to a variety of game fish and marine life such as the Longnose Batfish – a common attraction. The wreck also has colonies of corals and sponges, making it one of the main attractions of Veracruz Reef National Park.
Fun fact! The C-50, C-53, and C- 56 wrecks were all donated by the Navy under the administration of President Ernesto Zedillo.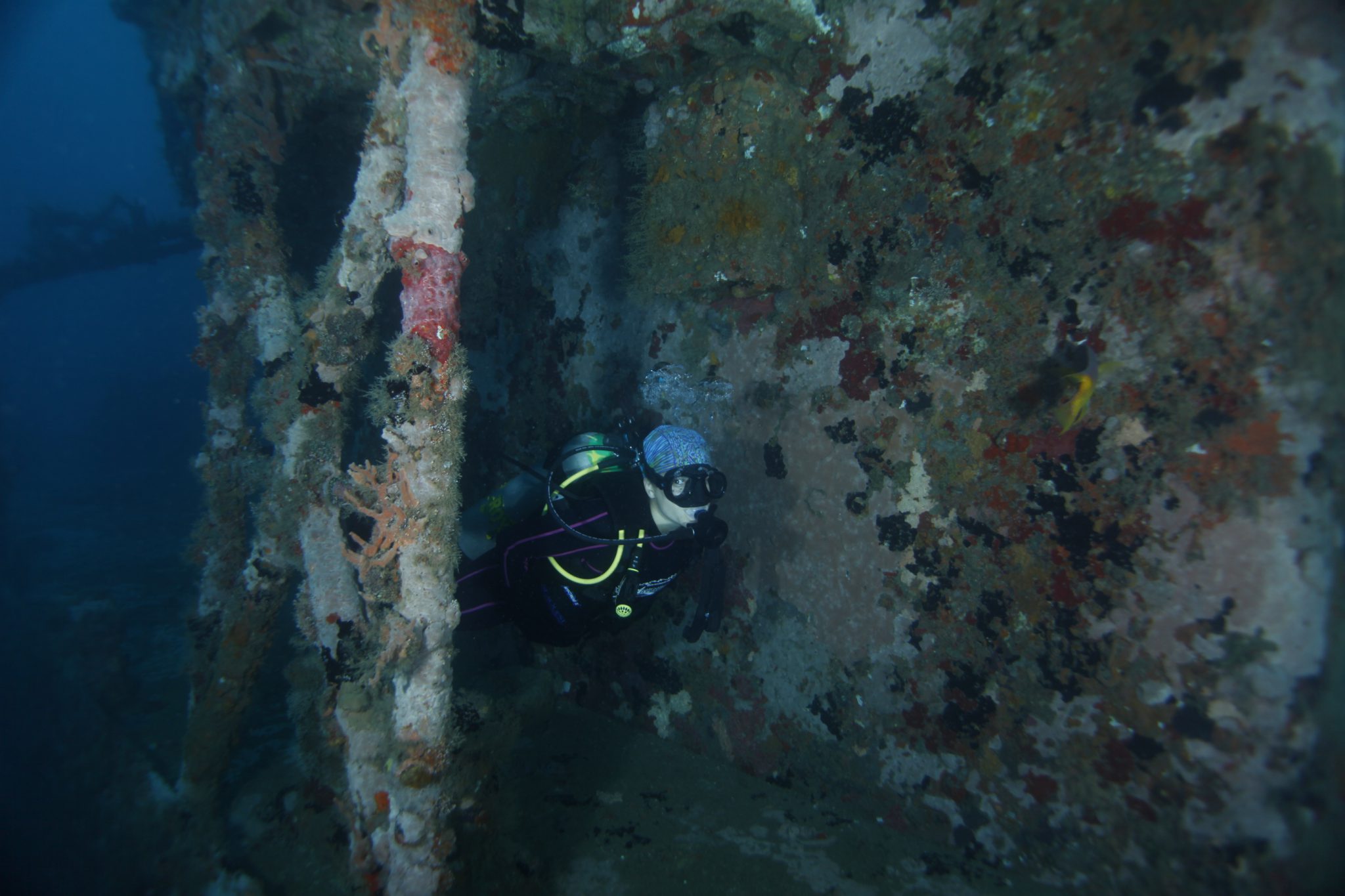 Interested in learning more about wreck diving? Learn the safety protocols, surveying and mapping tactics, lines and reels, and kicking techniques with the PADI Wreck Diver Specialty Course. Learn more about diving in Mexico on PADI Travel and find a PADI dive shop in Mexico here.