Residents of the United States don't need to travel internationally to visit these island getaways. Whether you're looking for Caribbean conditions, pristine reefs, or massive wrecks, here's how to add dives to your logbook without worrying about customs or layovers.
KEY WEST, FLORIDA
The southernmost part of the Florida Keys, Key West is loved as much for its history as it is for its diving. Duval Street boasts a bounty of bars, live music, and Key-Lime infused drinks, dishes, and desserts. Come day's end, Mallory Square is the hot spot for the nightly sunset festival with fortune tellers, food vendors, and artists. When it comes to the water, snorkelers and divers appreciate Sand Key Islet for its 100ft (30m) light tower, shallow depths, and long bottom times. For more experienced divers, The USNS Gen. Hoyt S. Vandenberg is a 520ft (158m) ship that sits at 140ft (42m) and provides a plethora of places to explore.
BEST WAY TO GET HERE: Turn your trip into a drive-and-dive on the Overseas Highway from Miami to Key West. A little over a three-hour drive, the journey is a photo-worthy tour with 42 bridges, unique shops, out-of-the-way islands, and stunning views. Figure in some extra time to stop and explore along the way.
MUST-DO DIVE SITE: The Vandenberg is the pride of the Conch Republic and there are many reasons why: An American flag greets divers upon descent at the top of the superstructure, six mooring balls provide ample access from multiple dive operators, and the massive size of the wreck means it never feels crowded. Other highlights of this dive include a crow's nest, open bridges, safe swim-throughs, and a giant weather-balloon hanger. Current tends to be minimal making for easy navigation and great visibility. Barracudas and giant grouper are also common residents.
FUN FACT: Ernest Hemingway's former home, The Hemingway House, was the first residence in Key West to have running water and a pool. Today, it's open to tourists and over 60 polydactyl cats – descendants of Hemingway's pet, Snowball.
KONA, HAWAII
Divers love Kona, the west side of the island of Hawaii, for its calm conditions and clear viz. Humpback whales and Hawaiian spinner dolphins are familiar sights on the way to dive sites with breaches, tail flukes, flips, and pec slaps. Beneath the surface, divers experience caves, lava-tubes, and drop-offs as well as green sea turtles, manta rays, and schools of Akule, a favorite for underwater photographers due to their condensed formations featuring over a thousand shimmering fish.
BEST WAY TO GET HERE: A five-to-six-hour nonstop flight from Los Angeles to Kailua-Kona takes the stress out of connecting flights and long travel times. Hawaiian Airlines offers nonstop flights to Honolulu, in Oahu, from New York City (JFK), Seattle (SEA), Portland (PDX), Sacramento (SMF), San Francisco (SFO), Oakland (OAK), San Jose (SJC), Los Angeles (LAX), San Diego (SAN), Las Vegas (LAS) and Phoenix (PHX). From there, connecting flights into Kona and Hilo are available daily and can get you there in less than an hour.
MUST DO-DIVE SITE: The Manta Ray Night Dive is a game changer. And you don't have to be a diver to enjoy it.  At dusk, snorkelers and divers come together for the underwater light show. During the experience, divers kneel on the ground holding flashlights to attract plankton. Feeding manta rays come in to feed on the illuminated plankton, and the show unfolds into a choreographed display of manta rays, lights, plankton, and bubbles.
FUN FACT: Hawaii's state fish is the humuhumunukunukuāpuaʻa, but that is not the fish with the longest name. That title goes to the lauwiliwilinukunukuʻoiʻoi which means long-snouted fish shaped like a wiliwili leaf.
ISLA DE MONA, PUERTO RICO
Referred to as "The Galapagos of the Caribbean," Mona Island is Puerto Rico's third largest outer island, uninhabited, and only 100 visitors are allowed on the island at a time. Nature lovers and divers appreciate that it's an ecological reserve with waters protected by the Puerto Rico Department of Natural and Environmental Resources. The Caribbean refuge is also the home to over a hundred endangered species including sea turtles and the four-foot Mona Iguana – a reptile unique to the island. The reefs and underwater caves are also protected leaving the marine life to flourish with over 250 different species of fish. For those wanting to take advantage of the remote location, there are no hotels in the area, but permit-approved overnight camping is available for nights set beachside under the stars.
BEST WAY TO GET HERE: There are no dive operators on the island, so the only way to get to Mona Island is via boat, yacht, or charter. Non-stop flights are available into San Juan daily. From there, hire a reputable PADI® dive operator who is familiar with the 3,000-foot plus Puerto Rican Trench, the deepest trench in the Atlantic Ocean. Boat trips from Mayaguez, located on the West Coast of Puerto Rico, take five to six hours.
MUST-DO DIVE SITE: Silver Banks is one of many Mona Island sites that attracts dolphins, sharks, and whales who migrate here during the winter months. Rough entries and exits are typical here, making the area best for intermediate or advanced divers.
FUN FACT: Researchers discovered cave drawings dating back to the 14th century and believed to have been left behind by the Taíno, the island's original inhabitants before the Spanish arrived in the 15th century.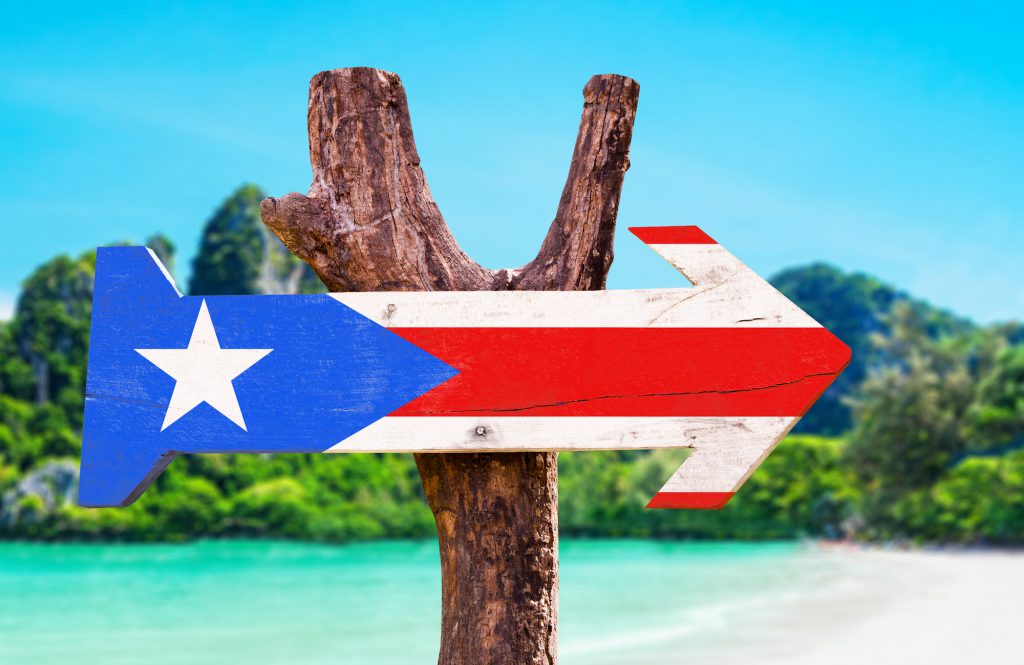 SANTA CATALINA ISLAND, CALIFORNIA
When the California crowd needs a vacation, they beeline it for Santa Catalina Island, located just southwest of Los Angeles. With no traffic lights in sight, it's a welcome retreat from the hustle and bustle of the city – and was a favorite getaway for stars such as Clark Gable, John Wayne, and Marilyn Monroe, who briefly lived here. Snorkeling, shore, and boat diving are all accessible whether you want to explore Two Harbors, at the Isthmus of Catalina Island, or the iconic Casino Point, in the south. When it comes to critters, an abundance of marine life includes perch, bass, and playful sea lions. Topside animals are equally impressive with deer, black bucks, and a herd of 150 bison.
BEST WAY TO GET HERE: The ferry runs daily with just under an hour of travel time. Or, take it up a notch with a 15-minute helicopter ride and a bird's eye view of the Southern California mainland, the Pacific Ocean, and Catalina Island.
MUST-DO DIVE SITE: Casino Point State Marine Reserve, located in Avalon, is a Marine Protected Area that provides easy access for divers. The shore dive area features an air fill truck, a set-up/break-down area, storage lockers, and steps with handrails for water entry/exit. The conditions are usually calm with clear visibility. A forest of emerald kelp creates a light show with the sun while horn sharks, blue-banded gobies, and schools of orange garibaldi play in the shadows.
FUN FACT: William Wrigley Jr., the chewing gum magnate, was the man behind the 1920s art-deco Casino building, Casino Point. Wrigley, also the owner of the Chicago Cubs, invested in Avalon as a resort destination and a place for the team to conduct their spring training, except during WWII, from 1921-1951.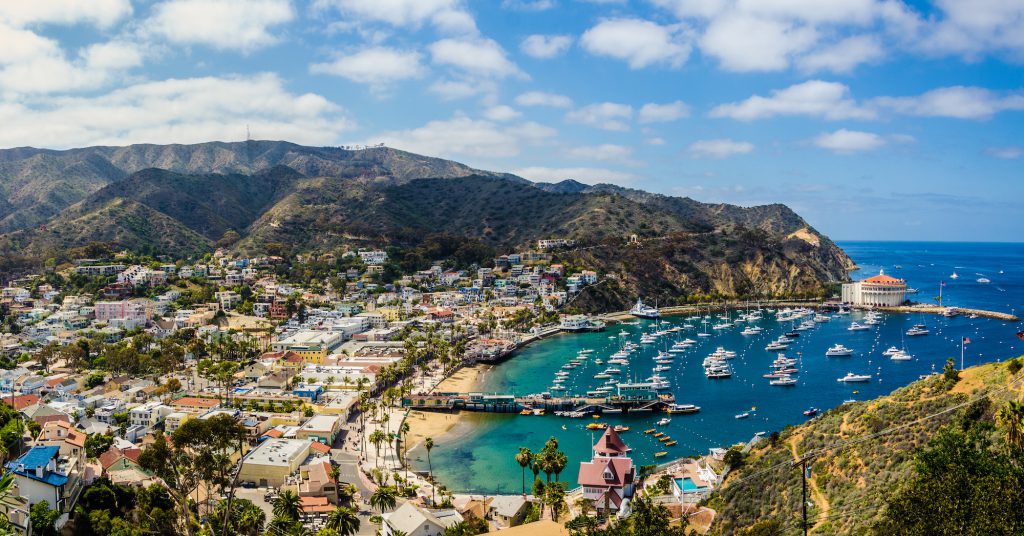 ST. CROIX, U.S. VIRGIN ISLANDS
It may be only 22.7 miles long and 8 miles wide, but St. Croix is known for its diverse culture, colorful festivals, and white sand beaches. Their Crucian Christmas Carnival, a holiday celebration that runs from December to January, is packed full of parades, local cuisine, and festivities. Divers flock here for the easy-to-access diving. Many of the island's best reefs and wrecks are just miles offshore. An average water temp of 80 degrees year-round means wetsuits aren't a necessity and visibility is crystal clear. On the reefs, more than 500 species of marine life fill the waters including hawksbill, green, and leatherback turtles, schools of horse-eyed jacks, and spotted eagle rays.
BEST WAY TO GET HERE: Non-stop flights from the U.S. and Puerto Rico are available daily. From there, inter-island flights can clock in at just under 20 minutes. But the best way to travel between islands is on a seaplane with views of the turquoise waters and sandy island coastlines.
MUST-DO DIVE SITE: Cane Bay is known worldwide for its shore diving. Entry, exits, and navigation are easy thanks to a white sand slope that leads right to the reef. Once there, be on the lookout for anchors dating back to the 17th century. Keep going, and it will be hard to miss the most prominent attraction here: a massive wall where reef sharks, barracuda, and dolphins make an occasional appearance. Created by the Puerto Rican Trench, the Cane Bay wall has depths hitting over 3,200 feet (975m).
FUN FACT: The U.S. Virgin Islands have coasts on both the Caribbean and the Atlantic Oceans, and they are the only places in the U.S. where you drive on the left side of the road.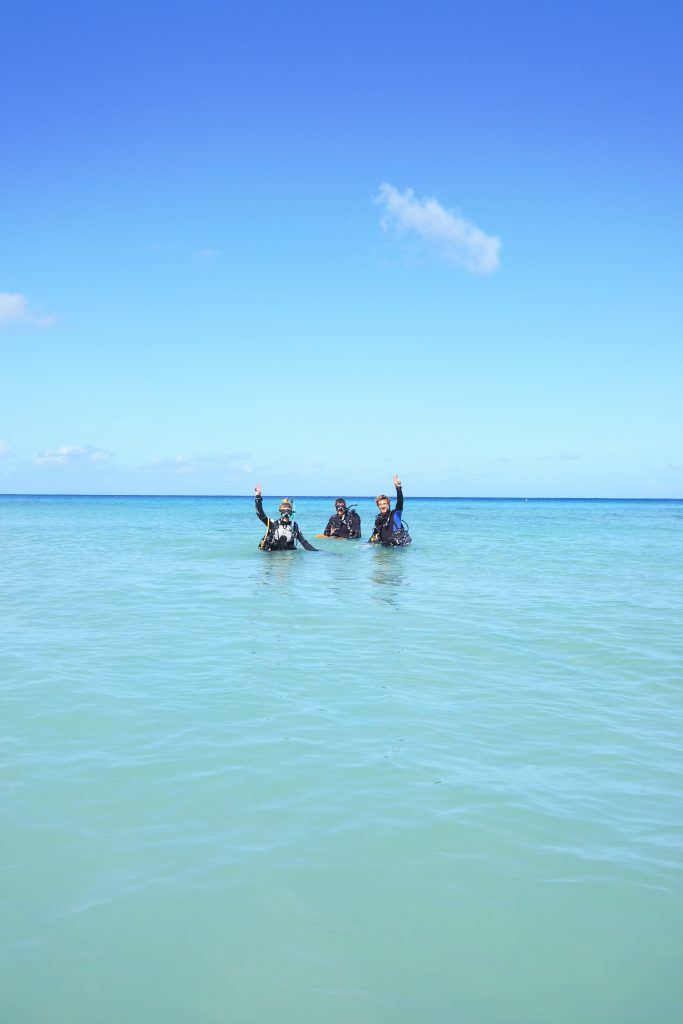 Photo: Jeff Dykstra | Sweet Bottom Dive
Check out this ultimate scuba diving packing list to prepare for your next holiday!