For many of us, every day is Earth Day. Whether you pick up litter or limit plastic from your lifestyle, divers are passionate about cleaning up our beaches, coastlines, and oceans.
This year is no different. On Earth Day, Monday, April 22, dive operators across the globe are making even more eco-minded efforts. And while we can't include all of the events hosted by our dive communities around the world, here's a look at a few that are coming together to make a difference.

THAILAND
In 2016, multiple dive centers in Koh Tao decided to create their own Earth Day group. This year, the morning will start with an island-wide cleanup stationed on roads and beaches throughout the island. In the afternoon, over 20 boats will hit the bays for multiple Dive Against Debris® events. Come evening, the party will continue with bingo, eco-courses, games, prizes, and an Eco Stall featuring reusable eco products. In the past, the group has held fundraisers to help host the event. This year, they are using funds from last year to help with the costs of the festivities.
For more on the events in Koh Tao, visit them here.
FLORIDA
From Boynton Beach to West Palm Beach, the areas of Florida's Palm Beach County are joining forces for an expansive park, mangrove, beach and shoreline cleanup. Throughout the weekend, groups will remove litter and invasive plants. As a way to tackle those hard-to-reach areas, the Lake Worth community have added a Kayak Cleanup to their lineup.
For more on the events in Palm Beach County, visit them here.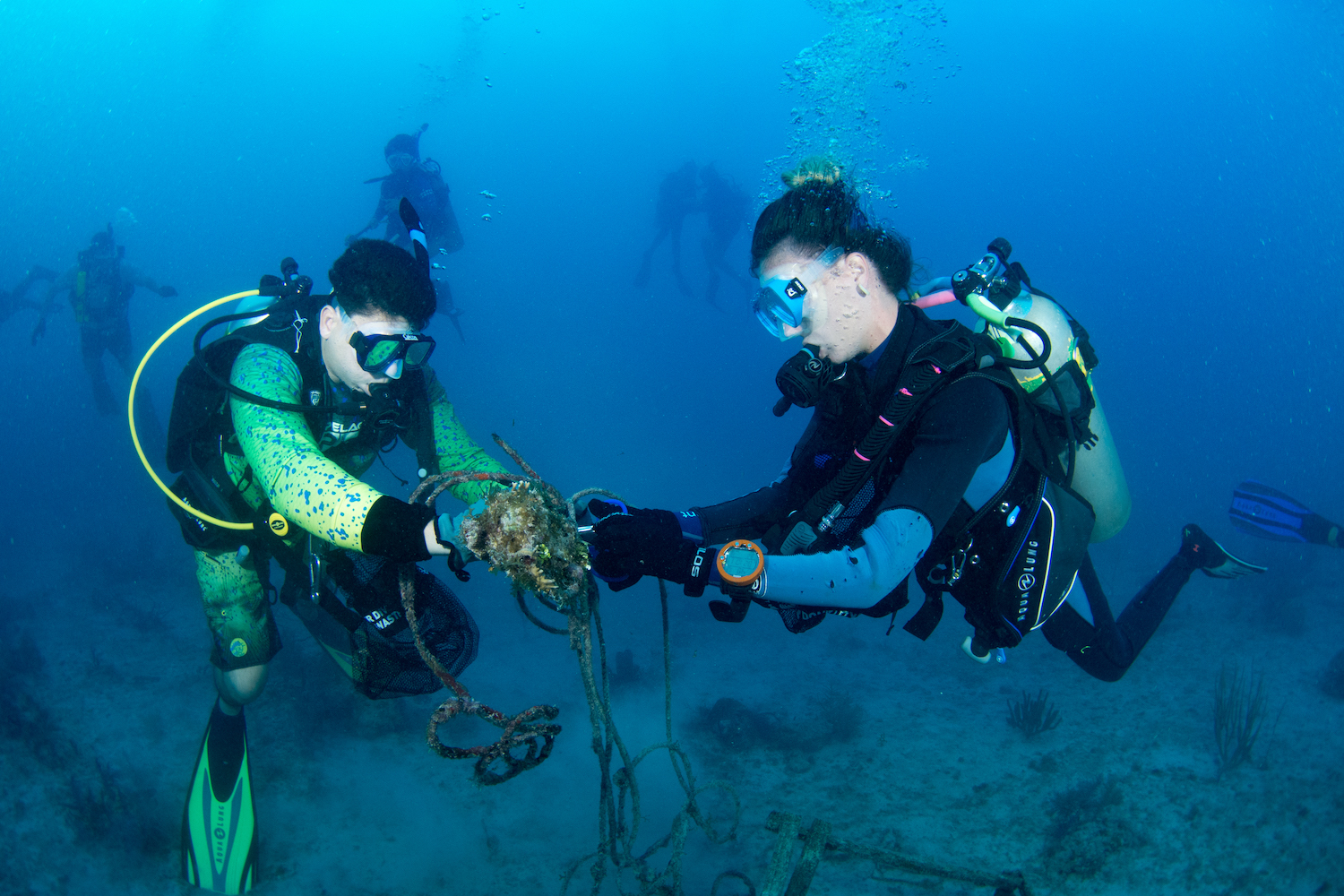 EGYPT
Scuba World Dive Centers across Egypt are coming together for dive-friendly activities that include a beach and underwater cleanup in Makadi Bay. In addition to cleaning up one of their house reefs, the centers will encourage guests at all of their locations to assist in cleaning up the dive sites and beaches.
For more on events in the Red Sea, visit Scuba World Divers.
BAHAMAS
On Saunders Beach, Breef will host another Breef Earth Day Snorkel Day. The free event is open to the public and offers complimentary snorkel lessons to swimmers and non-swimmers alike. Other events on the agenda include an underwater clean-up, reef fish identification, and eco-minded educational activities.
For more on events in the Bahamas, visit them here.
SPAIN
In the Balearic Islands, the Scuba Ibiza Diving Center will use their surface intervals to educate divers about the importance of Posidonia oceanica. Endemic to the Mediterranean Sea, this species of seagrass plays an essential part in the underwater ecosystem.
For more on events in Spain, visit Scuba Ibiza.

HONDURAS
The Utila Dive Center & Mango Inn will be conducting a Dive Against Debris event followed by a Coral Nursery Maintenance dive. After the dives, the group will analyze the data during a debrief at the end of the event. But their efforts won't stop there. A regular team of scientists and marine biologists will regularly maintain the new nursery trees as part of the Utila Coral Restoration Project.
For more on events in Utila, visit Utila Dive Center.
Interested in starting your own Earth Day event or finding one in your area?
Visit Project AWARE or EarthDay.org to download tips and a Teach-In Toolkit.