For most people, just getting certified as a PADI Freediver™ was a huge achievement. However for Wojtek Czyz, an above the knee amputee, PADI Instructor, PADI Freediver Instructor and Paralympic medalist, getting certified was just the tip of the iceberg. Wojtek discovered that there were no freediving World Records categories for people with disabilities so he decided to work towards setting as many as he could. We asked Wojtek about his incredible journey to setting five freediving World Records.
What Made You Want to Start Freediving?
My wife Elena and I founded a non-profit organisation, Sailing4Handicaps, to support amputees in regions without proper healthcare. While we were on our way sailing around the world in our catamaran 'Imagine' and as a good captain should, we had to check the anchor regularly. As I struggled to dive down deeper than 5 meters/16 feet, I was wondering where I could receive good training for an introduction to freediving. It was then my luck to meet Carlos Coste, a fantastic PADI Freediver Instructor Trainer based in Bonaire. Carlos opened me up to the possibility of diving deeper and along the way also helped initiate my passion for the depth and competitive freediving.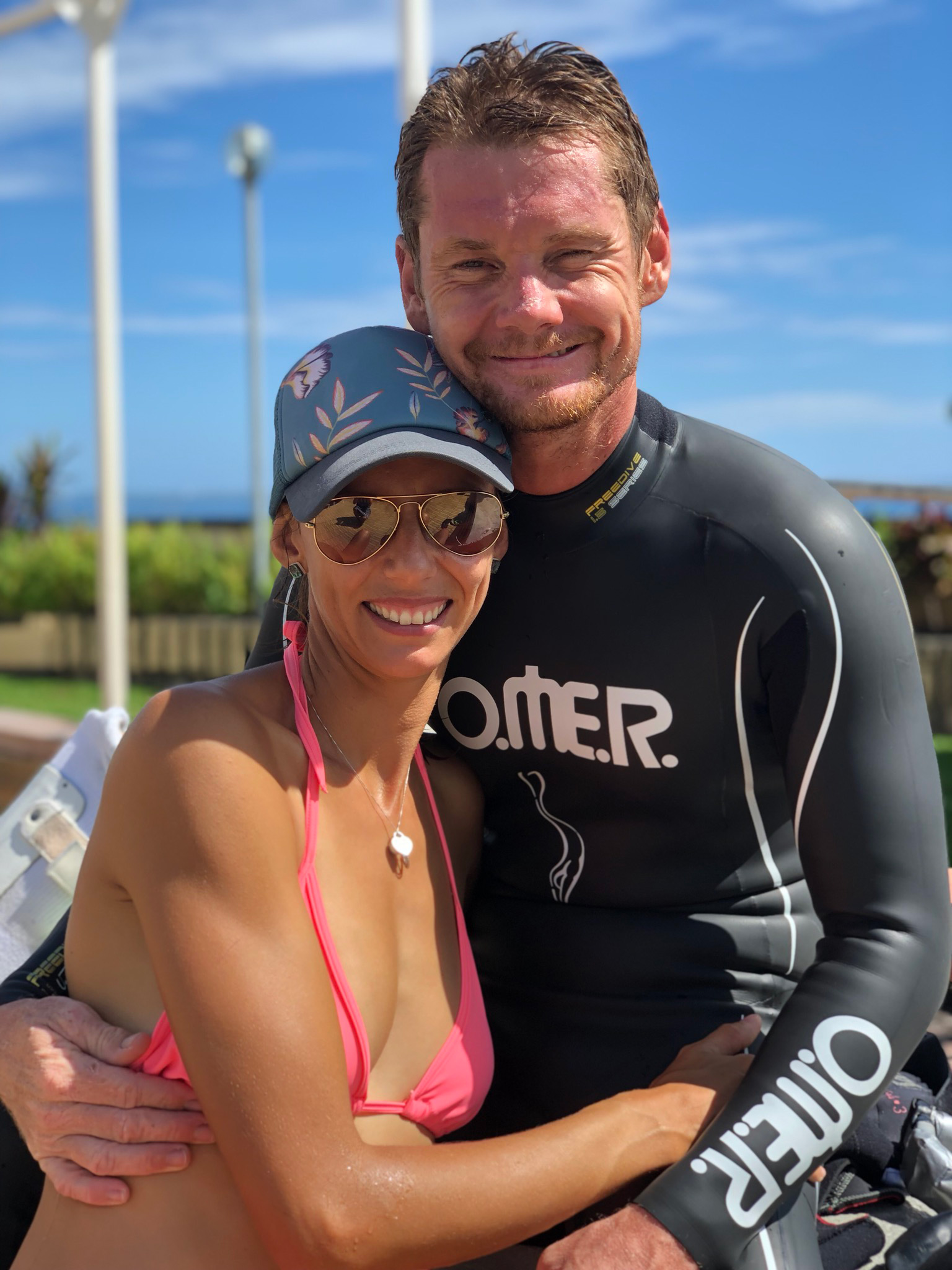 What's Your Greatest Freediving Memory so Far?
As a freediver you feel free underwater. You move faster and easier which brings you closer to beautiful underwater life. To go down to 20 meters/65 feet and watch a turtle while they're sleeping, without any noise, and to see this incredible animal so relaxed, is one of my greatest experiences so far.
What Made You Want to Set a New World Record?
As I was searching for possibilities to compete as a freediver, I realised that there were no categories for amputees. Without any handicap categories available, it would be very difficult for me to compete against non-handicap people, especially in the 'no fin' discipline with just one leg.
Therefore, I contacted CMAS, one of the two main bodies that sets competition rules and ratifies records, to find out if there was a chance for me to compete in my category for each freediving event. This is when I found out that they were in the process of preparing categories for people with disabilities. I then had the opportunity to be the lucky one who was able to set the first World Records in my category, so I went for it!
How Did You Train For The Big Day?
I had an intense preparation for two months leading up to this day with my coach Francis Le Gall. These preparation months were hard but were also a great adventure. I was able to meet passionate, like-minded people who wanted to help make this big day become true.
What World Records Did You Set?
I successfully set five CMAS World Records in my handicap discipline, including:
Constant weight Bi-fins: 50 meters/164 feet
Constant weight Monofin: 45 meters/147 feet
Free Immersion: 45 meters/147 feet
Dynamic Apnea Monofin:  117 meters/383 feet
Dynamic apnea Bifin: 110 meters/360 feet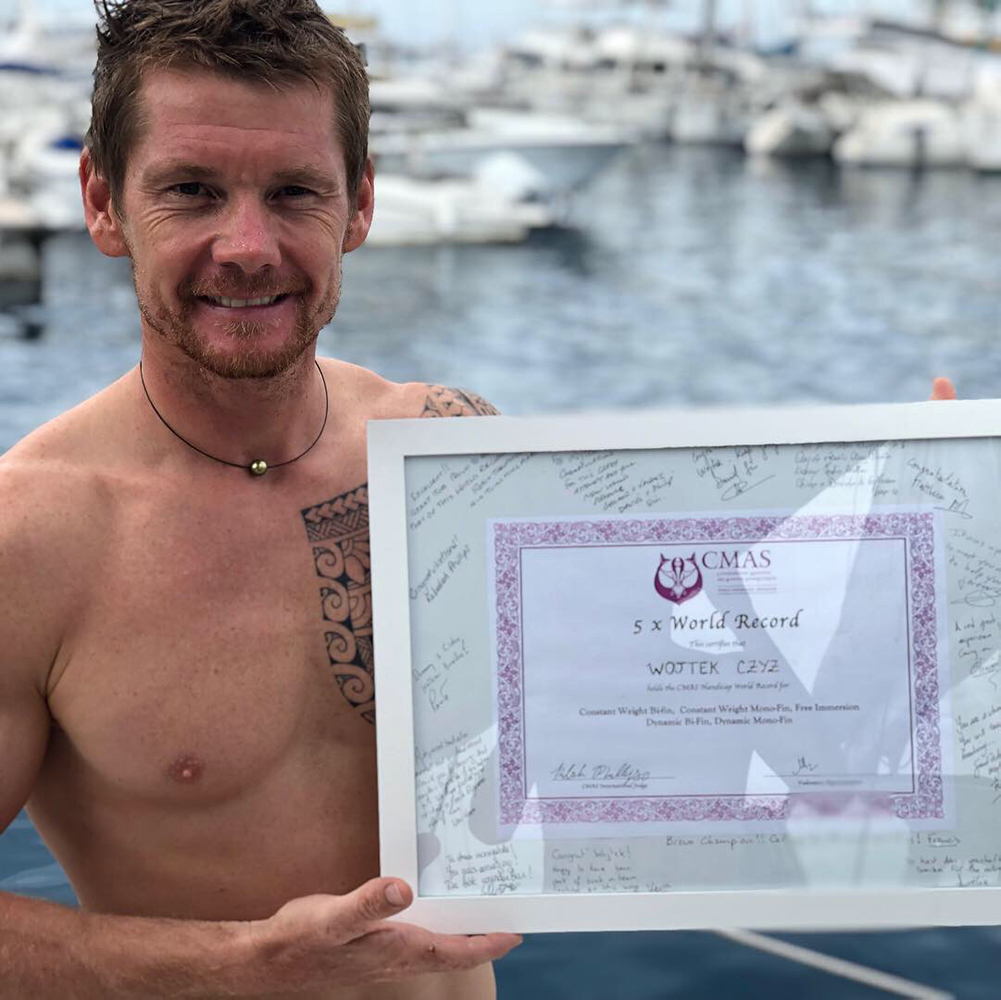 This achievement wouldn't have been possible without the fantastic support of my sponsors and great supporters. Therefore, I would like to thank my doctors, safety divers, technical responsible and coach, Francis Le Gall. I would also like to thank Eleuthera Plongée who are not only great friends, but helped provide the boats and manpower to make the day a success. However, my biggest supporter and helper throughout this experience was my wife Elena and her mama – without them I would have never been so successful.
If You Had to Give a Bit of Advice or Inspiration to New Freedivers, What Would It Be?
As I am a PADI Freediver Instructor, it is my goal to remove the anxiety and fear from my students. It's important to let your anxiety go and listen to your body. Freediving is a fantastic adventure and a new sensation. Go for it!
What's Next For You?
We're currently preparing for our next project with Sailing 4 Handicaps in Tonga or Fiji. We want to help amputees receive a prosthetic leg and also provide them with the opportunity to have some PADI Freediver lessons.
Congratulations to Wojtek for setting five freediving World Records, we can't wait to see what you achieve next!
Want to become a PADI Freediver like Wojtek? Find out more information on the PADI Freediver course and locate a PADI Freediver Center today.