Meet Indra and Rahma, two inspiring Indonesian locals who decided to undertake Scuba Junkie Komodo's PADI Divemaster Internship program, changing their lives for the better. Indra has now become the first scuba diver from his village while Rahma has become the first Muslim Indonesian women to be certified by Scuba Junkie.
Indra is from a small village on Rinca Island, one of the few villages in the Komodo National Park. Although his family sustained themselves through fishing, Indra had other ideas. He started working for Scuba Junkie as a barman but quickly realised that he wanted to train to become a PADI Divemaster. It was clear to Scuba Junkie that Indra was hard working and with his charismatic personality, he would be a perfect fit for their PADI Divemaster internship.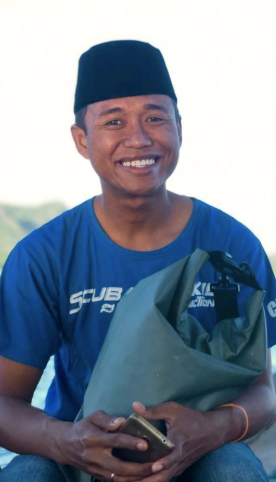 Rahma is from Warloka village, although it seems whichever island she visits, she always has a family member there to greet her. Rahma started working for Scuba Junkie in the kitchen with the dream to open her own restaurant. However, her dreams quickly changed after her first scuba dive where she instantly fell in love with the sport.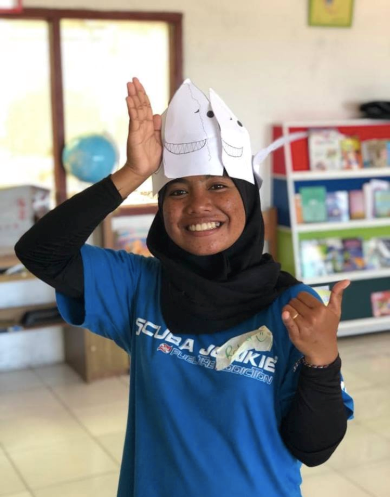 We asked both Indra and Rahma to answer some questions about their journey to becoming a PADI Divemaster.
What made you want to start your PADI Divemaster journey?
Indra: I wanted to change the pattern of thinking of people around me. The area we stand in now has so much beauty and so much beauty in the sea.
Rahma: I wanted to be a professional guide because I love diving. I also wanted to help preserve the ocean.
What was your favourite PADI course and why?
Indra: PADI Rescue Diver course! Because in this lesson I learnt to anticipate and be able to think like a doctor. Not a real doctor, but I can help my family and apply these lessons to daily life; to my friend, family and people around me if they have an accident.
Rahma: PADI Rescue Diver- why do I like Rescue? Because I learn how to help people not just in diving but outside of diving as well.
What has been your biggest achievement in diving so far?
Indra: That I have become a role model and a leader in the water.
Rahma: Seeing the big animals in Komodo that are difficult for people to see, like a whale shark! Also learning English as before I started the course I couldn't speak any English and now I can.
Do you have any tips for anyone wanting to start their PADI Divemaster journey?
Indra: For beginners who are starting to train for their PADI Divemaster certification, I say you must be patient, strong, determined and have good will.

Rahma: For friends who want to start their PADI Divemaster journey, I would say to stay uplifted. Never give up, even if things go wrong. Follow the passion of your dreams.
What's next for you?
Indra: I want to motivate the people in my village to try diving. In my village I am the first diver and I want them to know that the there is beauty in other areas like the ocean.
Rahma: I will continue to dive and invite my siblings and friends to dive as well. I want to help them understand how important it is to protect our oceans.

Along their PADI Divemaster journey, Indra and Rahma have discovered their new passion for conservation. They both take part in regular beach clean ups, Project AWARE Dive Against Debris events and workshops to reduce plastic.
Want to become a PADI Divemaster like Rahma and Indra? Learn more about the PADI Divemaster course, locate a PADI Dive Shop and start living the dream!