Written by guest blogger Neil George of Adventure divers, Spain
The Provence of Murcia is Spain's best kept secret for scuba diving and all types of water sports such as snorkeling, sailing, kite surfing, stand up paddle boarding, power boating, Jet Ski riding and more…
The Costa Cálida, which translates to 'warm coast' due to its micro climate of comparatively hot annual temperatures, is located in the south east peninsular of Spain close to the city of Cartagena and is home to the Islas Hormaigas Marine Reserve. Established in 1995 this 1,900 hectare area consists of a underwater mountain ridge and two small islands.
Diving in Costa Cálida
As a highly protected area with many dive sites, diving here is like immersing yourself in a fish tank. It's not hard to spot many Mediterranean species such as groupers, barracuda, octopus denton, tuna, moray eels, eagle rays and many smaller species. Even sunfish and turtles are known to pass by which is impressive to any experienced diver.
Due to its location and shallow reefs this area has also been a fatal trap for passing ships. Many have found their final resting place along this stretch of cost including the "el sirio", a cruise liner which was carrying over 1,000 immigrants from Italy in 1906. During WWI and WWII many more ships were sunk by German U boats and now offer some world class ship wreck diving.
Top wreck dives in this area include:
El Naranjito. Having sunk in 1946, this 41 meter long cargo ship rests with the shallowest section at 28 meters heading to a depth of 42 meters at the stern.
El Sirio. This 116m ship broke in two when sinking with the bow section slipping to the south side of the reef and the stern slipping into the north, so there's plenty to explore and at a depth of 30 – 50 meters.
Lilla/ Carbonero. This Italian Steamship Lilla was torpedoed & sunk by a German submarine approximately 10 kilometers east of Thomas Mastre Port along La Manga Strip on the 13th of October 1917. The wreck lies upright on a sand bottom with a maximum depth of 45 metres & the deck lies at approximately 35 meters so makes a great Nitrox Dive.
SS Stanfield. Approximately 120m long this wreck is popular among technical divers due to its depth of 45m on top of the deck to 64 m at the propeller. The ship was torpedoed by a German U boat after it was captured and when it sank, hit the sea bed bow first splitting it open which makes it very interesting to dive and divers able to dive through the bow at 3 different levels
The CBA Tug and Harrier Jet. (cartagena) The Tug boat was sunk in the 1950's by the navy for training of their divers. at a depth of 20 – 22m, it is 20m long and 4m wide with some areas for light penetration into the wreck. Swim along the port side to the bow of the ship and 20m off to the left you will come to the harrier jet fuselage also sank by the navy approximately 15 years ago on a sandy seabed.
Find out more about the wrecks in Costa Cálida online here.
Diving in Costa Cálida is suitable for all levels of divers, with many people taking their PADI Open Water Diver Certification here. Some dive sites will require further knowledge so PADI Advanced Open Water Diver, Wreck Diver, Enriched Air Diver, and Deep Diver are a few to consider when diving in Coasta Cálida.
Surface interval activites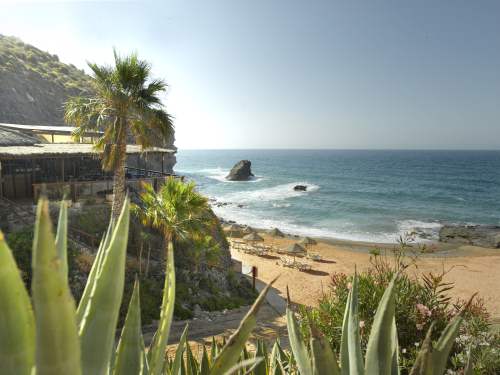 Cabo de palos, a cape in Coasta calida, is well known for its lighthouse which has been operating for over 150 years warning ships away from its rocky outcrop but also provides some shallow and protected bays for scuba diving, snorkelling and fishing.
In the same location we also have Europe's biggest in land salt water lagoon the Mar Menor which is 170 km². This is the perfect playground for all other watersports due to its shallow, protected waters which provides great sailing, windsurfing, kite surfing, kayaking, jet ski and powerboating. In the north you will also find mud baths known for their therapeutical treatments for certain skin disorders.
Getting there
Murcia is just over 2 hours flight from the UK , the local airport is Murcia International and on the doorstep of the Mar Menor and just 30 minutes' drive from the marine reserve, or there is also Alicante airport located 1 hour north of the Mar Menor.
Throughout Europe there are many budget airlines flying here from as little as £20 one way so very affordable.
---
About the Author:
Neil George is a passionate diver, PADI Master Scuba Diver Trainer, sailing and power boat Captain and dive center owner, his favourite dive site in Murcia is bajo de fuera and when he's not underwater you'll find him working at Adventure Divers Spain.