Would you run a marathon…in scuba gear? Fill a neighbor's yard with flamingos? Dedicate your life to helping amputees in developing countries? Of course you would, you're a scuba diver.
We frequently receive messages from PADI® Divers and Pros doing charitable work for causes they care deeply about. Although we can't support them all, we wanted to share a few examples of divers working hard to improve the lives of others and put the fun in fundraising.
Marathon Run in Scuba Gear to Support Project AWARE®
On 27 October, more than 19,000 runners and one man dressed as a scuba diver will take part in the Dublin marathon. PADI Pro Mark McGovern will run 26.2 miles (42 kilometers) wearing his scuba mask, Aqua Lung regs and BCD. For safety reasons, he won't wear a scuba wetsuit. Instead, he'll be kitted out in a full triathlon suit, which is designed for running and looks quite similar to a diving wetsuit.
A set of short fins attached to the top of his running shoes completes the look. "People will only see the fins, so it should give the impression that I'm running in fins," Mark explained.
"APT in Athlone, Ireland made my scuba tank using 100 percent recycled plastic," Mark said. "They are part of AIT college/University in Ireland and offered their services free of charge as they are very active in sustainability projects. I'll fit the tank with a genuine tank valve and connect the regs as normal."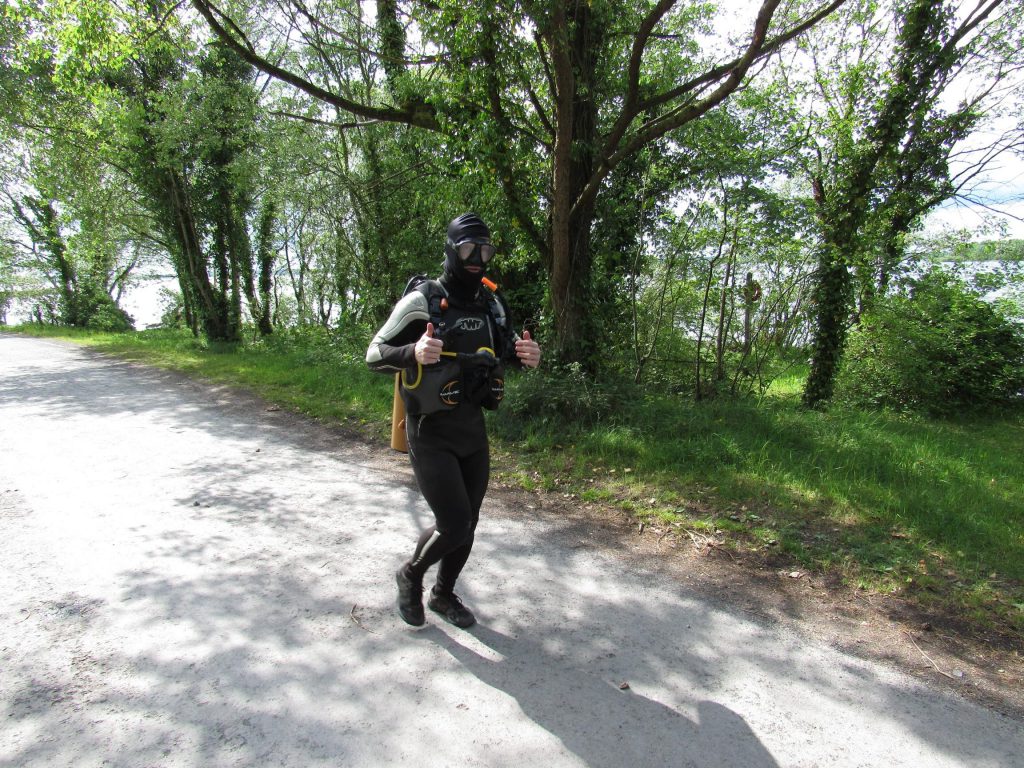 Mark McGovern is no stranger to marathons, or running in costume. In 2015 he ran the Dublin marathon as Mr. Blobby. This dedicated athlete also plans to run the Chicago marathon on 13 October as part of the Project AWARE team. Unfortunately, Chicago did not approve his scuba costume idea.

Support Mark and Project AWARE
Help Mark and the Project AWARE team meet their fundraising goal of $3000 US for the Chicago marathon. You can also contribute via Facebook.
PADI Pros in the EMEA region can enter a raffle for a free PADI Pro membership renewal. Entries are €5 each and limited to 400 entries. Visit Mark's Facebook fundraising page for details.
3D-printed Prosthetics from a World-Champion Freediver
While traveling the world competing in Paralympic events, PADI Pro Wojtek Czyz noticed many amputees were ostracized and treated poorly, especially in developing countries. Without access to a prosthetic, amputees could not support their families and suffered both physically and mentally as a result.
Wojtek lost his leg above the knee in 2001, but he eventually became a Paralympic medallist and five-time freediving world recorder holder. His experiences lead him to establish Sailing4handicaps, an organization that provides free prosthetic limbs to people in developing nations.
Wojtek and his wife Elena sail their catamaran Imagine to different locations around the world to provide prosthetics and "new perspectives" for people with disabilities. Orthopedic experts are flown in create and fit custom prosthetics created on-site using a 3D printer – one leg prosthetic costs about €200. Afterwards, the Sailing4handicaps team helps amputees try new activities such as running and freediving.
Support Wojtek and Elena's work at Sailing4handicaps.de.
Dive for a Cure
Nearly every family has been affected by breast cancer in some way. About one in eight women and one in 1,000 men will receive a breast cancer diagnosis in their lifetime.
Since 2008, Dive for a Cure has raised more than $1,000,000 US for the OHSU Cancer Institute. This year's event takes place on 15 September in Eugene, OR, USA.
"Eugene Skin Divers Supply organizes the event, but the diving community deserves a massive amount of credit for raising all the money. Divers come from across North America to participate, bringing donations with them," explained event organizer and Eugene Skin Divers Supply co-owner Diana Hollingshead.
Dive for a Cure is more than just a once-a-year dive, it's a big community event with activities for divers and non-divers of all ages. An underwater poker run, topside fin race, raffle and flamingo flocking are just a few of the ways people have fun for a good cause.
"We also work with local companies to raise money and cross-promote the event throughout the year. For example, there's a car wash week in July and an event at LaVelle Vineyard in August," said Diana.
Dive for a Cure – Wherever you Live
Support Dive for a Cure by visiting diveforacure.org and clicking "Donate" at the top of the page. Or join one of their upcoming liveaboard trips:
Project AWARE's Team Ocean
Find a team to support, or start your own fundraiser on Project AWARE's Team Ocean page. Team Ocean is a worldwide group of ocean protectors who host swim-a-thons, diving events, and even swim across channels to raise money.